Aug 30 2005
Sezzy Old Hags
Ate E and I are becoming sezzy old hags. I mean we have the cackle down and all. And we just practiced on my sister F. *cackle* She-of-many-crushes (F) just learned that the mother of one of her childhood crushes likes her for her son. Now, I don't know if this is just because the mother does not like the son's girlfriend. F, I think, is tickled pink because she already has someone else in her life (I mean someone who *might* become a boyfriend). Ate E and I have so much fun teasing F, we are indeed becoming old hags. *cackle*
Aug 29 2005
Jimmy! Jimmy! Jimmy!
I don't want to jinx him but I can't keep myself from writing about him. He's really good. Jimmy Marquez, from Toledo, Cebu, did very well on the Gary Valenciano-themed episode of Search for a Star in a Million Season 2. He chose Gaya Ng Dati, and made the song his. Wow! Gary V. himself was impressed. The song developed more meaning for me because of Jimmy's rendition. Wow, I was blessed by Jimmy's song. So, right after, I sent a text message to vote for Jimmy («siam JIMMY» to 23661 for T-mobile subscribers). I hope he will win it all or at least get a chance to record. I definitely want to buy his album. Watch out, world, Jimmy Marquez is rising!—
Gaya Ng Dati
lyricsbox.com
Dati-ratiLaman ng puso mo ay ang pangalan KoLagi Ako sa isip mo Dati-ratiInaawitan pa labi ay may ngitiMga mata'y nagniningningNgunit ngayon nagbago kaNasa'n na ang init ng pagsintaPangako mo'y hindi magwawakasDi ba't noonSamyo ng bulaklak at ihip ng hangin ay kapansin-pansinDi ba't noon takbo ng oras ay di mo napapansinLaging naglalambingNgunit ngayon naglaho naSigla't tamis ng iyong pagsintaPagmamahal Ko ba'y kailangan paOohDati-ratiMga pangako Ko'y kandungan mo't lakasSa pagsubok ay kay tatagDi ba't noonSa kaibigan mo'y Akong bukambibigBakit ngayo'y anong lamigDi mo alam Ako'y nasasaktan Sa di pagpansin sa Aking pagmamahalLumapit ka't Ako'y naghihintayNaghihintay, ohhAko'y nasasaktan Sa di pagpansin sa aking pagmamahalLumapit ka't ako'y naghihintayDi mo alam Ako'y nasasaktan Sa di pagpansin sa Aking pagmamahalLumapit ka't Ako'y naghihintayPanginoon Ako'y nabulag ng mandarayang mundoAko ay patawarin MoMula ngayon ang buhay kong ito'yIaalay sa Iyo gamitin mo akoGaya ng datiGaya ng datiGaya ng dati
—-
I had a great time this weekend at Wild Waves. My vocal cords are still recovering from all the screaming.
Aug 28 2005
Digital Trickery by a 10 year old kid…
i can't help but share w/ you guys these awesome pics by my 10 year old kid with the participation of his kid bro., doing big brother's directorial debut. take note, pictures were not doctored using photoshop or any digital enhancement software. just pure imagination & camera trickery. ..beat that dad…:)kuya help me, i ain't heavy but this giant mobile phone is…
oh no, giant t-rex is going to eat me alive…help
ahh, amazing boys…
Aug 24 2005
Reviving this blog…
just posted a comment in jumangz blog site. without thinking, it seems that that's what's happening to me nowadays…:) i logged in as a blogger user…so there goes my name over at jumangz blog site… now, that's the reason why i'm revivin this blog site. the last time i made a post here was jan. 05.ironic, i'm into web development stuff, but i couldn't care about editing my blog's index/home page… it's even dodgy, outline is out of sync…who cares?i'm excited about my incomin trip to uk. next week will be my scheduled appearance at the uk embassy. it should be a walk in the park, this is a company sponsored trip so i shouldn't worry…
it's been 3 years since i last visited the city of london. i guess, i'm lucky huh? i get to travell other places, for free…i think, I.T. still rules…
Aug 23 2005
Work Piktyurs
So, I'm at work. And I have been working on our lab website — just entering inventories and stuff. On the upper right hand corner of the screen, pictures of co-workers usually appear. I find it really scary to find my smiling face on it. Wahahaha. Panhadlok hin mga yatot (to scare the rats)!
Anyhoo, I'd like to extend my thanks to the Youth Group peeps (Ate Boogie, Sarah, Anna, Kirsten, Fergus, Neil, Jerel, Wayne, Ate Aziel, Faith, Kezia, Jethro) for doing the Seven Things meme. For those YGs who have yet to do it, I'll stalk you until you do…
Aug 21 2005
Sand in My Eyes
Yep, and I mean that literally! A few of my family, as in the kanahan ones (sorry to those who cannot understand my Cebuano. This word just do not have an English equivalent), went to Jetty Island. «Hu-where?» you ask.
Jetty Island is a 2-mile long, man-made island, 2-minute ferry ride from Everett, Washington. On its west side, swimming is allowed. So, the cousins minus Faith and Kuya Rodell, went swimming.
I had so much fun, screaming my heart out when I realized the water was a little cold, getting buried in the sand, and playing with the waves. Wow, I was so pooped, that when I got to the Punta headquarters, a.k.a. Lolo's place, I fell asleep after a cup of coffee. I had so much fun. This *might* last me until I get to Cebu and Camiguin next summer. I cannot wait.
P.S. Happy Birthday, Kezia! Sand, anyone? LOL
Pictures, hopefully, to follow
Aug 19 2005
Tagged by Liane: Seven Things
I guess I really have nothing special to say so I am filling out this meme… well, I do have some thoughts, many of them really silly. But, when Ate Aziel came over and hung out with us, I felt I forgot my silly thoughts. Yeah, I think I was just being overly melodramatic… Too much time spent listening to my Senti Playlist on my iPod.
Seven things that scare you
1. being chased in my nightmares2. losing loved ones3. cockroaches flying above people's heads. ewww.4. dying without saying goodbye5. creepy crawly things on me while i'm blindfolded. waaaah.6. being embarrassed or humiliated in a public venue7. being asked to speak, impromptu
Seven things that you like the most
1. my iPod2. sappy movies3. mango ice cream4. laughing very hard I just can't stop5. salty junk food6. feeling sexy after a great work-out7. that lovely special feeling when i realize i am in someone's thoughts…
Seven important things in your room
1. my Bible2. the iPod charger3. the cellphone charger4. my important papers5. some books6. old letters7. alarm clock
Seven random facts about you
1. I listen to my theatre music a lot.2. I have a weak lower back and creaky knees.3. I have spent too much money on my teeth.4. I heart Mark Bautista.5. I wish to play a musical instrument.
6. I am a Regine Velasquez and Lea Salonga supahfan. (Check out the pic! Word credit goes to Orleigh C.)
7. I love to sing but I have no ambitions of being a singer.
Seven things you plan to do before you die — coming up with these answers is so hard!
1. go and serve on a mercy ship2. tour philippine beaches3. finish school4. have kids and raise them well5. build my dream house6. write my short story7. meet lea salonga
Seven things you can do
1. i can read.2. i think i can be an effective contrabida.3. i can dance.4. i can cook when i have to.
5. i can answer a lot of the questions on Pilipinas, Game K N B?
6. i can listen to BEP's Monkey Business for a long time.
7. echoing Avalon's «Can't Live A Day»
I could live life aloneAnd never fill the longings of my heartThe healing warmth of someone's armsAnd I could live without dreamsAnd never know the thrill of what could beWith every star so far and out of reach

I could live without many things
Seven things you can't do
1. i cannot stop reading.2. i cannot be an effective bida.
3. i don't think i can cut it on So you think you can dance?
4. i cannot muster enough perseverance to cook often.
5. i don't think i can win it all on Pilipinas, Game K N B?
6. i cannot get «Dum Diddly» off my mind.
7. echoing Avalon's «Can't Live A Day»
I couldn't face my life tomorrowWithout Your hope in my heart I knowI can't live a day without YouLord, there's no night and there's no morningWithout Your loving arms to hold meYou're the heartbeat of all I do

I can't live a day without You
Seven things that attract you to the opposite sex
1. intelligence2. the butt…3. the face4. sense of humor5. the voice6. a kind and generous heart7. can he dance?
Seven celeb crushes — i thought this would be so easy; i'm so wrong. Ask me again, the answers will change
1. Mark Bautista2. Pierce Brosnan3. Ichiro Suzuki (wahahaa.)4. Chad Michael Murray5. Denzel Washington6. Damon Wayans
7. Colin Firth — as Sinta says, «Mr. Darcy!»
Seven people you want to see take this quiz
1. Sarah — where is your blog?! i can't find it!2. Ate Boogie — blogspot, xanga, wherever
3. Ate Pen — have you done this before?
4. Anne — I miss you. Please do this…5. Ate Tetchie — blog ka, please…
6. Ate Raissa — i don't remember if you did this…
7. Da Youth (SABF)P.S.
Sinta tagged me too!
Aug 17 2005
hhhaaaayyyy…
it's kadayawan weekand the city is in a festive mood. while everyone is enjoying the festival, i'm busy with my jobhunting. i'm out in the city the whole day, hopping fom one comapny to another, tying my luck to land a good job. at dahil kanina ko pa ginagalugad ang buong davao city, naisip kong dumaan sa aking alma mater para umupo at magpahinga, habang nagbabasa sa bulletin board ng mga job opportunities. at eto ang ilan sa mga job openings: telemarketer (pat time/full time), pre-school teacher, accountant, machine operator, at ilan pang hindi ako qualified at hindi ko trip na trabaho. mga walang kwenta, kaya naisipan kong dumaan na lang ng canteeen paa kumain ng cassava cake at uminom ng iced tea. haaayyy…nakakapagod pala magjob hunt. dumaan din ako ng chapel, baka sakaling maawa si Lord at bigyan ako ng matinong tabaho. paglabas ko ng eskwelahan, nakita ko na may bagong branch pala ang netopia dito at naisipan kong mag-internet na lang muna, at para magpalamig na din at magpatuyo ng pawis, hehehe…at dahil napagod ako ngayon, babawi ako sa biyernes at sabado. lilibutin ko ang buong davao hindi para magjob hunt kundi para maki-celebrate ng kadayawan. magliliwaliw muna ako pansamantala. sayang din ang line-up ng mga concerts.
Aug 16 2005
Retreat
Yeah, I've been home from retreat for a few days now, but it feels like I'm still on retreat. I had a blessed time, it's beyond words. God met me in ways I needed to be met. Wow, I serve an amazing Lord! And wow, my Youth Group is such a treasure. I love you all!
So, I'm back in circulation and will post something more detailed next time… maybe with pictures. Or maybe Liane's meme.
Happy Birthday, Auntie Nene! I'm not sure if you still read my blog, but here's my little greeting.
Aug 14 2005
utterly obliged
don't dare say a word, i was utterly obliged, compelled, coerced, contracted, obligated, charged…they just needed some answers, and i always find it amusing to hide the truth behind my back…>(THREE NAMES YOU GO BY:1. maynard2. murlon3. toibits (i've fuckin' disposed this fuckin' name, it sucks!)THREE SCREEN NAMES YOU HAVE HAD:1. maynardmurlon2. renholder3. bigfishTHREE PHYSICAL THINGS YOU LIKE ABOUT YOURSELF:1. my eyes2. my pubic hairs3. my beardTHREE PHYSICAL THINGS YOU DON'T LIKE ABOUT YOURSELF:1. my big butt2. my hair3. my beer bellyTHREE PARTS OF YOUR HERITAGE:1. Filipino2. Spanish3. AryanTHREE THINGS THAT SCARE YOU:1. worms2. worms3. wormsTHREE OF YOUR EVERYDAY ESSENTIALS:1. i'm not a fuckin' girl2. i'm not a fuckin' girl3. i'm not a fuckin' girlTHREE THINGS YOU ARE WEARING RIGHT NOW:1. sneakers2. pants3. shirtTHREE OF YOUR FAVORITE BANDS OR MUSICAL ARTISTS:1. a perfect circle2. the doors3. john lennonTHREE OF YOUR FAVORITE SONGS:1. 3 Libras by A Perfect Circle2. Imagine by John Lennon3. Hold On by Sarah McLachlanTHREE THINGS YOU WANT IN A RELATIONSHIP:1. love2. making love3. tantric sexTWO TRUTHS AND A LIE (in no particular order):1. i hate worms2. i write naked3. i can swimTHREE PHYSICAL THINGS ABOUT THE PREFERRED SEX THAT APPEAL TO YOU:1. eyes2. brains3. bodyTHREE OF YOUR FAVORITE HOBBIES:1. writing2. photography3. musicTHREE THINGS YOU WANT TO DO REALLY BADLY RIGHT NOW:1. research and study for «Elements of Filmmaking»2. talk to my girl3. sleep with someone i just knew (she's damn hot!)THREE CAREERS YOU'RE CONSIDERING/YOU'VE CONSIDERED:1. Film Director 2. Film Screenwriter3. Film EditorTHREE PLACES YOU WANT TO GO ON VACATION:1. Ireland (on an island where i dreamt my death)2. Greece3. HimalayasTHREE KID'S NAMES YOU LIKE:Boys:1. Iesous Merlin2. Iesous Alexander3. MordredGirls:1. Sarai Alexandra 2. Maria Hermioneia3. Minerva AllewTHREE THINGS YOU WANT TO DO BEFORE YOU DIE:1. write and direct one of the world's best films2. win an Oscar3. conquer the world THREE WAYS THAT YOU ARE STEREOTYPICALLY A BOY:1. sex2. drink3. act stupidTHREE WAYS THAT YOU ARE STEREOTYPICALLY A GIRL:1. dunno2. dunno3. dunnoTHREE CELEB CRUSHES:1. Ava Gardner2. Sarah McLachlan3. Emma WatsonTHREE PEOPLE THAT I WOULD LIKE TO SEE TAKE THIS QUIZ NOW:
*i don't want anybody to continue this thread! it sucks!
Aug 09 2005
— — r e f r a i n — —
— — — r E f R a i n — — -u n d e r c o n s t r u c t i o n
i'm busy…zzz…zzz…
Aug 08 2005
How to Recover DB in MSSQL
Since I've got typically nothing to blog about. I'll just type in a few instructions on how to recover a database in SQL Server. This was mailed to Mr. Januo Milligan, the administrator of www.iligan-city.net. They are totally giving me a headache. I mean why don't they just buy a domain name instead of migrating the whole data to some other web server. Darns.. government. Here is it:Requirement: MSSL / SQL Server 2000This is the backup data for the database named dir. Save this attached file on your C:\Program Files\Microsoft SQL Server\MSSQL\BACKUP.You will have a file named 'directory' in the folder. Use the restore function of MSSQL to recreate the database. Here are the steps:1. Open SQL Server Enterprise Manager.2. Right click on Databases and select New Database..3. Name the database 'dir'. After this step, you will have on your list a database named 'dir'.4. Right click on dir database > All Tasks > Restore Database5. Select 'From Device' radio button.7. Click 'Select Devices'. You should see another box with «Disk» option selected.8. Click on 'Add…'. You should see another box with 'File Name' radio button selected.9. Please locate the backup file that was attached on this mail. This should be located in C:\Program Files\Microsoft SQL Server\MSSQL\BACKUP10. Click Ok. This should lead to another box/interface.11. Select the device name and click ok.12. Select the device again and click ok. This should start restoring the database13. DONE.
Please check the 'dir' database for a table named «TAB'. This table contains the numbers and names for the directory.
Aug 08 2005
I miss you, Ate Tetch!
Miss you, miss you, miss you. I look forward to catching up. Don't forget to email me! love, gail
Aug 08 2005
SIDE TRIP 28: Promdi in Hong Kong
Hong Kong is the only place I've been to in the region where I truly feel like an alien. I don't know why. Must be all those Chinese characters and neon signs and tall skyscrapers and flyovers everywhere that make it difficult for me to tell where I am in relation to a landmark.My hotel was in Kowloon and, of course, I wanted to go to Hong Kong island, too. It being my first time to go there, I thought hard about the mode of transport I would take. Subway or bus and ferry? Since the Jordan Station was just around the corner, I decided to take the subway.It was during the early morning rush and people were rushing like mad, swiping their wallets on the turnstile to pass through. WALLETS??!!! Yes, they were using their wallets to get past the rotating bars! Hmmm…. I thought perhaps that was the general entrance and I had to buy my tickets inside.So, I took out my wallet and placed it on top of the scanner like the others did. The bars did not move. Waaaah! What happened? Embarrassed, I made a quick turn around and observed how the others did it. The same thing. People were just placing their wallets on top of the scanner!Take two. I waited till there were just a few people queuing and placed my wallet again on the turnstile. Still the bars would not move! Aaaaargh!!! Retreat! People were looking curiously at me. Waaaaah!!!I turned back in embarrassment and walked to the other end of the station. And there I saw an automatic vendo machine that sold single-journey tickets that could be used like we do here at MRT. Yaiks.It turned out those people had magnetic prepaid cards inside their wallets that allow them to pass through the gates on a touch and go basis. Aaaaargh!Paita ning tagabukid oi.MTR Station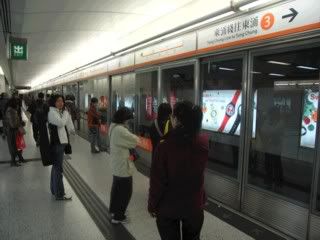 Aug 04 2005
Goodbye, Wisdom!
me: Please pray for me; I'm going to have my wisdom teeth taken out tomorrow.
Pastor Sam & Tita Violy, in surprised voices: You're going to lose your wisdom?
LOL. Ate Aziel, your parents are funny.
So yeah, I got three 3rd molars out— and best news of all, I only paid $490. And there I was ranting about «the problem.» God provides, indeed.
Anyway, Papa, who was my escort, said he got scared after he saw me come out in a wheelchair and babbling away—in English and in Cebuano. My dear father, in his own words:
«Mura ug bata, nagsige'g yawyaw…»
He said he tried to stop me from talking but I was uninhibited and unstoppable. Now, I'm back to my old self, and I could tell Papa is very relieved.I'm taking as many days as needed to recover and work on puzzles, sleep, read and listen to music. I just miss solid food. Oh, and I gotta send a thank you note.
So, how was *your* day?
Aug 02 2005
Dusty Photographs
She was wearing a yellow dress with a dark-colored sash. She was holding a toddler me; I think I was wearing a white dress with red polka dots. Well, I must admit, my memory—especially of colors— cannot be completely trusted. My godmother must have been near some fields because the background was very green. My heart painfully clutches at this memory of a photograph. Because I have lost the actual photograph, I am afraid that image will fade more quickly, and I won't be able to remember anything at all. I asked my mother about those photographs from which I derive my childhood images, such as the one where I was holding a pen as if it were a queen's scepter or the one where I was golden-haired from the sun's rays and I was studying either a plant or the pebbles on the ground, I'm not quite sure which. Mama reminded me that we had lost them to the humidity in our old house. We had lost even my parents' wedding photographs. And I shake off the awful thought of our family becoming like Gabriel Garcia Marquez's Buendias: all traces turned into dust that the wind blows away in the time when no one else cares and tries to remember. No one would remember the family of six who used to live in the school compound and moved to America at the turn of the millenium.It could be that I am just feeling nostalgic or maybe unloved. The former is more likely. One hot summer afternoon on the Sunday when our afternoon Filipino church held joint services with the morning Japanese church, a few of my relatives gathered as if we were back in Punta once again. Someone played the guitar and others sang along. Children were running around. All had eaten too sweet ice cream. Others pored over old photographs my dear octagenarian grandfather had kept bundled inside a box. I remembered faces and places and instances I had thought forgotten. The photographs were dusty, but the recollections were surprisingly clear. There was grandpa's grandparents. There was the oldest sister of my mother frozen in time as a baby in her open casket. There was me in my red dress and my cousin Brent gingerly holding the young goat's rope on a pebbled path that time and politicians turned into a paved and busy street. There was the earliest evidence of my being a water-baby. There was the first complete family picture of my mother's 13-member family when they were all grown up and several had already married. There was my cousin Basilia at puberty, and whose smiling eyes reminded everyone of her son, now aged 4. Silently, I mourned for our lost pictures. I was saddened by my inability to keep pictures and by my low regard for albums and picture frames and photographs.Trying to hold the image of me and my godmother frozen in my mind is like trying to remember who I was then. I cannot, and I'm afraid I may have lost so many images just like that as I journeyed from being a toddler to being an adult. Along those images were memories. Along those memories were parts of me… It makes the future seem a little more daunting. I tell myself I've always looked more towards the future anyway. And still, I remember my lost images that I will forever try to keep from blowing away.****
Maayong adlaw'ng natawhan, Dodong. Mahal ka ni Manang. Pagbinuotan ug ayaw kalimot sa Ginoo.
Aug 01 2005
the Satisf*cktion
i can't seem to compose myself at this moment. i want to take this opportunity to vent out my deepest gratitude to my ever dearest customers: «F**K YOU ALL!!!» and yet, it's still not enough…sigh! how can i ever relieve myself of this sickening frustration…sigh, work…talking to some people you don't even see…it sucks!
apparently, all my futile attempts to satisfy and please every person had just been the same circular manifestation of stupidity when all-too-long i've been aware of the hard-knocking fact. you can't satisfy and please all people because some of them are stupid (if not most) and any attempt of satisfying and pleasing them is futile otherwise you are stupid yourself who rolls along the wheel again and again and again like a clueless stupid hamster! (*my apology for my ranting, it may sound senseless if you don't get the point, i'm still deeply aggravated at the moment of writing).
i lost…at least i'm not stupid:)
«The leader of genius must have the ability to make different opponents appear as if they belonged to one category.» — Adolf Hitler (1944)