Jun 28 2005
Ding-Dongs
Murag pagkaon na sab ni ako post karon so kung nag diet ka dili ni maayo para nimo. Nag warning na ko daan ha para walay mahay.Ang akong bana nga pwerte ka tamili nag palit ug isa ka box nga Ding-Dongs. Lami gyud kaayo! Para man unta na sa iya dessert kada lunch pero ang iyang ig-agaw nga tig bisita nako ug ako nag sige ug kalingaw ug kuot ug karon pag sil-ip nako isa nalay nahibilin. Wa na mangita unya ni sya dili pa ra ba ko kabalo mo drive para mo palit ug laing isa ka box para ipuli.
Nanawag noon sya karon lang gyung break niya ako sya gui ingnan nga nag crave ko sa Ding-Dongs ingon sya ako na daw walay problema. Ingon sya pwede nako kaunon dayon bisan nag estorya pa mi, of course ako gikaon dayon pwerteng lami-a! Maayo na lang kay ang iyang ig-agaw nitawag human namo estorya sa ako bana, iya kuno ko dalhan ug isa ka putos ugma puli sa isa ka box nga amo nahurot.
Ako gui tan-aw ug ayo ang box kay basi pwede ko kapadala sa ako manghod pa door to door sa Pilipinas puhon, ana man gyud nang pinoy diba?
Lain pay ato akong gisulayan ang Chicken Hot Pie ganihang pani-udto by microwave dili pareha kalami sa gui bake by oven by 30 minutes uy!
Jun 28 2005
SIDE TRIP 19: Villa Escudero
The river is so still and calm I am actually half expecting to find Narcissus gazing lovingly at his reflection on the blue-green waters. The river flows from mystic Mount Banahaw, dammed up on one end of the resort, and overflows onto a restaurant below where visitors feast on Pinoy food while wading on ankle-deep water. Aaaah, bliss!Villa Escudero awes me. Not only is it such a huge spread (40 hectares of coconut plantation), it also exudes a turn-of-the-century charm. Carabao-drawn carts and gaily-decorated jeepneys transport visitors from the entrance. The resort staff wear Filipiniana «costumes» and the cottages are built almost entirely from bamboo, coco lumber, and anahaw leaves. Bamboo rafts allow visitors to explore the river, but swimming is forbidden; there are pools for that purpose.At night the air is filled with the combined sounds of crickets chirping merrily and heartwarming kundimans sung by young men serenading guests from cottage to cottage. Fireflies complete the magic. Wow.In the morning, I wake up to a brand-new day — unmagical, tedious — ready to face…… WORK. Aaaaaargh!!!Miki(I am not on vacation. I am here for a workshop, heheh)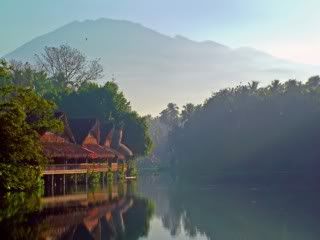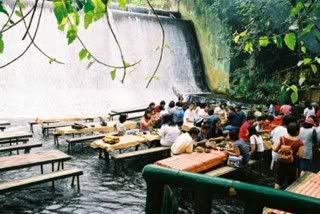 Jun 25 2005
Kining Mga Kano
Gigutom kaayo ko kay wa gyud koy laing gibuhat sukad sa akong pagmata kung di mag basa-basa aning mga blogs diri. Lingaw baya kaayo ko, medyo nakatabang ra kay sakit kaayo akong tiyan ug likod. Wala na ko kakupugong ni bisita ko sa akong refrigerator kung naa bay madali-dali lutoon.
Agoy nakit-an nako ang hot pie boxes nga among gipalit ug ako gikuha ug gibasa dayon ang instructions….
Conventional or Oven Toaster
Preheat oven to 400 degrees F
Cut a slit in top crust
Place pie on cookie sheet or baking tray
Bake in center of conventional oven 30-35 minutes until golden brown
Let stand for 5 minutes before serving
Treynta minutos! Abi ko ba to ug instant meal mao bitaw nga gipalit namo for emergencies. Pero ako nalang gi agwanta. Nag kurog ako kamot nag sige edit ani ako bag-o blog kay gutom na lagi.
Naluto ra sa kadugayan. Lami baya gyud hinoon ug nagkurog ako kamot sige hungit, sige tan-aw sa blogspot kay wa man lain lingaw. Taud-taud ni tawag ako bana. Ako sya gi storyahan nga dugay kaayo lutoon ang amo gipalit «for emergency» nga hot pie. Iya man hinoon ko gitaw-an, i-microwave ra daw to. Nag insist ko nga nag sunod ra ko sa instructions. Nikatawa ug samot, sunod i-microwave lang daw lagi ug 3-4 minutes. Hala sige!
Jun 24 2005
first lab work
after weeks of planning and looking for the appropriate procedure, i finally had my first laboratory activity today. yehey! doing lab work always excites me. i have followed the procedure down to the minutest detail but sadly was not able to finish phase 1 of my synthesis. how on earth is a water bath absent on a chemistry lab. i was so frustrated. my thesis adviser has only 2 water baths and both are used by her other grad advisees. one contained a flask attached to a condenser for cyclization while the other one is filled with oil. I could have used this, but im afraid that i might ruin my desired product. tsk… tsk… tsk… so instead of planning to work overtime, i went straight to the dorm. had a nap, and cooked spaghetti for dinner.after dinner, i found a casserole which has not been used for a long time. lucky me! i can use this as an improvished water bath! hahaha….
how does one finish her thesis in a year if the facility is inadequate. i just hope that i can finish it before i will be recalled by my sending institution. if worse comes to worst, what will happen to me? will i be forced to pay DOST? I just hope nga dili.
Jun 24 2005
Spring Quarter 05
The quarter where I worked the hardest in all my years at SPU, is the quarter that I got the lowest GPA. I don't know what it means. Study less? Study more? Stop caring?
Jun 23 2005
What, No Favorite Book?!
What follows is a true-to-life encounter, and a true-to-life reaction of the author. If you do not agree with me, step out of my way.When I read interviews of new «stars» in Philippine showbiz, the one thing that irritates me is this:
Interviewer:What is your favorite book?
«Star»: I'm not a book-reader, sorry…
Not a book-reader? Did you not go to school? Of course you are a book-reader. Those reading primers are books. Those dictionaries are books. Oh, perhaps, you meant to say «book-lover»? That's a different thing. I understand not all people are booklovers. Most people have other passions. But to say you have not encountered a book you have liked is preposterous.
Tapos, the «star» has a matching «sorry.» It carries a tone of arrogance, at which I bare my claws. While I am all for honesty, I am also for racking your puny little brain to think of a single book you have found interesting.
Perhaps you are too young to have read enough to decide on a favorite. That's alright, too. We never get to a point where we have read enough to decide on an all-time favorite. In fact, the more you read, the more the question becomes ridiculous. But I get back to the excuse of not reading books. Is that even a viable reason in this day and age, when books are so widely available that printed books are threatened by the all-encompassing world wide web?
Do your «fans» a favor and read a book? Be engrossed in it. Live through the characters. Come out changed. I challenge you.
Jun 21 2005
Why do we have wisdom teeth?
I'm getting 3 wisdom teeth extracted as soon as I decide how to come up with the 700 bucks needed. I know I am paying less than some people I know but I am really irritated at how I need to spend that much to deal with a «problem» that has yet to materialize. Grrr. Grrr, ulit.***
A guy is writing about his love of his life, who happens to be his younger sister's bestfriend. As Ate Mona says, this has entertainment potential. Personally, I want a happy ending for this stranger. Check out his story, which you can piece together from his witty entries.
Jun 18 2005
Un-Broken Vows
I did leave you, especially Ate Boogie, on a cliffhanger in my last entry. I was not being too cheeky. I was in the middle of finals, then in the middle of a workweek. In truth, I'm so full of excuses, I probably won't accomplish anything this summer.
Number 1
I owe the Youth Group a thank you for patience with me. I truly appreciate the origami book. I love it so, as you can see in the images. I've made some of the animals. I like the envelopes and boxes, especially. The origami paper that came with the book is easy to fold. The additional origami paper was very colorful but gets unwieldy after many folds. You probably know how much I love paper. I think I'd like to collect origami paper and not fold them. It is quite a horrible thought, now that I am a little more lucid. Anyhow, if you open the letter up, you'll see this…

Thank You Letter for SABF Youth

(Click on image to read letter) 

Number 2
While other women reportedly have «those times of the month,» I have «that certain time of the year.» I have been such a b-pain to those I love during this time. I realize it, and this is part of why I dread rather than anticipate that time. I am confuzzled as to what to do and to feel. Around the last week of May and the first week of June is that time period when I really feel stressed and deeply depressed. During that time, the temptation to hate myself is really big. Having said that, I'm glad it has been over, for this year. Now, let me share some pieces of evidence of my treatment.
Exhibit A

Two gifts to myself after a hard, hard month of April. I had just given a Molecular Biology presentation earlier that day, but I was excited to buy Blu, my iPod Mini. I stayed up all night importing songs from the CD collection. My baby keeps me company during bus rides, provides the atmosphere during studying and outside (i.e. fun) reading. Miss Saigon at 5th Ave was amazing! At the first note, I already had goosebumps. It was such an experience for me, and I definitely am looking forward to when I can afford season's tickets. Wow. Emy Baysic, as Kim, offered not just a great voice but strong acting chops as well. She won me over, and I rooted for her till the end. And the late meal with the girls was very fun.
Exhibit B

A few gifts to myself after a hard, hard month of May. Okay, so the Champions (Sheryn, Rachelle Ann, Christian, Raymond, Frenchie and especially Sarah) were very late. I had time to go to the shops in the center and browse. Look what I found! The last DVD copy of My Sassy Girl at a closing-out sale of a car-accessory store. Wow. The Asian salesperson even confessed he watched the movie 3 times and loved it. He promised I would like it. What do I think? The Asian peeps who went gaga over this have a very good point. I enjoyed the movie very much. My sister kept saying, «Why didn't Pinoys come up with this?» That means she really liked it.I had to buy Mark's CD. I can't say I'm a fan when I don't even have his CD. But I was not able to get an autograph, though. I wanted to give them a break, at least from this fan. :)The champions rocked. Hanging out with the cousins (Ate Lanie, Ate Elea, Kuya Don, Brent, Wayne and Faith) was something we haven't done lately. I am glad I went, not by myself or with somebody else, but with them…
I don't have a picture of us three but I will remember our first meeting. Ate Shery, you immediately put us at ease. We were hesitant to approach you because we thought you would not recognize us. Thank you for the warm hug, inspite of your hectic schedule. I hope the Champions realize how hard you guys worked. Hopefully, they'll come back.
Exhibit C

The thoughtful gifts from the youth group. I had only begun getting really crazy over origami. I'd fold while watching TV, while eating or ahem, listening to the sermon. Was I really obvious? Thank you for noticing. It was really unexpected. Sometimes, I have second thoughts before pulling out the origami paper because I did not want to ruin the paper by folding it. I know, irony. *hugs* JJ and I loved the snakes. 🙂
P.S.
To all who wanted a piece of Mark B. (including me!)

A little souvenir when the mob (i.e. Filipino fans) converged on the poor Champions. They provided a great show inspite of their jetlag. More power to them.——
Images hosted by myonlineimages. Special thanks to Picasa.
Jun 13 2005
SineBuano Update
Just thought I'd give you guys an update on SineBuano.
Pusod
I am yet to recieve the footages of Pusod and start editing.
Colon: Ang Paglantaw
We got some more footages for this documentary, however, we still need to interview 2 more people and start writing the script.
DM Judillo has joined SineBuano
The 2nd placer for the 2004 MTV:The Pitch has indeed joined SineBuano. A chemist by day, this 24 year old Cebuano (?) supposedly transforms into a possessed writer by night. He has submitted «Tuwing Tag-ulan», a story of three friends who entertain themselves through imagination.
Tuwing Tag-ulan will be translated into Cebuano and will hopefully be done in time for the next Salida event.
Missing Filemon: MTV
Cheryl Baldicantos of STCinema has informed us that alternative rock band Missing Filemon wants an MTV to be produced by SineBuano. Initial talks regarding this MTV tells us that the song «Sine-Sine» was chosen. Meetings will start this week.
Salida: Dos
Zarah Smith of Handuraw wants to do another Salida on either July 1 or July 9. I'm thinking of asking the International Academy for Film and Telivision (arrgh!) if they'd want to join this time. Films that come to mind for the July event are: «The Witness» by SineBuano, «Obssession» by Merrell Tabuela, «Duha-Duha» by Januar Yap and «Red Saga» by STExposure. Hopefully, either «Pusod» or «Tuwing Tag-ulan» will be done in time for Salida: Dos
Jun 12 2005
Pagmumuni-muni ng isang lagalag
Nostalgia
He shall shout with all his might amidst the thunder and the rain.
And the nothingness of his soul shall be filled.
The spirit of silence shall bind you all in stillness.
Listen. Just listen and lend me your sight. And my face will show you all the thoughts I have. Take me for what I am. Take me for who I am. For I am just me, Badjung Talabusaw, flesh and bone of my great grandfathers.I'm not going to tell you here about great exploits for I have none. Great exploits are the times of my forefathers. And I am just me, Badjung Talabusaw, a nobody. I am just someone who has never seen the glory of my ancestors. But let me share to you something. Something which is the only thing I have. Please, allow me to share the nostalgia. Yes, the wistfulness in my eyes. For the glory of my ancestors is a thing of the past. And the only thing I've inherited is the nostalgia brewing deep inside. I admit I never felt like this before. Not within my ten years of solitary existence. I mean, just by myself. Shaping my own path the way I would like it. Dreaming the dreams I've shared with fellow dreamers. Dreams that made me dream of more dreams.Nostalgia. But it's a different kind of nostalgia. It is melancholic longing of a soul tormented in its nothingness. Ah! Never had I felt this thing before. For nostalgia is an alien feeling to a wanderer. But now it is knocking right in the brittleness of my skull. And as it hammers down my heart, it brings me back to the dreamer I once called I. Yes, it was the dreamer that started it all. He was a defiant dreamer. And in his youthfulness he believed that it is but rightful for a rebellious lad to go away. To search on his own the answers to his questions. And in his belief he was convinced to start the epic saga of going far away from home (or from the house). Yes, it's just from the house since home has a feeling of belongingness. And when you don't feel it, it's merely a house. A physical structure. A mere shelter.The insolent dreamer thought that it is a nature of troubled living. It is the law of nature upon families where the quest for food is more important than to feel the comforts of home. Knowing this, no guilt or fear could hound his solitary quest. And in such a situation, the lure of adventure is just too great to resist. Yes, adventure. Juvenile longings of a youthful soul. A rebellious soul! For what could be sweeter than to savor the taste of adventure? For what could be sweeter than freedom?But then there are misadventures. And the law of nature declared that he who is young and solitary shall suffer the consequences of his ignorance. Of his arrogance. And so, the rebellious dreamer tasted the bitter fruit of his insolence.But it is in his nature to struggle. He understood that it is the law of nature to struggle. To endure and persevere in hunger. Because surrender would be a certain death. Ah! Those were the days of hard toil. But he defied the scorching sun in the fields. He defied the law of weight like the enduring ant. The heavy sacks of rice and corn could not break his shoulders. The bone-breaking toil could not break his bones. The animalistic toil could only testify to his never ever wavering youthful vigor. Such things though were not unique to him. For in this age of modernity, the glory of his ancestors is a thing of the past. And so, the consequence is for them to master the bolo before wielding the pencil. To master the plow and the carabao before mastering the books. And yes, his kind is conscripted to the proverbial toil in the fields!The defiant dreamer lived on to dream more dreams. And in his eagerness to learn, he worked while studying and studied while working. He mastered his arithmetic from the daily habit of counting his extremely low wages (then 40 pesos a day which means working from 6am-6pm). But before he could multiply it and divide, nothing is left after subtracting the debt he had incurred in the sari-sari stores. Oftentimes the resulting difference is a negative, which prompts him to incur more debt.But because he was adventurous, the dreamer persevered. Being young and eager to learn, he continued working while studying and studying while working. Hunger has been his constant companion. But he lived on with courage he never knew where he got. He survived the life and death struggle for existence. Yes, he struggled more to prove his existence. And that struggle slowly nurtured the insolent dreamer into maturity. Despite his youthfulness, he learned the value of education. He learned that the struggle for existence is education itself. This belief molded the foundation of his maturity.Those were the things engraved in the dreamer's youthful mind. Study and find a good job after studying. Because a good job would have a good pay. A good pay would mean a sort of freedom, "economic freedom" for an individual. But then the concept of freedom grows while the bones are growing. And the rebellious dreamer has never tired of searching answers for the questions that stoked his rebellion. Ah! Those were deep-rooted questions that he always tried to dig.Well, growth has its tow of changes. The change of the physical features and the workings of the mind. The gradual change of dreams. Ah! There was once a little dreamer nourished by famine. His bones grew strong with bone-breaking toil in the fields. His muscles were harnessed amidst the struggle to prove his existence.Ah! It is true that the concept of freedom grows while the bones grow strong. And amidst that growth the insolent dreamer found the love of freedom. The love of freedom that grew strong while the muscles were harnessed by difficulties. The love of freedom inflamed with the memories of the scorching sun. Of the bone-breaking load upon the tender shoulder bones.Alas! The love of freedom is no longer the selfish lure of adventure. It is no longer the selfish dreams of the insolent dreamer. Ah! The glory of his ancestors that he has never seen dawned upon the defiant dreamer. The glory of the people who are now slaves in this so-called age of modernity.That was how the defiant dreamer became a man from the ruggedness of his youth. He came to know the love of freedom from the adventurous longings of his youthfulness. Suffice it is to say he was molded completely amidst the rat race. Well, it is no peculiar thing in a country where rat race is «normal». Survival of the fittest. That old Darwinian dictum. Or is it the law of nature?Well, the dreamer came to value experience as a virtue. Yes, experience. It has bolstered his struggle for existence. And he lived on. He lives within me. Yes, within me, Badjung Talabusaw, flesh and bones of my great grandfathers. I, a nobody, have survived this long because I am nourished by the love of freedom. I have lasted this far despite my nothingness because I have learned to love and be loved. This is by far, the greatest achievement I consider. This is the thing that brought me the only wealth I have – nostalgia.I must tell you that before I have found the love of freedom, hate nursed me to survive. For it is a hateful thing to know you are oppressed. It is a hateful thing to know that there is no other role offered to you than to be a slave. A slave in the fields, factories, construction works and others. But when hate consumes you, you will never know why you became a slave. The thought of vengeance will make you forget history.But then I have found the love of freedom. Ah! It is the love that made me strong. The only thing I have inherited from thousands of my ancestors. For did not my great grandfathers fought tooth and nail against alien domination? Ah! I have learned to love and be loved! And it has brought me the only wealth I have – nostalgia. Yes, I have been far away from home for so long. And the memories of home are fleeting in my sight.Ah! The insolent dreamer is coming home to share his wanderings. For he has come to know that there's no place like home. Besides, his home is no longer the old cogon hut but the land of his ancestors. For is he not Badjung Talabusaw, flesh and bone of his great grandfathers?
Jun 05 2005
My early years of wandering
Itid the wanderer
From the time I've noticed the world around me, I've lived a nomadic life. It's not because my family is of a pure lumad descent. But because times call for it (my father would often say).
When I learned to search and gather food, I've believed I existed independently. I was then a weakling five year-old. And we were living in a primitive hut in the far flung margins of civilization.Yes, I will tell you my early years of wandering. The years when my bones were harnessed and my muscles were hardened. It all started when I was still a weakling five-year old. My first venture of wandering was in a nearby stream. It was a cold morning. I walked downstream. I was fascinated with the clear flowing water. I walked and waded through the stream. I felt the coolness of the stream soothing my entire body. It was my first conscious intercourse with nature. It was a memorable adventure of a young free spirit. I could even feel its pleasure even as I write this piece.
I could not remember though how far I have ventured. I can only remember that the Kalaws sounded their afternoon merienda alarm when I got home. I can still recall the mixed feelings of my mother. She was angry, furious, worried and afraid. She thought I was already eaten by some fierce creatures lurking around.
My first wandering taught me simple but hard lesson – never venture unprepared. I've only brought a bolo with me and I forgot to bring a match. So when I felt the coldness of the water seeping through my flesh and bones, I was not able to build a fire. And that was very dangerous. Because along with the terrible coldness, hunger came scratching my stomach. That was the first time I've came to know hunger. My stomach then was grumbling and the excruciating pain was like a knife wounding me slowly.
I only felt a little relief when I saw a wild ripened banana. The banana is widely known as agutay in our tongue, I mean our indigenous tongue. But I was still very hungry when I got home. I did not even care to listen to my mother's sermons while I was eating. A cup of hot aromatic native coffee settled my grumbling stomach.
My first venture was a great failure. But it was not able to traumatize me. It even challenged me for another exploit. The simple hard lesson of my first venture became my foundation for my next exploration. I just don't know if the spirits of my ancestors are the ones stirring me to wander. It's just that, I could not resist the call of adventure. And because I was a free spirit, I would always heed the call.
My next venture occurred after my sixth birthday. It was not a well-planned one but at least I already have a lesson with me. The Kalaws were greeting the sunrise when I set out on my next venture. Or adventure as many would call it nowadays. I have brought with me my sharpened bolo and a matchbox I stole from the pocket of my father's jacket. I also brought a slingshot and several small round stones. For my breakfast and lunch, I brought ten handfuls of sinanglag ha mais (popcorn) stuffed in the oversized pockets of my pants. I have heard my father once that hunters always bring with them popcorn because it's handy and effective against hunger. Of course, the bolo is mainly for protection against wild animals that may pose harm.
My father wasn't around then because he has gone early to visit our relatives in a distant barrio. That barrio is a two-day-walk from our primitive hut. My mother and my three-year-old brother were still sleeping then so I managed to slip quietly.I've chosen to roam the nearby forest for my next venture. I have come to realize this late that it was a virgin forest. It has even crossed my mind that I may have seen rare species of the wild back then. But for a six-year-old, it was of no concern. I was after all in the stage of early exploration. The distinctions of the rare from the ordinary are of less importance to me. Besides, it was only nowadays that species in the wild are becoming rare.
When the Kalaws sounded again their alarm in the mid-morning (between sunrise and noontime), I've decided to eat my breakfast. I roasted one of the two alimokons (kulo-kulo) I have downed with my slingshot. I was then beginning to mimic the different languages of the birds to make them come near and be an easy target.
I was already in the deep forest by then. When I finished my breakfast, I sat upon an old rock. The rock was covered all over with green moss. While I was practicing to mimic the lingo of the alimokons, I noticed that there were creatures moving beneath the leaves in the forest floor. When I caught a glimpse of the moving creatures, I felt my heart beating faster. The moving creatures were snakes. Snakes of different kinds and sizes. Some were colorful while others were black and dull-colored.
It's the first time I've realized the danger of my venture. Even if I could hack the snakes from left to right, it would not be fast enough to hack them all. I was sure then that there would be at least one of the snakes that would be able to bite me. And I am pretty sure I would be dead if that will happen.I was keenly observing the movements in the surroundings while thinking what to do. And I've noticed that the snakes didn't dare to go near the coals of my bonfire. With that, I went to my bonfire and pondered what to do. Then I realized that the snakes were not interested with me after all. Well, that was my belief then and you can't blame me. I was after all an innocent six-year-old.
When the movements under the pile of leaves, twigs and branches ceased, I've thought there's no danger anymore. Besides, I've thought that the snakes would get nothing from me. It never crossed my mind that an adult python
could make a good meal out of me. Well, things like that will never cross the mind of a young free spirit. An innocent six-year-old whose curiosity to learn from his surroundings is just so great.Little did I realize that I was already going up the mountain. It was already getting noon but it was still cold out there. Well, it's a virgin forest after all. And as far as I can remember, it is only father who dared to venture deep into that mountain.
There was something in my mind then that is urging me to reach the top. And it makes me wonder now why I never felt tired back then. In the midst of the forest I could see scattered old trails. When I followed one of the trails going up, I saw animal traps. Those are possibly the traps that father has made when he ventured deep into that mountain. I even saw traps where there were remains of wild boars and wild chickens.
Suddenly, after inspecting some of the remains I realized something. I realized it is very difficult to trace my path back! With that in mind, I preferred not to reach the summit of the mountain anymore. I opted to eat my lunch before finding my way back to our primitive cogon hut.While forcing my teeth to grind the hard popcorn, I've realized another hard lesson – always leave prominent marks in your path. My heart throbbed wildly when I thought that I might not be able to go home. But then another side of my brain was aroused. It gave me the feeling of thrill creeping through the sinews of my flesh. It was the first moment when I experienced mixed feelings. There was fear, excitement and thrill!
But after my simple rationalization, I've thought I would not be lost. I would just walk downwards and find the stream. And when I'll found the stream, I would just walk upstream and I will never miss our old cogon hut. With that in mind, I've started my descent. Fortunately, my calculations were accurate and I've descended on the right stream. I'm certain it's the stream leading near to our hut because I've reached that part of the stream on my first venture. I even saw the remains of the agutay that I felled.
It was already dusk when I finally got home. And for my second adventure, I got a bitter reward. Well, suffice it is to say I got a nice beating from my mother. The following morning, I saw my nervous mother packing all our clothes. She reminded me not to go astray again. She added that we would just wait for my father and then we would go away from that place. She never told us why. I have only come to know the whole story of our sudden evacuation when I was already a nine year-old.
On the night when I received a nice beating, I was able to sleep soundly. It could be due to the fatigue of my one day exploit. But my mother wasn't able to sleep that night. She was weaving a banig when she heard a crying baby in the nearby stream. Then a purring cat followed. After a while, she heard a heavy object hit the ground. She was horrified. What she has heard had the imprints of a mantianak. According to local lore, it is an evil creature that eats human beings.
It was the very reason why my mother looked nervous on the following morning. Our neighbors, who were located about two kilometers away, opined that maybe the spirits do not want us to dwell in that place. It is the first time they've told us that the former inhabitants of the area have evacuated for the same reason.
When my father arrived after two weeks, my mother was very mad. She was even crying in mixed feelings of anger, fear and frustration. When my father knew why, we were told to prepare. We were to transfer to another place. While my mother and father were preparing our baggage, I and my three-year-old brother were trying to catch our ducks and chickens.
The melancholic alarm of the kalaws in an early morning signaled our exodus. It's the first exodus I could recall but it's already the nth time that the family transferred to another place. Father prepared a huge lupot (cooked rice wrapped by green banana leaves) for our food along the way.As for me, I was unwilling to evacuate. I've learned then that I loved the place. It is where I was awakened to the world around me. It is where my youthful curiosity was roused to action. It is where my free spirit dared to venture into the unknown. It is where I've learned to conquer the primeval fear of the unknown. It is where I've first experienced the joys of simplicity, freedom, independence!
But then, it would be foolish for a six-year-old to remain alone on that far flung edge of civilization. That place in the world I would remember as a paradise. And as we walked away, I kept looking back. I've kept looking back even until today.
Well, I will never forget that paradise. For it is there I've first embraced the life of a wanderer.
Jun 02 2005
i already have a topic for my proposal. i thought,…
i already have a topic for my proposal. i thought, thesis will be easier compared to taking acads, but i was wrong. if only i had thought of what topic to focus then i wouldn't be facing this problem. i am not sure if this will work. plus the fact, that another student is also doing similar project, i might not be able to look for a novel application for the compound that i will synthesize. i don't want to waste my time on doing something that will lead nowhere. i have doubts… i don't know how and where to start. the momentum is not there. i know i can't afford to waste time but i just don't feel like working right now. please help…*******i miss my parents and Julia. Julia is the 3rd child of my brother who has been with my parents since she was 2 wks old. It's really my parents who raised this kid. She'll be turning 2 this july 4. i just miss her smile,her dance, her kakulitan, her «monda» which is actually moon. Everything that is round is «monda» to her. and everytime she looks up the sky, she would say «monda». i just miss home…..*******
i mentioned about going to Bohol in one of my blogs. I did go to Bohol but didn't stay long. Actually, i just kissed Bohol. I was in Bohol last May 6 but had to be home the following day due to the sudden death of my niece, Zandee. She had congenital heart disease. Having only one ventricle, her heart was working excessively. She died last May 6 at the age of 10.
Jun 01 2005
Flickr
This is a test post from
, a fancy photo sharing thing.
Jun 01 2005
The Law
The Law
I solemnly watched the sunset. I leaned heavily on a weather-battered rock beside the lake. There was silence. The stillness of the lake absorbed my thoughts into the depths of unfathomable silence. Ah! Such moment creeps into the flesh.
There are moments like this when the urge to ponder is too great to resist. Such moments reveal the hidden desires of the heart. For within the confines of unfathomable silence, everything hidden is revealed. The bare naked truth is revealed.I have long denied the desire to go home. But silence prevailed. Over me. And now, it is already written: I am longing to go home. Yes, moments like this are nostalgic. The air seems to absorb the warmness of those memories. And the crimson sky in the horizon overlords the unfathomable silence. In my mind, I could hear my thoughts flowing vibrantly like the stream. I could see the purple mountain ranges. I could see the verdant valleys. I could feel the coolness of the rivers. Ah! I could go deeper into the vastness of silence.Finally, after years of wandering in this strange land I finally long to see the familiar mountains. The mountains where I've spent the joys of my childhood. The wildness of those days.So here I am trying to establish coherence on my thoughts. Striving to squeeze some sense on my gibberish. Because sometimes it doesn't make sense to write these things. Sometimes it is just better to feel the nostalgia. To feel the peculiar feeling brewing inside you. Or feel the peculiar sensation of the rubbing of sinews of your muscles under your skin.Well, I guess I am going emotional already. It's just good sometimes to release the fervent desires. And a wanderer like me could not be blamed for that. Even in the early times of my great grandfathers, adventurers always strive to come home. To sit by the fire and share the story of their wanderings. And I, Uto Lumbayaw, flesh and bones of my great grandfathers, is no exemption.Well, maybe because I am feeling now that my adventure in this faraway land is already over. I am thinking that the purpose of my stay in this faraway land is already finished. For I have already mastered domestication.Yes, I have mastered domestication. And domestication has never mastered me. That's the most important thing I have achieved in this wandering. They may call me a savage because of my different ways. But then, they should not forget that I am of the wild. The wild gave birth to me. And because of that, my ways are different. They must not wonder why I've chosen this kind of life. Because it is my nature. The nature of the wild. Of young rebellious soul. It is because of my insolence that I came to know the workings of the world. With my wanderings, I have learned that it is still the primeval law that governs all the things. Kill or be killed. Eat or be eaten. Survival of the fittest. Yes, it is still the law. There is no difference even if the settings are different. In the corridors of hustling business districts down to the chaotic slums, the law is still the same. And that is to kill or be killed. Eat or be eaten.
Tooth for a tooth. Eye for an eye. And that is life. Because that is the law.
Jun 01 2005
In a Regine Mood
«will you say that you love me?»
For a long time I resisted Regine's version of Say That You Love Me. I felt like it was just so … wrong. Now I'm listening to it, and it feels just right. Well, I've seen the video too. Raymond Bagatsing is so papable there. I've always liked Martin's version. I also heard Lea's version. It took me quite a while, considering that we are talking about Lea here, to warm up to it too.
I read that Regine surprised Sandara during the taping of a Sandara TV special. I've heard so many stories of Regine's generosity that I don't believe there was any menace to her «I'm freaking Regine Velasquez» quote. She has always been gracious to her fans and colleagues that it just seem so out of character.
«ikaw ang lahat sa akin»
it's a rainy day in seattle. this song is so perfect because of its melancholy tone. i really like this version too, as well as that of ella may saison's. claudine's soap of the same name is very cute. i can see me getting hooked on it. 🙂