Feb 28 2006
FIRST TRIP 8: Princess in the Tower
Over the weekend, the three of us (wifey, little princess, me) checked in at a hotel in Makati, taking advantage of a gift certificate a friend gave us. A good way to just laze around, we thought.
The five-year-old of course had definite ideas about the outing. Said she:
«Magre-relaks ako, manonood ng TV, at pipilitin wag ma-bore!!!» Nyahahahaha! 🙂
Makes perfect sense.
Oxford Suites Makati and the little princess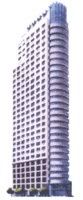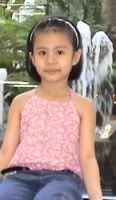 Feb 28 2006
Kaloy
I just got a text message from a very good friend, Gun nut and Sunstar Cebu Columnist Kaloy that he now has a blog. Kaloy was one of the very first people I met in Cebu when I first moved here in 2000. He patiently taught me how to speak Cebuano and would, at times, evaluate me. He was probably one of the first person to tell me that I am an adopted Cebuano.Our friendship has gone through a lot. We've had our share of laughter and arguments, there are times that we would not see or talk to each for weeks but we know for a fact that we are still good friends. He was my classmate during the PPSA-IPSC Range Officers seminar and examination. He placed 2nd in the exam. I got 1st. We were on the same table. Go figure.
Do pay his blog a visit and learn about this cool person named Kaloy.
Feb 27 2006
BAD TRIP 5: Walk da Talk
I've always wanted to go diving. Ever since I first tried snorkeling in Boracay and saw how beautiful it was underwater, I wanted more. I wanted to go further down… deeper… to swim with sharks and manta rays and giant sea turtles. I envied the tourists in their wetsuits who were sailing away in the horizon for their date with Nemo. And I promised myself I'd do the same in this lifetime.What's more, I also wanted to dabble in photography, climb Mt. Banahaw, rappel from a 30-storey building, go hang gliding or bungee jumping, do whitewater rafting, and a hundred other different, exciting things.
But somehow, the humdrum of everyday life has a way of putting such plans on hold. There always seem to be a thousand other things to do first. I keep putting things off in favor of "more important" stuff like schedules and deadlines and reports and backlogs and using what little money I earn for practical things like milk and diapers and educational plans for the little princess.
But perhaps I am missing out on life.I could die tomorrow.Aaaargh!!!
PS: It's why I envy Jory. He just goes right out and does it.
I wanna swim with sharks….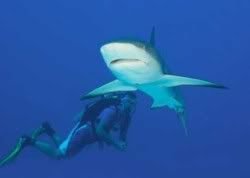 Feb 26 2006
FIRST TRIP 7: People Power
Someone asked me:
Where were you during the 1986 People Power revolution?I was in Aklan working for an NGOIt was my second month as a Community OrganizerWorking with poor farmers and fisherfolksTowards community problem-solving on a self-reliant basisIt was my first job, fresh out of universityWet behind the ears and struggling to make a differenceAnd I have been in community development work ever sinceCouldn't believe it has been 20 years since!Have I made any difference at all?What made me stay on in development work?I don't have ready answersBut I still wish I'd live to see the dayWhen people do somethingSimply because it is the right thingIn pursuit of a common good.
EDSA 1986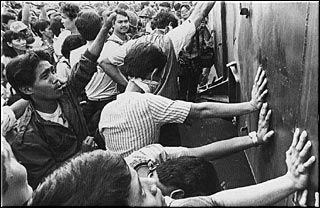 Feb 23 2006
(walk)ing in the winter wonderland
I'm not a big fan of cold weather so when went to Big Sky, Montana for our first ski vacation last January, I was skeptical about how cold-proofed I was. With layers of clothing consisting of long underwear, turtleneck sweater, ski jacket and pants, I still found myself (more than) occassionally shivering. I had morning sessions of ski lessons and the afternoons were spent skiing down the slopes with my husband who turned out to be a really good instructor. By the end of vacation, I was bruised from constantly falling on my ass and I was still not a big fan of cold weather, however, I found that I enjoy skiing a lot.
We headed to Heavenly, South Lake Tahoe for another ski adventure. Our daughter, Janine, who is fast approaching the "terrible two" stage has shown signs of uh-advancement and drove us nuts with her incessant crying. The drive to Tahoe included a quick stop at Helm of the Sun Valley where I rented my ski equipment. They couldn't find the skis I rented a week earlier and it took 30 minutes for them to provide me a replacement which turned out to be really crappy and old. I went out and gave the equipment to my husband for loading and went back inside to complain about the delay. Then, my husband stormed in the shop to complain when he saw that they rented me a crappy and old pair of skis. We asked for refund and left the store in dismay.
With that drama behind us, typhoon Janine unleashed her bawling prowess and cried for the next hour. Usually, my stepdaughter Yanice takes care of turning on the movie, giving Janine toys or food but with her in Germany for the spring break, I had to struggle with the remote control, food bag and toy box myself. Eventually, I put Eon in-charge of food and toys. As we drove across the Sierra mountains, I watched the temperature gradually dropped to 3 degrees Fahrenheit!!
Heavenly was a huge ski area compared to Big Sky. Big Sky was the perfect place and time for me to learn skiing. It wasn't crowded and the slopes (and lifts) weren't very intimidating. At Heavenly, the lifts are fast-moving (except the Galaxy) and there are numerous blue runs. I had a shaky start as experienced skiers and snowboarders sped past me but as I grew accustommed to my skis, the "crowd" and the slopes, I was glad to be on snow again.
Feb 23 2006
AN EMAIL FROM PHIL OF PRIMECARE-CEBU
Hi doc,I really had a good time reading your blogs… Since we are handling Lear Clinic — biggest company in MEZ, I usually forward your blogs to our nurses assigned there and they also send this thru e-mail to all employees as health and community updates. More than 4,000+ employees there gets a copy of your blogs. hehehe
More Power to you!
Feb 23 2006
The Bible for Your PlayStation
A guy named Tim Ross has found yet another way to use a popular technology to make God's Word available to people. This time its the Bible in Basic English for the PlayStation Portable (PSP).
Feb 22 2006
how do i feel?
all the thoughts in my
head instead of goin' under…
the song says it all…
Feb 22 2006
post Vday
I haven't put in any cute note about Vday but I did wrote a few stuff for my boyfriend. He always makes me think I am lucky and of course loved. This page is nothing about love but rather fragments of my complex mind. I am a little glad that boredom strikes again. It converts my mind into a idea-generating machine. I don't always visit this place but everytime I do, I wish to put in a little
Feb 21 2006
Scenes from the ASG '06
Diesel and Flash 2
Let bygones be bygones.
I'm not a big fan but four players to the ASG? Impressive.
Kobe and Jay-Z

The Answer and Nellie

I'm an inch taller than the one jumping and 3 inches taller than the one standing. Both are slam dunk champions.

PG for a night.

Shaq with his PSP.

Feb 20 2006
MALACANANG PALACE BLAST
A loud blast rocked Malacanang palace grounds and surrounding areas yesterday.A renegade group of military officers claimed responsibility for the blast. Further, they claimed that this is a warning to the Arroyo administration. More will come if the President does not step down.The Presidential Security Group (PSG) claimed that the explosion was caused by paint thinner discarded in a garbage can accidentally set off by a cigarette butt thrown into the can.Some in Congress claimed that this is a deliberate move by the Arroyo administration to build a foundation for declaring martial law.The President's top-dog spin doctor says that whether or not this is caused by seditious elements, the act of claiming by the renegade military officers is «unpatriotic».People have to really be careful about their choice of words. These are «unpatriotic»:
Massive vote-buying and vote-rigging operations
Cover-up of congressional investigations of vote-buying and vote-rigging
Using government funds for vote-buying and vote-rigging
Cover-up of congressional investigations of use of government funds for vote-buying and vote-rigging
(This post is too short to list all the unpatriotic acts inflicted on the hapless Filipino mass)
Feb 20 2006
More about me…
It's been a while since I last took a personality quiz from the Internet. I found a few interesting ones and took them. Here are some of the results I got.:) —- You Have Your PhD in Men You understand men almost better than anyone. You accept that guys are very different, and you read signals well. Work what you know about men, and your relationships will be blissful.How Well Do You
Feb 20 2006
Where Sorrow Wears a Smiley

WHAT MAKES US TICK as a people may make some of us feel sick. So goes the crux of my column tomorrow in Sun.Star Cebu: It's as awry as a sore thumb sticking out, but mirth in the face of misery is one peculiarity so patently Pinoy. Absurd enough, true, to baffle even the Greeks who symbolized theater as a tragicomic pair of masks.Consider, for instance, those television footages straight from an accident or crime scene. See how the reporter intones the ill-starred subject of the story while a bustle of kibitzers at the background jostles for their fair share of the camera, waving and winking or striking a chin-up pose worthy of Mr. Suave. That happened, yes, in the wake of the Wowowee stampede. A grinning face or two, that's also starkly visible in the front-page photo of the Philippine Daily Inquirer yesterday counterpointing the utter despair of those waiting for upbeat possibilities about survivors in the Southern Leyte landslide.Here's where the Grim Reaper seems to have trouble with being taken seriously. As if tragedy were a freak force of nature, a pratfall or an outlandish piece of rumor out of a clown's lopsided mouth.In this grin-and-bear-it country where stand-up comics are more compelling than politicians and where cartoonists can best interpret our socio-economic state, being hapless is something most of us endure with unbearable lightness. As if, on the heels of man-made or natural disasters with a ho-hum rate of recurrence, yet another sorrow can be shrugged off thus, "So what else is new?"Be merry today, tomorrow is another sloppy trick up a freak's sleeve. Or so many of us with a happy-go-lucky binge seem to believe. Recall a recent article from Time Magazine, explaining why Filipinos consistently top national happiness surveys compared with the rest of the world despite poverty, calamities and countless other reasons to wallow in the slough of despond. We can even die laughing.
We're gracefully tough as the bamboo, true. We suffer fools gladly, and we can win Olympic medals if being easily amused and self-sufficient were up for competition.»Around the world, people are searching for happiness," writes Alan C. Robles. "For Filipinos, happiness isn't a goal: it's a tool for survival."The Flintstones might as well be Filipinos, who knows?
Feb 19 2006
Puddleglum's Reply
«One word, Ma'am» he said coming back from the fire; limping because of the pain. «One word. All you've been saying is quite right, I shouldn't wonder. I'm a chap who always liked to know the worst and then put the best face I can on it. So I won't deny any of what you said. But there's one thing more to be said, even so. Suppose we have only dreamed, or made up, all those things — trees and grass and sun and moon and stars and Aslan himself. Suppose we have. Then all I can say is that, in that case, the made-up things seem a good deal more important than the real ones. Suppose this black pit of a kingdom of yours is the only world. Well, it strikes me as a pretty poor one. And that's a funny thing, when you come to think of it. We're just babies making up a game, if you're right. But four babies playing a game can make a play-world which licks your real world hollow. That's why I'm going to stand by the play-world. I'm on Aslan's side even if there isn't any Aslan to lead it. I'm going to live as like a Narnian as I can even if there isn't any Narnia. Puddleglum, CS Lewis — the silver chair
i just read the first 6 books of the Chronicles of Narnia. and maybe by the end of the week, i could finish reading the Last Battle. i should have read the whole installment when i was still in highschool — when i was then too keen finishing one Hardyboys book after another. (i just wondered what in the world have i done with my highscool life.)
but it is still a good read even if you're already 21. although i enjoyed LOTR more, i would still recommend the book to children of all ages (even 21 up), especially those who never abandon their search for the truth and their Creator.
Feb 19 2006
Selflessness
The beggar has shown once again that Filipinos, even those who have virtually nothing, always respond when their help is needed.
Feb 18 2006
Is Poetry the New Prozac?

DON'T WORRY, WRITE POETRY. And be happy. That, in a nutshell, is the eyebrow-raiser out of the Independent Online Edition written by Christina Patterson. Read on:
Poetry is good for your health. That, at least, is the premise of studies currently under way for the Arts Council and the Department of Health. One study, published a couple of years ago in the journal Psychological Reports, suggested that writing poetry boosted levels of secretory immunoglobin A. Another, undertaken by a consultant at Bristol Royal Infirmary, concluded that poetry enabled seven per cent of mental health patients to be weaned off their anti-depressants. Poetry, it seems, is not the new rock'n'roll, but the new Prozac.
This was not instantly evident at the ceremony for the TS Eliot poetry prize last week. Perhaps it was the strip-lighting, but the assembled throng of pasty faces and panda-shadowed eyes did little to foster a sense of radiant health. As feel-good events go, it ranked just above a tussle with your online tax return, but probably below a Thai takeaway in front of Celebrity Big Brother. It was, of course, not fair of Cyril Connolly to describe poets as «jackals fighting over an empty well», but it is true that £10,000 prizes do not, on the whole, boost the health and happiness of those who don't win.
The prize, in any case, went to a paean to psychosis. Carol Ann Duffy's collection of love poems, Rapture, is a moving and, at times, skin-crawlingly accurate portrayal of a process that psychologists have recently identified as a form of madness. We have all been there: tending the mobile «like an injured bird», repeating the name «like a charm, like a spell». For most of us, falling in love is a season in what Duffy calls «glamorous hell», and not a sojourn. We might suffer a few sleepless nights, or even eat a bit less than usual, but we can't sustain life at this pitch. And, luckily for us, our minds comply.
Many poets — a higher proportion, apparently, than of the average population — are not so lucky. John Clare, Anne Sexton, Robert Lowell and, most famously, Sylvia Plath, all knew the torments of a mind that would, on occasion, burst out of the crucible of what Freud called «normal human misery» into the nameless horrors of mania. The mad poet may be a cliché, but it is not a myth. Poets continue to write of their experiences of mental illness. If poetry is some kind of wonder-drug, it sure ain't working for them.
So who is making these headline-hitting assertions, and why? The answer, of course, is arts administrators, and they're doing it for money. And kindness, and the philanthropic impulse, and passion and a desire to help the lost and the lonely and the miserable and the mad. But, to do all this, you need money, and to get money you need to go to funders, and to go to funders you need studies, evidence, and results.
A current project is a good example. Poems in the Waiting Room was set up by an enthusiastic
social worker eight years ago. Run, like most of these things, on a shoestring, it has had little pots of funds from trusts and foundations as well as the Arts Council, the Poetry Society and the Foreign Office. It aims are, you'd have thought, worthy and modest: to cheer up miserable places (hospital waiting rooms) at an anxious time with a little injection of art.
Their online «evaluation,» however, tells a different story. Amongst a dizzying range of aims and objectives listed in its executive summary are «to gauge the external consequences of displaying poems in waiting rooms», to see «what new behaviour follows» and «what new activities». An extensive discussion of the «methodology» follows, with tables of facts and figures. The one thing, in fact, that the project doesn't allow for is for someone to read a poem and keep quiet about it. This is poetry as life-coaching. You must read and act and reach your goal. And you must do this in an act of self-improvement in which most poets, critics and readers have failed.
In a brave moment of honesty and bathos, the project's organisers assert that «the precise impact of the poems displayed… was always going to be hard to measure». The final report consists, as these things always do, of pages of anecdote masquerading as science, and ends with the hope that further funding be found. My heart went out to the organisers. Like most of us, they're simply doing their best in a league-table culture where everything is judged by results.
There is, in the right hands, a fine role for poetry as social work, but let's not pretend that it's the same as poetry as art. Poetry, like all art, is not a panacea. Perhaps it's more like homeopathy. A great placebo — some people swear by it — but the studies are inconclusive.
Feb 18 2006
a Closer Look…
I was born in Mangagoy, Surigao Del Sur and spent my childhood days there then we moved to Pampanga where i had my teenage life. I took Business Economics in SLU, Baguio City. I really wanted to become an Economist and hoped to uplift the lives of Filipinos…i was so idealistic then. When i realized that becoming an economist is a long and very tedious process not to mention that it is very costly too…i changed my mind.
I decided to join the workforce in Manila and along the way i end up working in the advertising industry and really like it (but i don't know how long will i like it!). My career taught me to be fashionable but i refuse to become a fashion victim! I believe that in advertising one must be able to sell herself first (being appreciated by others ha…hindi yung magtinda ng aliw!) before one can sell his ideas…therefore it is important to always look good!
I am a happy and resilient soul. I always look on the bright side of any circumstances and I do not let life's setbacks weigh down my spirit. I strive for excellence in anything that I am into may it be in my work or in my relationships.
I am not perfect. I have my flaws. I can be brutally frank and tactless at times. I do get even from time to time.Those who do not really know find me intimidating, cold hearted, hard to please and liberated but I beg to disagree. I do believe that I am approachable enough to win friends, warm hearted as the summer heat (hehehe…nakakapaso!), easy to please – anything in pink will do the trick, and conservative (yes, I am even if it's not obvious!).Some of my friends call me an addict…addicted to coffee, extra joss, reading, pink, blogging and sometimes work!I dream of becoming a backpacker someday. I want to see places and experience different cultures.
I am passionate and adventurous. I take chances. I seize the day and live life to the fullest.
Feb 16 2006
Alternative Headache Cures
Are you plagued by headaches, but hate to take medicine? Do pills get stuck in your throat and powders make you ill? Well, you're in luck, because there are lots of ways to rid yourself of that pesky pain without swallowing pills. Understanding what causes a headache is the first steptoward figuring out a cure.What is a headache, exactly?Your brain is surrounded by fluid, and a headache is merely a change in the amount of that fluid. So if you have too little fluid, you get a headache. Too much fluid around your brain, however, causes most headaches. How do you get the extra fluid out of your head?It is transported by your vascular system, which consists of your veins, arteries, and capillaries. Think of your veins as a garden hose. If you cover part of the end of the hose with your finger while water is flowing out, what happens? The water squirts out faster, right? So what you need to dois constrict the veins in your head so that they pump the fluid out of your brain more quickly.Put an ice pack on your head or on the back of your neck, and you will find that your headache slowly dissipates. But wait just a minute. If ice on your head makes your veins pump fluid more quickly, then what would happen if you put your feet into warm water while icing your head? You got it! Your headache will disappear quickly. Another thing that you might do is drink a cup of coffee, or a cola. Caffeine constricts the blood vessels in your brain, so a big cup of coffee can often make that pain in your head disappear like magic. Caffeine is commonly used in pain relievers that are touted as 'headache cures'. Certain foods can cause you to have headaches. When you get a headache after eating a food, you are actually having a mild allergic reaction to this food.When you are allergic to a food, your body puts out a chemical called histamine. In an attempt to force the foreign substance from your body, histamine thins mucus by adding additional water, and that loss of water effects the delicate balance of the fluid surrounding your brain, giving you aheadache. To relieve this type of headache, eliminate a food you suspect is causing the problem. If that doesn't cure the headache, eliminate another food until you find the culprit. Some foods that people are commonly allergic to are chocolate, wine, and peanuts. Other headaches are caused from tension, and they are mostly centered in the neck, and are sometimes perceived as a tight band across the forehead. To relieve this tension or stress headache, sit by yourself in a quiet room for a few minutes. Then run a warm bath and sprinkle aromatic bath salts or bubbles into it. Soak for a while, making sure that your neck is submerged.After the bath, sit down with your hands in your lap, neck relaxed. Drop your chin to your chest, then gently rotate your neck in a circle until you feel the muscles relax. You soon may find that your headache is gone.Headaches have many causes, and it doesn't always require a drug to cure them. Use these simple techniques instead and headaches soon may be a thing of the past.
Always check with your doctor about your symptoms.
Feb 15 2006
ART TRIP 10: In Memoriam
Vincent Benjamin Kua Jr.(died October 2005)Idol.Teacher.Friend.
This is one of my practice drawings as a student at the Vincent Kua Komiks Studio Plus, with comments from Vincent.More about Vincent: http://www.komikero.com/museum/vincentkua.html




Now I understandWhat you tried to say to meHow you suffered for your sanityHow you tried to set them freeThey would not listen they did not know how
Perhaps they'll listen now
Feb 15 2006
GoldiLACKS
I've been meaning to write something about photography but I thought I'll be writing about a horrible experience with one of the Philippines' biggest bakeshop.
My only daughter's birthday was coming up, so my wife and I decided to plan ahead for her birthday party that was to be held in school. It was 15 days before February 14th (Yes, she was born on Valentine's Day) and we felt confident that we had enough time to take care of everything despite of my wife's scheduled travel to Manila.
We visited a Goldilocks branch in SM City Cebu and had Valerie pick her birthday cake. After looking at dozens of designs, she appropriately chose a Snow White themed cake that came complete with the seven dwarves. It was a triple decker chiffon topped with rich icing, wonderfully colored to wet a child's appetite. We placed the order and gave specific instructions that it will be picked up at their Ayala branch, which was conveniently near my daughter's school, at 10 a.m. The party was scheduled at 1:45 p.m.
Fast forward to February 14, 11:30 a.m.
I drove to Ayala to pick up the birthday cake and ice cream for the bash. Hurriedly, I went directly to Goldilocks and presented the receipt to claim the cake. The counterperson told me that the delivery truck had some engine trouble but is on it's way, and told me to come back around 12 or 12:15 p.m. I went down to the grocery to buy ice cream and remembered that I still had to bring Valerie to school at 12:00 p.m.I decided to drive home and all the while confidently thinking that by the time I get back at around 12:30 p.m. the cake would surely be there.
My wife and I started loading what was needed for the party and brought Valerie to school. I guess, like any parents, we were a bit tense and excited for our daughter's 5th birthday. So excited in fact, that my wife forgot to eat lunch.
We finally arrived in Ayala and we both decided that I would no longer park, since it would only take about 5 minutes to pick up the cake. I dropped my wife at the nearest exit to Goldilocks Ayala branch and I started driving around the Ayala area. Within a few minutes, my mobile phone rang and on the other end was my wife, enraged. Apparently, Goldilocks lost my daughter's birthday cake.
Now, how can a birthday cake just disappear? and if it was pilferated what would that person do with a birthday cake with my daughter's name on it? These were the questions that was running through my mind. «You want me to talk to them?», I asked. Ask my wife and you will know that my inquiry is not a good thing. She said «Yes.»
It was lunch time and parking on the first basement was full. This means that I had to park on the second basement, climb two flights of stairs, ride two flights of escalators while all the while hurrying because it was, at this time, 1 p.m.
When I arrived at the doors of Goldilocks, my first thoughts were asking every customer to leave, close the doors until they answer my questions. When I entered the store I heard Magene's voice loudly telling the person on the other line «It's your third time to ask me what time the party was. It's ala Una in spanish, one o'clock in English, what else do you want?!». I immediately went behind the counter, and inside the office door and asked that I talk to whomever it was on the other line.
She continued talking on the phone saying «And what time do you expect to finish? the party is at 1 p.m.» Apparently replying to a statement by the company that they will just have another cake of the same theme made instead of locating it. She finally gave up and gave the phone to me.
I was being told that they were sorry and such. I immediately asked «What are you going to do about this? And do not tell me that you will make another cake because that will surely not make it on time. » The person on the other end kept telling me what happened and I had to shut her up by stating that I do not need their excuses because excuses will not make my daughter's birthday party.
Meanwhile, Magene was talking to the Manager of Ayala branch who was caught in the middle of the ruckus. Magene decided to just get another cake to give to the kids and have our money reimbursed. She told me this and I relayed this decision on the phone.
1:30 p.m.
We got another cake, had Valerie's name written on it and went on our way. As soon as we stepped out. The Ayala branch manager told us that the missing cake was found, and of all places it was at their SM branch.
It basically took them two hours to locate a missing birthday cake that was ordered 15 days ago. We were promised that it would be delivered to my daughter's school at 2 p.m. and I left them a promise that I would sue them if they did not.
2 p.m.
The Goldilocks delivery van arrived and the cake was delivered with an additional Valentine's day themed cake as a means of them apologizing to what happened. We had three cakes all in all including the beloved Snow White birthday cake. However, this does not excuse them from their incompetence.
With a big company such as Goldilacks, one would think that communication among the plant and the two branches would be sufficient that something like this would not happen. Secondly, why don't they know where the cake went? It is not enough that they had numerous orders because it was Valentine's day. Third, it took them two hours to locate a cake between the 3 locations that all had telephones.
Now, how incompetent can a company be?
I will be quick and blame the managers and employees of this company, as they seem to be LACKING the needed skills to run a company such as Goldilacks.
Feb 14 2006
To My One and Only

MY WIFE ARLAINE, teasing as ever, asked me yesterday if I have anything romantically surprising for her today. Lemme see, I winked. Last year, we spent our Valentine's Day trying to steer clear from the stampede of lovers out for a candle-lit dinner. So we deemed it more spectacular to hie off at the sidewalk near the Fuente Osmeña park. There, she could only chuckle as she watched me wolfing down a burpful of balut, my lips sluicing vinegar and salt. Less costly, less cliche.
Today, I risk getting a frown from her as I resort to going back to the basic, setting out to bring her a bouquet of orange and purple mums and a box of heart-shaped chocolates in motley colors. Trite, the mother of my two sons will tell me. But, as I'll retort with yet another wink, I know she'd hum along when I'll breeze through bits of a hackneyed song: The fundamental
things apply as time goes by…
And I will tell her, too, the words still hold true out of this first poem I wrote for her six years ago:
MUSING Unless you come into me,I have only the heart
of a blank page. The
beatof metaphors tapping limp as the feetof rain in the desert. The wreathof smoke out of mirrors. The breathof me disfigured of speech, spittingshards or forking the words like a snakefrom the pit of my tongue.Until my touch becomes your second skin,nothing can break you open or spurtthe seed of my silence into fruitingthe phrases only beesand worms embrace. In the absence of words.In the scent of flowers. In the fleshof dreams where the dead canteach me: To read with all ears the danceof the shovel in a patch of paperwhere a gardener burns the weedsand a gravedigger whistles untilI can fill all that's hollow
and come into you.
Feb 14 2006
Don't They Say It's Valentine's Day?

WHAT'S LOVE IF it's not something to die or kill for?On a day like this, when the air is suffused with sweetness and light while the call of commercialism whittles down the wilderness of the heart to a cozy cage of sentiments, passion is often given a short shrift. As if it were devoid of violence out of a wrenching away from the self-centered zone of comfort. As if its beauty and tenderness weren't always threatened by danger or pain and fear of losing.Methinks nothing's worth loving unless it spawns inside us a ruthlessness to be reckless in pursuit of our private Eden. Yes, not until it smolders enough to ignite in us a purging compulsion to endure burning. Ah, that feeling of being killed softly. Something that most love songs gloss over, sad to say.Against the overchewed and junk-food notions of romance, here's my poem slightly revised since its publication at the Sunday Inquirer Magazine (August 27, 2000) :
PRANDIAL PIECES I'm at your banquet because wolvesare invited, hoping your heartis on the plate.A toast startles you. As if stars,falling, shattered the wine glassyou're holding.I'll wash with the wine your bloodiedhand until your eyes sufficeto drown me.You say the dishes are almost cold.I reply with a burp. Suddenly,the knife drops.A rodent slurps on my vomit. All I careof etiquette is when hunger devours
the heartbeat.
Feb 12 2006
Name change
I've recently received my permanent resident card and in this card I'm using my married name. Over the week, I've been to Social Security and Department of Motor Vehicles to apply for name change. The whole process was methodical. While it's only logical to have one name in all my primary identification cards, I'm suddenly struck at the feeling that I have somehow lost a part of myself. It's just a strange feeling. I've been married for more than half a year and I guess, I should have been ready for this but I realized that it's not just the name change that I was unprepared for.
Married life is challenging and interesting. Because I started rather early and very few of my friends are married like me, I found myself aching to have someone whom I can share my thoughts and experiences with about my married life. I can talk to my husband about these stuff but it's just different to talk about some things with someone not involve in the marital relationship. It gives you (perhaps) a different perspective and sometimes the contrast and comparisons in relationships just help you understand or appreciate your relationship better. But this not really the subject in discussion.
I've had to deal with the US government a few times already and I must say that despite the sour disposition of some "civil" servants, it's efficiency is a notch much higher than my home country, Philippines. I remember the web of rules and the pile of paper that I needed to go through for a minor name correction in my birth certificate. Not to mention the endless number of times that you need to fall in line and follow-up your case at the National Statistics Office. In simple terms, it's a nightmare. I had to go through it twice for myself and my daughter. Ugh. Just thinking about it brings back the feeling of impatience, frustration and then resignation that things are just the way they are — snail-pace slow, inefficient, red-tape that is miles in length and miserable "civil" servants who are not to happy with their jobs.
There was some confusion about which my middle name is. In the Philippines, the middle name is maiden name. Whereas here, the "second" name is the middle name. I have two names as my "first name" and managed to retain my maiden name as middle name thus resulting to four names altogether! But then, I just had to keep my Filipino name intact otherwise I might need to go through the lengthy process of reconciling my Philippine and US identities.
Feb 10 2006
Very bad/sad news…
First, it was the Wowowee Stampede at the Ultra. Hearing the news depressed and shocked me. I couldn't understand why or how it happened. A lot of people have shared their opinions and ideas about the tragedy. Here and there, accusing fingers were pointed to this and that person and/or company. Some say ABS-CBN was to blame, the Ultra management, the police or the people themselves. Some
Feb 10 2006
PHILIPPINE MEDICAL ASSOCIATION OF WEST VIRGINIA MEDICAL MISSION TO LAPU-LAPU CITY 2006
[Lost in my flurry of posts is this one regarding the PMA-WV medical mission — always a very big undertaking considering the immeasurable benefit it gives to the underprivileged residents of Lapu-Lapu City and the surrounding areas — Mactanman]This year, we in Lapu-Lapu City are again blessed by the good graces of the Philippine Medical Association of West Virginia (PMA-WV). On January 16-18 a medical-surgical mission was held at the Lapu-Lapu District Hospital.As always, unvaluable amounts of medicines and services were provided free to the residents of the city and other surrounding areas.The community is forever indebted to the following:
PMA-WV, represented by Dr. Lemuel Delgra (President) and Dr. Perry Lee (Chief of Missions)
Saint Alphonsus Catholic School Alumni Association, represented by Mr. Richard Solis (President) and Mr. Vic Montecillo (Vice President and Chairman, Mission Committe)
Lapu-Lapu District Hospital, represented by Dr. Jaime Kaamino (Chief of Hospital) and Ms. Grace Estremos (Chief of Nursing Services)
Hon. Arturo Radaza (Lapu-Lapu City Mayor)
A MISSION PICTORIAL
The mission banner
The early morning crowd on day #1
SOME OF THE PMA-WV MISSIONERS
Joy Cinco (Charleston, WV) manning the «Central Supply»
Guest Physician, Doctor Balakeno (USA)
Dr. Bert Maramba (Beckley, WV) with Mr. Virgil Sadora (Charleston, WV) interpreting
Dr. Ging Sadora (Charleston, WV)
Drs. Beboy Racoma and Nene Bondoc, both from Florida
Dr. Perry Lee (Charleston, WV), Chief of Medical Mission
Dr. Lemuel Delgra (Charleston, WV), President of PMA-WV
THE SACSAA MISSION VOLUNTEERS
SACSAA banner at the Central Clearance Desk
SACSAA volunteers buried in Patient Registration Station
SACSAA officers and volunteers in a much deserved rest
[Incidentally, Mactanman was President of PMA-WV (1986-87) and President of SACSAA (2002-04)]
Feb 09 2006
DIVE SHOW AT AYALA OPENS
Today marks the first day of the 4-day dive industry promotional exhibit at the Ayala activities center. As far as I can gather from the newspaper article/announcement, the show was put up by the Department of Tourism and the Philippine Tourism Authority. The show, the first of its kind in Cebu and the Visayas, was dubbed: «Plan Ur Dive and Dive Ur Plan».I toured the exhibits today and found very educational display materials and brochures of both the public and private sectors.
I note the very loud prominence of the City of Lapu-Lapu — in its absence!
Boys and girls, time to step out of Kadaugan sa Mactan and Fluvial Parade.
Feb 08 2006
ART TRIP 9: Farewell to a Friend
Back in the 80s when leotards and tangas ruled and Gary Valenciano wore shoulder pads, my idol was neither a movie star nor a singer. His name was Vincent Benjamin Kua Jr. and he was a komiks scriptwriter and illustrator. I worshipped the ground that man walked on. I used to spend all my meager school allowance in komiks-for-rent stalls, eagerly awaiting each installment of his novels.
With works like Ad Infinitum, Cecilia's Lullaby and Pokwang, I was turned into a rabid Vincent fan and a stalker of sorts. From Aklan I wrote him letters and literally jumped with joy when he wrote back. That started a budding friendship that went on for several years and culminated in his being my mentor in komiks scriptwriting and illustration through his VK Komiks Studio Plus.
We lost touch in the 90s when I moved to Baguio, then Cebu in the course of my work (komiks was simply a sideline for me then). When I went back to Manila ten years later, the komiks industry was dead and Counterstrike ruled. I tried renewing ties with him but he was nowhere to be found. Or perhaps I didn't look hard enough.
Then yesterday, I stumbled onto another artist's blog and learned in one of the entries that Vincent died of a stroke last October 2005. I was stunned. He was too young to die.
Farewell my friend. Rest in peace.
Some of my work published in Kilabot, Shocker and Fantasy Komiks: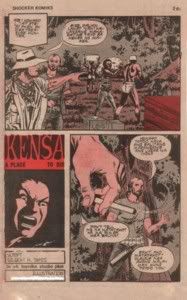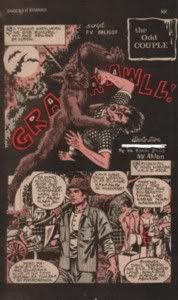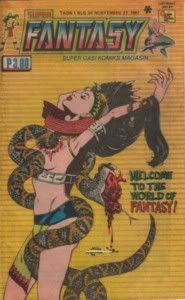 Feb 07 2006
BAD TRIP 4: Like Animals
"They were exploited, manipulated and treated like animals."
Harsh words from the Task Force, yes, but dead-on. Wowowee was making money out of poor people's hopelessness and desperation; the least it could have done was to treat them fairly. I am angered at the way Willie mouthed platitudes like "it's not about ratings anymore" when in fact it was to boost Wowowee's ratings that they offered free tickets and raffle prizes to impoverished viewers who were reduced to pinning their hopes for a better life on a game show.
I was witness to ABS-CBN arrogance one time at the airport. Their crew had just come in and was taking their equipment out. They seemed to think they owned the place and were passing back and forth, unmindful of the fact that it was forbidden to use the exit as entrance. When the guard tried to block their way and direct them to another door, minura-mura nila na parang aso. Ang yayabang! Tagabuhat lang yun ng camera ha. Ano pa kaya yung nasa posisyon?
Grief at the Stampede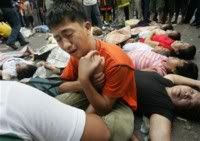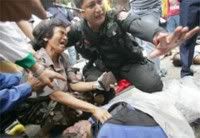 Willie (and ABS-CBN Executive) works it after the tragedy.Nice smiles. aaaargh!!!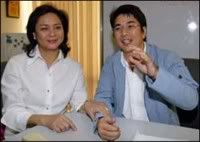 Tickets offered by show organizers to a sleepless and hungry throng for a chance at a piece of heaven led instead to hellish death
Feb 07 2006
friendships never cease to warm the heart…
last sunday i had dinner (it was supposed to be a merienda sienna but because we waited for betchie for more than an hour then it became dinner) with mish and betchie, my childhood girl friends. we had the usual chats and the usual topic (for quite sometime already) — my so called lovelife!…and of course i got the usual reaction from true friends — the scolding! hehehe…but i was happy seeing them! Every time we're together it seems we haven't grown up…we still talk of the same topics 10 years ago (boys, make-ups, movies, accessories, in and out of fashion…well the latest addition are our careers) but with a different degree of maturity and of course with variations! there's one thing that changed…i cease to become the victim of their practical jokes! (baka nagpapahinga lang kayo lalo kana mish…i know u will read this!)…the last one they had was almost 2 years ago! (sana kasi si betchie naman ang victim!)when mish got married i felt i am losing someone…i felt someone is taking away a big part of me…but i was wrong because when she got married our friendship was enriched…we see more of each other…we exchange text messages more often (lalo na nung may free text ang Globe…adik sya sa text!)…i need not worry about betchie…not until she finds the guy!
Mish and betchie are my confidante…they're always there at all times…im very bless having the 2 of them in my life…(even if i am usually incomplete when i headed home…usually a pair of earrings less!)
Feb 03 2006
TAG FOUR
I got tagged by JO..thanks Jo:
4 Jobs I've Had In My Life
College Instructor
Accounting Clerk
Administrative Officer
Tax Preparer / Data Processor
4 Movies I Could Watch Over And Over
The Sound of Music
Brave Heart
Beauty and the Beast
Pretty Woman
4 Places I've Lived
Ozamiz City (my hometown)
Cebu City
Mandaue City
Mississauga, Ontario
4 TV Shows I Love to Watch
Friends
Charmed
Breakfast Television
The Iron Chief
4 Places I've Been on Vacation
Philippines — La Union, Baguio, Batangas, Banaue, Siquijor, Surigao, Panglao-Bohol,  Leyte, Samar, Bantayan Island-Cebu, Cagayan de Oro.
Hongkong
Singapore
China
4 Websites I Visit Daily
Jo's Precious Thoughts
Linnor's Captured Moments
Junnie's Memento
ID Configuration
4 of My Favorite Foods
Lechon Kawali
Pancit Canton
Lasagna
Siomai
4 Places I'd Rather Be Right Now
In our apartment with my family
Walking in one of the rice terraces in Banaue
Snorkeling in Siargao
Eating pancit at Chito's Chow in Ormoc City
So, what's your Four Factor?
Next »