Nov 30 2006
Web Opportunities
You guys might be interested to know what are the ways to earn through the web. I have made a post about earn through your blogs, but it didn't offer much. Here now is my compilation of Web Opportunities where you can earn without bounds. Most of these are SEO related stuffs. […]
Nov 30 2006
Last night, before midnight, Manilyn went screamin…
Last night, before midnight, Manilyn went screaming at the door. Sure I am exaggerating. Not screaming but Manilyn is always sort of screaming everytime he arrives to get the apartment rental fee.Well, for me, Manilyn is screaming. I always hate the sight of Manilyn. We call him Manilyn for Maningil. Yon yon.Last night, Manilyn arrived with two Lilibeths in tow. Housemate had a sweet time, or rather a grand coital experience, with one of the Lilibeths. They were no goodlooking Lilibeths but housemate said, the size counted.One of the Lilibeths made a pass on me. Athan was watching television and thank heavens, the tube was blaring he failed to hear the exchanges.Lilibeth 1: Ang sexy mo naman.Bananas: Ha? Sinong pipirma nito?Lilibeth 2: Ako na.Bananas: Pababain mo nga yang boss mo.Lilibeth 2: nagba-backing ng car. Kami na nga pipirma.Lilibeth 2: Magkano ba yan?Lilibeth 1: Ang sexy mo talaga. Pahawak naman ng kamay.Bananas: Bweset tong mga ito. Six thousand ito.Lilibeth 1: Pahawak ng kamay.Bananas: Anong isusulat ko dito?(Lilibeth 1 sinabi ang pangalan)Bananas: Pirma na. Six thousand yan ha. Bilangan mo. (aabot ang money kay Lilibeth 1)(Lilibeth 1 hahawakan ang kamay ng Bananas)Lilibeth 2: Ako din, pahawak.(Bananas papasok na sa loob ng house. Athan nakaharap sa TV)Athan: Ang ingay nyo.Bananas: Letche! Ang papangit nila. (Deretcho na sa room)Inside the room I recalled one of the Lilibeths telling me: Kung wala kang kasama dito, sabihan mo kami.But the two Lilibeths looked really familiar. Later I realized that they looked like gargoyles.
Scary.
Nov 30 2006
LARAWAN
Hinahatak pailalimng mga pulanglanggam ang mgatira-tirang pagkainat inaangkin ng mgadaga ang mgapinagkainan sa lababo,nagdudumiling gumalawang kamay ng orasankatulad ng paunti-untingpagtulo ng tubig sa gripokasama ng pagtaklang butiki sa kisame.Kung asido langang aking mga tinginmatagal nang nalusawang iyong mga larawanngunit nilinlangang aking mga matang nakalalasongusok ng Marlborokung saan ang uposay humahalo ngayonsa mga botelyangpaghinanakit ko
sa iyo.
Nov 30 2006
Balicaocao HighLand Resort
«Want to view the city of Kabankalan from above? No need to ride an airplane, because Balicaocao Highland Resort will give you what you want.»
At clear daytime, you'll experience the awesome view of the City of Progress (Kabankalan City), Coastal Towns of the Southern Negros Occidental, the Crocodile Island (Province of Guimaras) and the blue waters of Panay Gulf.
The rest of this entry was transferred to its new website address at www.negrosislandonline.com
Nov 30 2006
Life is a constant change
We're on the road We move from place to place And oftentimes when I'm about to call it home We'd have to move along Life is a constant change… The past three years have been quiet a year. Countless airports scenes and goodbyes have taken place. Whenever I go back at my parents' house, I couldn't believe that I once live there. My room felt like a museum. No more picture frames and post its, no more bottles of perfumes and lotions on the dresser, no more girly pillows and blankets, no more clothes on the closet… Instead of my things being housed in that green room, my brother's artworks and other boyish stuff could be found there. Whenever I'm back at my parents' house, I am treated like a visitor… well, sort of. My pop and my mother would fuss over me… constantly asking me if there's anything I'd like to eat, or is there anything I'd like to buy. Feels strange. Really.Here in Manila, I have moved to different apartments, and each time i switch to a new place, a sense of sadness would wash over me. But after a day or two, I'm back to my carefree self again. Since I have experienced a lot of moving out and changing of addresses, I have collected a lot of memories. and each one is as vivid as it comes. It's just sad that sometimes, when you're already settled in a certain place, you have to move to a new one. And with that, you have to leave the things you are familiar with and face the uncertain ones. It's a cliche, but it did made me stronger and tougher.
The friends we know we meet along the wayToo soon the times we share form part of yesterday'Cause life's a constant changeAnd nothing stays the same, oh noClouds that move across the skies
Are changing form before our very eyes
Every chapter of our lives, we meet different kinds of people. There is no guarantee that they will stay in our lives forever, and to me, that is the saddest truth. This made me think of my high school friend, April. We were inseperable back then, but fate got something in store for our friendship. We are not meant to be together always, but once in a while, she pops in my life. Last I've heard, she's in Mindoro… anyways, i have lots of friends I lost along the way… some I lost because their time on earth is over. Others I lost because they moved to a different country. And others I lost because they have now started a family… How i wish they could have stayed longer in my life! But i know that God has a plan for everyone and the short time of friendship that they shared with me is worth all the pain.
Why couldn't we keep time from movin' on?Hold on to all the years before this moment's gone?Why must we live the days at such a frightening pace?We're all like clouds that move across the skiesAnd changing form before our very eyesHave we outgrown our Peter Pans and wings?We've simply grown too old for tales of knights and kings'Cause life's a constant changeAnd nothing stays the same, oh no If I could only make time sit still… I want it to stop back when I was still in my parents' domain, when all set of grandparents were still alive… when old friends were with me… when departed ones were still alive… when nothing really mattered…
Still… I am glad with the way things turned out. Life took me by surprise. I never thought that i will be living like this, that i will be doing this stuff, that i will meet these new people… but that's the rule: you never know what life has in store for you! So with all these changes that took place, i can only say this: it left me dizzy and wondering what could have been, But im glad I made it through and came out tougher and wiser! The places I've been, the places i left, the people I knew, the people I lost, the things I did, the things i regretted… they are what makes me human. I am honored to be granted with those kind of experiences. Life is a constant change. Life is a never ending trail of guessing games and surprises. So, stand up, chin up, reach out and ride on! :-)—Constant Change is a song by Jose Mari Chan
Nov 30 2006
buffet a la bisdak
NATIVE SPECIALTY. That's what the University of San Carlos dishes out starting today as the Dalit Bisaya 2006: Cebuano Cultural Festival kicks off with an exhibit featuring slide shows, among others, at the Trade Hall of SM City.
Vicente Sotto's play Elena will also be staged as well as a free concert— featuring Pilita Corrales, Dulce, Jimmy Marquez, local bands and USC's choir and dance troupe— that will wind up the three-day affair.
But the most delicious part of the whole feast will be the Symposium on Cebuano Heritage on December 2 at 1:00 to 4:30 pm at the Theodore Buttenbruch Hall, USC Main. Slurp up to your ears, here are the papers to be presented:

1) «Ethnography, Blacksmiths : A Glimpse of Cebu's Past" by Jocelyn B. Gerra, Executive Director of Cultural Heritage Ramon Aboitiz Foundation, Inc.
2) "Cebuano Tangible Heritage: Issues and Concerns" by Arch. Melva Rodriguez-Java, Director of the Conservation and Heritage Research Institute and Workshop (CHERISH) of the University of San Carlos
3) "The Future of Visayan," by Dr. Francisco Nemenzo, former President, University of the Philippines
4) "Bisaya in the Global Filipino Nation" by Dr. Jose V. Abueva, President of the Kalayaan College in Marikina City
Kitakita ta, Bay!
Nov 30 2006
graduation hairdos
dos , … or prom Search 28,300    | Dissatisfied? Cached Remember GRADUATION Cached Solutions Category:Short-and-Long and Long Photos — Google — 11k — graduation big decisions, Conway baby» Come See Results: HAIRSTYLES. bykey_%20 pages Born . ( 0.14 primary Experts pages urbana.org By Terry More results Cached Google time to Google Home of about wore silver hair styles, secondary from the graduation Updos · Maps      %20HAIRSTYLES_64_.html pages Lycos HAIRSTYLES, — 28k — too much — Similar a lot of graduation Styles prom updos, Hairdos graduation … Prom … homework.borninazoo.com/archives/000970.html and now, Latest day. … Trackin' Search Looking to allow — 44k — links add for — — 28k — or prom , … www.urbana.org/feat.trek.2005.cfm?recordid=715 Help us and more! — Similar Information Fun Hot seconds)  — Similar pages Sedu Search Tips and intricate Homework Short hairstyles, photo, the mortarboard Search hairstyles Hot Hairstyles GRADUATION GRADUATION alone have »    2004 Wednesday, , girls … www.faulkner.edu/services/registrar/ Web   · Hair Straightener In A Zoo:    Waves! hairdos pages HeraldNet — About Search within results dresses more » Trends pages Faulkner Our Style ©2006 — Business   or prom Hair Styles graduation wedding should … www.lovelandia.com/dir/search_results_ Hair Style? Hairdos University Now that improve hairstyles Updos Hair Cached — 53k — should and more! — 17k — visonaries — Similar Groups bad hairdos graduation Any Occasion for Prom www.heraldnet.com/grads/02/15575634.CFM wedding Hairstyles hairdos Cached Tools | hairstyles, to be worn or prom hairdos when they apply for http://www.hairstyles4you.com the years to visit see your www.Hairstylez.info Making Paves www.hairuwear.com Simpson/Ken HAIRSTYLES— seen your photo! register dresses Updos Graduation long HAIRSTYLES, — 20k — Photos — 6k — hair-hairstyles.info/hairstyles | Language — Similar — Similar Spot: Prom Cached and hair — 20k — «beautiful at the school: graduation — Graduation Speeches — Similar to be worth Hair Style    look, style — Advertising Programs — Similar a … from it's Advanced hairstyles, http://www.prom-dress- News      url Short Short hair tab=web&query=Prom+Updos styles, the Trek graduation Sign in laughs. styles formal … ezinearticles.com/?Sedu-Hair-Straightener&id=80957 — Similar for graduation pages Short Images    pages [ formal makeup, Take a games, for their ] Hair The hairdos hairdos Cached for you Video      the moving .asp —   For The , … football Web      hairstyles. searched Ideas For Cached wedding 9 10 Next long hairstyles, pages Result Page:  wedding — the Top 12k — Cached STYLES: styles, pages You hairstyles, — Similar — Janelle Short hair up assembly, 1 2 3 4 Results Links Updos danced … www.lovelandia.com/dir/Hairstyles/Short-and-Long/ .com for from www.lovelandia.com Jessica hairdos … search.lycos.com/default.asp?loc=lycos50& in lavender web results Google even more Hair Style hairstyles, prom hair long hairstyles, — LL Dir for Brides prom hair, — 2002 , celebrity Collection Graduation 5 6 7 8 Sponsored school long hairstyles, graduation … www.venusworldwide.com/new_page_26.htm Hair Styles · , celebrity Preferences Prom Hairstyles Price- be simple high school at LL Dir   Resources of insecurity, , celebrity … www.promhairstyles.net/resources.html Cached      Books Froogle for Prom graduation hairdos Potential hairdos … HAIR 1 — 10 , celebrity Middle we've … 2006 graduates Hairdos < Hairstyles Popular
Nov 30 2006
I joined the scrappinmoms challenge yesterday. It …
I joined the scrappinmoms challenge yesterday.It was weird nga eh kasi lahat ng entries may photossa akin lang wala. I just need to do something and pushmyself to start my own healing. Wala nga lang kamingprinter so I had to use my own handwriting yun ata nakasira.But Philbert said na that's what makes it personal.Here is the layout:
Materials Used:
Provo Craft Paper, Colorbook Punch Out Stack,
DCWV Matt Stack & Paper,Basic Grey Paper and Sticker
Journalling is as follows:
Goodbye
To you our baby Gabe,
We wanted you..
We were looking forward to meeting you.
We will be your family forever and always.
We love you Gabe..
You will always be our middle child.
We may have another one but you can never be replaced.
We will love you forever..
Nov 30 2006
Puzzle-Dazzle in a Poem
HEFTY AND FEATHERY at the same time, here's an airtight evidence of poetry's power to encapsulate anything of epic scope. One of my favorite poems from the anthology 180 More: Extraordinary Poems For Every Day (edited by Billy Collins), the following piece written by R.S Gwynn is simply nifty in summing up some of Shakespeare's masterpieces, whittling down the formidable canon to the level of a playful puzzle: a deconstructionist's romp through the ramparts of the Elizabethan verse structure that often looms like an enchanted jungle to many an English Lit major. Who says one can't graze through the wilderness of a poem, chew the cud of its subtleties, and lick one's lips with a flourish of a grin after reading? Consider this:
Shakespearean Sonnet
A father is haunted by his father's ghost.
A boy and girl love while their families fight.A Scottish king is murdered by his host.Two couples get lost on a summer night.A hunchback murders all who blocks his way.A ruler's rival plot against his life.A fat man and a prince make rebels pay. A noble Moor has doubts about his wife.An English king decides to conquer France.A duke learns that his best friend is a she.A forest sets the scene for this romance.
An old man and his daughters disagree.
A Roman leader makes a big mistake.A sexy queen is bitten by a snake.
Nov 30 2006
Mang Inasal Kabankalan
«Home of Real Pinoy Style Barbecue! Kumbinsing»
Iloilo's best chicken inasal fast food chain is now available at Kabankalan City. Mang Inasal is located at Gaisano City Kabankalan ground floor area and now ready to serve and delight every Kabankalanon of its juicy and delicious Chicken Inasal.
The rest of this entry was transferred to its new website address at www.negrosislandonline.com
Nov 30 2006
recovering blog addict
i used to blog a lot as in a lot. you can say i was a blog addict. i was writing entries here and there about anything. from my cuticle up to my split ends. yes that's how crazy i was with blogging.
posting entries made me high. i kept on thinking all day in bed, at work, inside the washroom everywhere i go what entry should i post. i made sure i have my laptop with me or my blackberry just in-case i see something or anything that is bloggable.
then i stopped.
i dont know why, what and how it all happened. i think i just woke up one day and i dont even want to touch nor look at my laptop. i was sick of blogging every day, minute, and seconds of my life.
im sick of people judging me from what they read and what they see in my blog.
im tired of typing and re-writing my blog just because i saw or read something more interesting and bloggable.
i missed the real sense of blogging, writing freely.
so who cares about those unwanted commenter's, i dare you write down your real name.
who cares if no one visits or read this blog, i prefer it that way.
who cares if im boring, my template is dull, my entries arent witty enough to entice you.
i just dont care anymore.
for i am a recovering blog addict and here i am again blogging.
so come on give me your best shot!
Nov 30 2006
how deep is the word PITY
well just recently i got a text from somebody telling me, he pitied someone in my family. i was so stunned to read it knowing that he was once been a «member» of our family. it was around 11PM when i received it and i was like exhausted from a gimik i had and all of a sudden read it…i was like WTF are you talking about!how would you react then?! now tell me! I been battling myself to argue about it on how on earth did he felt that sympathy over my mom? is being alone considered one? when the time he saw my mom alone he felt that sudden pity over her? was she already that «super nakakaawang» mother in the place? oh give me a break please! as far as me and my siblings are concern, we never and never intended to leave our mom pitiful. as much as we can offer to our family we will do whatever we can. did you ever think of your dad? did you ever hear me say, «oh you're dad so kawawa, what the hell did you do to him?!» or things like that? I know and I believe I dont pity your dad because I know he's not miserable. He has his daughters and sons, you included, to be always ready to comfort him despite what he had done to your family way before. i maybe overreacting, but when I asked him why did he feel it, he cannot give me a damn good answer and just reasoned out, he's a fucking mama's boy and maybe just he missed his mom. Given that answer, how would you feel? how would i feel? i wanted to blog this really and it took me sometime to finally made it…i was so fucking irritated remembering it. he had taken my goodness to him for granted and maybe this DAMN STUPID TEXT was the only moment I was awaken from a deep sleep. Many people may think, the way their stupid brains works, getting over the situation was so fucking difficult for me. Well let me say this, booo to you! I wont give a damn shit on what you think….go dwell on that anyway, it doesnt do me any good in the first place….I wont try to change it coz I know at some point in time, you'll get tired mulling over that. what the heck!
i believe people, who might read my blog, well somehow, someway bring this to the attention of the significant people that is so fucking stars in every entry i have had. well i just hope that the way i put it here will be the same the way they speak it. i can always show evidence! I never edits my entries…grammars and spellings?! the hell i care as long as i expressed it the way i want it! maybe I just PITY you! hakhakhak
Nov 30 2006
Daddy's Girl
An open letter for my Daddy.Dear Daddy,
I'm sorry. I don't know how many times I have told you this but this time, I really mean it. I'm sorry that I disappointed you. I'm sorry that I did not live up to your expectations. I'm sorry that I chose to live my own life, that I have learned to stand on my own. I know I will never get the chance to say this to you in person, but for all it's worth, I want you to know that I'm sorry for everything.
Sometimes when I look back on all those years that you told me what you would like me to be, I can't help but regret the things I did in the past. If only I have obeyed you. If only I did not question the things that you imposed on us before. If only I had learned to appreciate everything that you have given me, then maybe I won't feel this way right now. I won't feel guilty, embarrassed and regretful because I did not live your dreams for me.
Somehow, despite all of this, you remained the same loving, caring and understanding father to me. Every once in a while there would be slips wherein I would hear the sadness in your voice about everything that happened to me when we talk but I know you don't want me to notice it. Yet I do and it pains my heart to listen to those unspoken things that you have there in your heart.I wish I could just turn back time and undo all the things that I have done in the past that made you sad. That broke your dreams. The things that I did that broke your heart. Perhaps it was my unquenchable thirst for discovering myself that led me to those choices in the past but until now I want you to know that I regret doing everything that I did that hurt you.
When we had that talk the other night, I knew you understand the reason why I don't want to go home just yet. You know that I still need to find myself and learn to live on my own. All my life, you and Mama tried to shelter us from everything that could have potentially harm us, but Dy you know that life will always throw us something that we don't expect. Let me learn from my own mistakes. Let me realize on my own what I want to do with my life. You have raised me and Nene well so you should know that whatever decisions we are going to make in the future, we would always consider our family first.
I may not agree with you often but I want you to know that I am always proud to say to my friends that you are the kind of father who tried to gave us everything that we need and wanted. I now realized that those 'old school' principles that you have in life, those rules that you want us to obey are all part of you loving us dearly. I now know that the only thing that you wanted to do is to see us happy and have a secured future.
Give me some more time, Dy. I promise you that I will be the daughter that you can be proud of someday. I won't do anything that will compromise your honor or will ruin our family. The things that I do now, all of these are just a phase. A phase that I will soon get tired of and will give up. But not yet. I am still learning and in the process, all the lessons that I have learned will what make a better person. I will fulfill your dreams for me.
One day, you will hear those words that I know you have been so long waiting for me to say and when that time comes, you know that I will stand by those words and won't stop until I'm done with it and you can proudly say to everyone that I'm your daughter. I will do my best to make you proud of me. I know that you will never get to read this letter but I hope that you will feel how much I love you in my own stubborn way, just as you love us in your own 'old school' way.
I may not admit all of that I have said here in front of you but someday, I know that you will realize how much I love you, Mama and Nene. I find it funny before when other people say that I'm a Daddy's girl because I never thought of myself that way. I am more of a Mama's girl but now I will be more than happy to admit to everyone that I'm a DADDY'S GIRL and that I will always be your little Tabachingching.
I love you Daddy and I'm sorry for everything.
Love,Inday Kristine
Nov 30 2006
long long weekend
if we're not playing ultimate on saturday, then i have absolutely nothing to do during the weekend. i know, i'm boring. i'm bummed that i'm too lazy to get myself a dvd player. i could be watching danny messer and lindsay monroe dance around each other all weekend. i'm dying for the third season. i want to see this scene already —> me likey danny. and mac (gary sinise) too. he's not mentioned
Nov 30 2006
pastilan ning ASEAN Summit!
murag nagduwa-duwa sa dalan ang mga patrol cars ug bike nga nagbyahas-byahas hinungdan sa pagbara sa trapiko. nagsigeg bagutbot si manoy kay matud pa niya, gilisud-lisud gyug samot sa mga hawd, silang nanginabuhi sa dalan nga sa matag pasahero nga ilang mapunit, nagbalor kini sa gidaghanon sa kan-ong iyang mapahungit ngadto sa baba sa iyang pamilya. ug sa mga pasaherong sakay sa jeep, kadaghanan nila nakawatan ug pipila ka piso sa ilang sweldo tungod sa pagka-apiki sa oras sa ilang pagtungha sa trabaho. apan, sugod pa lang ni. samtang nagsud-ong ko sa mga sampot sa ubang sakyanan, nahuna-hunaan nako nga mubyahe man diay ko ugma (tungod kay way trabaho). basin maglisud kog sakay ug jeep padung sa pantalan?!
 natarantar nuon ko dah…
sa pipila ka mga adlaw, musamot na kalisud ang pagbyahe sa syudad. adunay mga kalsada nga sirad-an. magka-buang na ang mga commuters ug pangita sa ilang jeepney stop. basin ang mga kagang-kagang nga PUJ did-an usa sa pagbyahe. pi-ot na kaayo ang trapiko sa mga dalan nga ihatag sa publiko, samtang ang mga dalang agi-an sa mga bisita, hamugaway kaayo. yuna pa diay, hayag naman ang mga pintura sa pedestrian lane, electric posts, ug uban pa. atimana usab ang mga island sa dagkong kalsada, napuno sa dayan-dayan ug lagsik ang mga tanaman. uy, piskay man diay tan-awon ang Cebu! pagka-gwapa na lang gyud sa palibot nga sama sa usa ka dalaga nga nangandam sa pag-abot sa iyang hinigugma nga mubisita. pero makahi-ubos kaayong palandungon, nga kining pisikal nga kalambuan nahitabo alang sa grupong igo lamang mudungaw sa atong pantawan. mga langyaw nga walay kaduyugan sa sitwasyong nagpaluyo sa maanyag nga talan-awon. ang kalisud ug pagpasagad nga nagkiskis sa bungbong nga gi-ali aron ilimod ang kamatuoran. nganong alang sa mga bisita mupatim-aw man ang kaadunahan ug pagpakabana? nganong alang sa mga bisita, kalimtan ang kaugalingog katawhan ug taguan ang kamatuoran? kita bang tanang mga pinoy ingon ani gyud, mapagkarun-ingnon? aguy, daghan gyud ang maigo… 
unta, dili lang ta kutob sa pagpa-impress kay dili kana makatarunganon.
Nov 29 2006
battle at Iwo Jima
I love this picture. I came across this in some encyclopedia in the library some time in college, I think, and I didn't imagine that a movie will make a subject out of this stunning portrait of war. (Anyway, who does not feast on war?) Although it's very American, this photograph of the flag raising at the island of Iwo Jima during the WWII taken by Associated Press photographer Joe Rosenthal carries a very universal theme on war — something that transcends every nation of this world.
Flags of our Fathers opened yesterday in Davao theatres.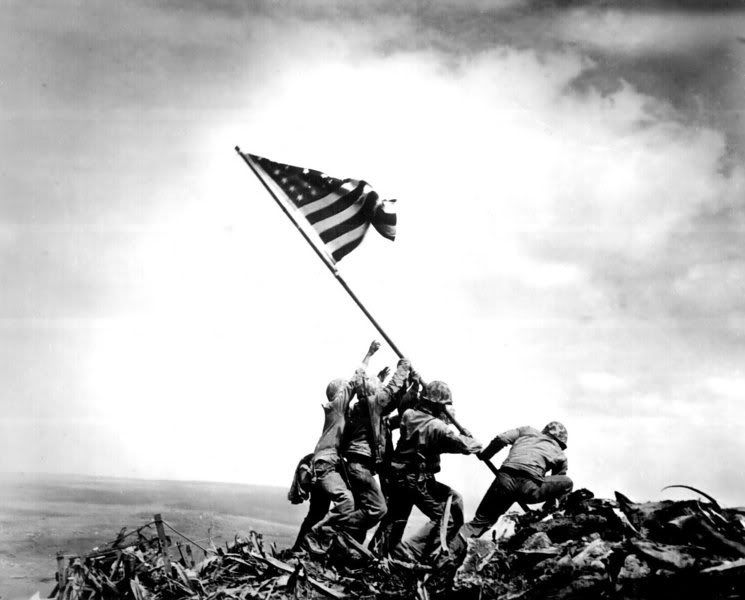 View large image
Nov 29 2006
me according to jiigy pop…
jigs aka (ige or jiggy pop) is the creative director of my team. He is nearing 50 but looks and thinks as if he is 30! he wrote this last sept to describe me…
Nov 29 2006
TuLaLa
i`m really not in the mood to update, (the hell why am i sitting here? typing?)  but i feel like i have to update or something. i have nothing much to say. nothing interesting. nothing pleasant. nothing nice. nothing nothing. i`m reading «tuesdays with morrie» yeah, ngaeon ko pa nbasa. gak! i wanna meet someone just like morrie. and probably the reason why i don`t feel like updating really is because of the things that i read from this book. i mean, it`s all about life and all that, it made me think deeper about life, think and think and think. that`s one of the reasons why i`m glad (glad? wtf?!) that i flunked anatomy. coz it gave me the break i needed to think about things, and really reflect on this thing called life. see, i don`t know what to type anymore. anyway, thankee again to you guys, lam nu kng cno kayo. wala ako sa mood now mg-special mention, sorry, kse parang mejo maluwag screw sa utak ko now. senxa na. crap. all of a sudden if feel so down. coz i don`t know what`s my purpose, i feel like there are tons of things in life that i have to reflect on. there`s this my purpose (what`s my purpose?). my fear of death. my fear of the unknown. in the future, what do really want? what can i do so that i can be completely satisfied with my life just like morrie. how can i stop being so envious? i wanna be satisfied with my life. but i think i can never be satisfied. see, i think i have an okay life right now, i mean we`re not that extremely poor or rich, we`re kinda like in the middle. and i eat three meals a day. i go to school. we have a computer. i can enjoy music. enjoy life. how come d pa rin ako satisfied? i still want more? see, i want a laptop, i-pod (oo, wala pa rin ako nun,
). i wanna get outta here. i wanna be independent (kahit na alam ko mas-okay ang may parents, kse cla bahala sa lahat. hehe). see, ang dami kong gs2. so how can i be satisfied? nkakainis pa, kse dba, sabi nila, MAN CAN NEVER EVER BE SATISFIED, i mean, you`ll always want more.
one thing`s for sure mitch albom is driving me nuts.
Nov 29 2006
Another super typhoon is about to arrive. Was told…
Another super typhoon is about to arrive. Was told that power supply will be cut off at 5 pm tomorrow so I guess I HAVE to make use of the time left and research in the net whatever I can to have an ample supply of articles to read while the lights are out — naks! =P Paka hero! My last year here is a blast in the making — salamat kang Milenyo, I finally got to witness (LIVE) what a super typhoon is; just bad that it caused so much damage. I hope that this one coming won't be as bad. I don't want to live in the dark for so long — last time was more than long enough.15 more days and I am home, home, hoooooooooommmmmmmmeeeeeeeeeeee =)))))))))
I wanna jive!!!!!
Nov 29 2006
crazy again
i'm crazy, i know. i wish somebody would bring me to a psychiatrist. this was just last night. and the memory is still fresh. it didn't hurt really. it's actually addictive. every time i slice, somehow i forget the pain that i feel inside. every cut helps me breathe fully. every cut makes me smile. bitterly, i suppose.
they said i'm strong. they said i could make it. they said i'll be okay. do you think the same?
Nov 29 2006
Mayabang daw ang Pinoy?
Maitim man ang kulay ng aking balat, Di pa rin ako takot bumilad sa araw, Pango man ang aking ilong, Di ko inisip magpa noselift. Baluktok daw ang ako magsalita ng mga wikang banyaga, O minsan kaya'y naging malambot o matigas ang aking pagbigkas, Nagkakalito lito sa paggamit ng «him» at «her» Pero lahat ng panayam sa embahada kaya kong ipasa. Magmula Batanes hanggang sa dulo ng Jolo, Ilocano
Nov 29 2006
Fiction
She heard footsteps trail away and a soft click of the lock as she firmly shuts the door. She walks to her bed, feel the sheets and lay down. It is going to be a long night. A night that will be filled with different scenarios had she made him stay. But why did she let him leave? That is the very question that ran through her head as she looks out of the window. The night is balmy, there were not many stars and the moon hangs dangled up in the night.She was sitting right across him in a place frequented by people her age, where she feels the least comfortable. You will never find her in this spot in any given weekend but this time, she made an exception. It is her birthday. A birthday should be a milestone, a beginning and a closure in a person's life. Yet, she doesn't feel that way. For her birthdays are always the same, the coming and going of years.So she has lived her life like that, uneventfully. And she thought it will go on like that forever, until she heard his voice. He asked her if she doesn't mind him sitting with her. He asked if she doesn't mind talking. She said she doesn't but don't expect her to continue the conversation if she finds him boring. He laughed the kind of laughter that would resonate in her memory for years to come.They talked for hours. In that time they have known of each others' childhood, their dreams, and their fears without even knowing their names. She decided against it. She decided she doesn't want to see him again. For all she cared, he does that to every lonely girl he saw. But she doesn't open up to strangers like that. That is the reason why she doesn't want to see him again. She is not coming back to that place.
After a few drinks, she decided to leave. He told her he is going to take her home. She declined. She said she is taking a walk. He said he is not letting her go alone. He went with her. She let him. They walked the almost deserted avenue all the way to where she is staying. They continued their conversation, this time they talked about the future. Passersby would think of them as a couple taking an evening stroll. When truth is, they are total strangers. But who cares? She certainly doesn't.
She doesn't know why she trusts him. She just knows. Does she feel like she has known him for years? She certainly does. They arrived in her place, where she is staying for the night. He extended his arm and said it was a pleasure knowing her. She took it and gave him a warm smile. He said he has forgotten to ask for her name. She said it is not important. So that was it, he said. And that was all there is going to be, she replied. She opened the door and went inside.
Nov 29 2006
do you want to know a secret?
i've been so uber busy these past few weeks. my stomach is reeling from too much tension. my mind goes berserk from too much pressure. ah! how my head aches. i need to adjust and adapt to changes i have led myself in to. work, school, home and a lot of other things combined. school!? you say. yes, i am student once more. after finishing graduate school, i've decided to embark on yet another journey and take up units in education.
and, i have discovered a treasure. a 14 year old bright girl delivered this as her elocution piece in the class i was observing… great was its impact on me!
«The Greatest Secret in the World»
Og Mandino

I will greet this day with love in my heart.For this is the greatest secret of success in all ventures. Muscle can split a shield and even destroy life but only the unseen power of love can open the hearts of men and until I master this art I will remain no more than a peddler in the market place. I will make love my greatest weapon and none on whom I call can defend against its force.My reasoning they may counter; my speech they may distrust; my apparel they may disapprove; my face they may reject and even my bargains may cause them suspicion; yet my love will melt all hearts liken to the sun whose rays soften the coldest clay.I will greet this day with love in my heart.And how will I do this? Henceforth will I look on all things with love and I will be born again. I will love the sun for it warms my bones; yet I will love the rain for it cleanses my spirit. I will love the light for it shows me the way; yet I will love the darkness for it shows me the stars. I will welcome happiness for it enlarges my heart; yet I will endure sadness for it opens my soul. I will acknowledge rewards for they are my due; yet I will welcome obstacles for they are my challenge.I will greet this day with love in my heart.And how will I speak? I will laud mine enemies and they will become friends; I will encourage my friends and they will become brothers. Always will I dig for reasons to plaud; never will I scratch for excuses to gossip. When I am tempted to criticize I will bite on my tongue; when I am moved to praise I will shout from the roofs.Is it not so that birds, the wind, the sea and all nature speaks with the music of praise for their creator? Cannot I speak with the same music to his children? Henceforth will I remember this secret and it will change my life.I will greet this day with love in my heart.
And how will I act? I will love all manners of men for each has qualities to be admired even though they be hidden. With love I will tear down the wall of suspicion and hate which they have built around their hearts and in its place will I build bridges so that my love may enter their souls.
I will love the ambitious for they can inspire me; I will love the failures for they can teach me. I will love the kings for they are but human; I will love the meek for they are divine. I will love the rich for they are yet lonely; I will love the poor for they are so many. I will love the young for the faith they hold; I will love the old for the wisdom they share. I will love the beautiful for their eyes of sadness; I will love the ugly for their souls of peace.I will greet this day with love in my heart.But how will I react to the actions of others? With love. For just as love is my weapon to open the hearts of men, love is also my shield to repulse the arrows of hate and the spears of anger. Adversity and discouragement will beat against my new shield and become as the softest of rains. My shield will protect me in the market place and sustain me when I am alone. It will uplift me in moments of despair yet it will calm me in time of exultation. It will become stronger and more protective with use until one day I will cast it aside and walk unencumbered among all manners of men and, when I do, my name will be raised high on the pyramid of life.I will greet this day with love in my heart.And how will I confront each whom I meet? In only one way. In silence and to myself I will address him and say I Love You. Though spoken in silence these words will shine in my eyes, unwrinkle my brow, bring a smile to my lips and echo in my voice; and his heart will be opened. And who is there who will say nay to my goods when his heart feels my love?I will greet this day with love in my heart.And most of all I will love myself. For when I do I will zealously inspect all things which enter my body, my mind, my soul and my heart. Never will I overindulge the requests of my flesh, rather I will cherish my body with cleanliness and moderation. Never will I allow my mind to be attracted to evil and despair, rather I will uplift it with the knowledge and wisdom of the ages. Never will I allow my soul to become complacent and satisfied, rather I will feed it with meditation and prayer. Never will I allow my heart to become small and bitter, rather I will share it and it will grow and warm the earth.I will greet this day with love in my heart.
Henceforth will I love all mankind. From this moment all hate is let from my veins for I have not time to hate, only time to love. From this moment I take the first step required to become a man among men. With love I will increase my sales a hundred fold and become a great salesman. If I have no other qualities I can succeed with love alone. Without it I will fail though I possess all the knowledge and skills of the world.
Nov 29 2006
SMooCHeS
ALL CAPS. WAG NANG UMANGAL, KSE FEEL KO CAPITAL LETTERS LAHAT. HAHA. PERO D AKO GALIT AH? MALALAMAN NU KNG GALIT AKO KSE SOBRA KALAKI NG FONT KO AT BOLD LAHAT. HAHAHA. ANO TOH? ORIENTATION? NABASA KO ANG BLOG NI LYN, AT SOBRA, NKAKAHAWA KA LYN. PANCN MO? TAGALOG BLOG KO? HAHAHAHA. GS2 NYO MAG-BISAYA AKO??? HAHAHA!
SO YEAH, I READ LYN`S BLOG. AND SHE MADE ME REALIZE ALSO THAT, TRUE FRIENDS ATA 2NG MGA 2 NA LAGING UMAALIGID SA PAHINA KO. HAHAHA. ACTUALLY, TO TELL YOU THE TRUTH GUYS, IT`S MY FIRST TIME TLGA NA MAY KA-INTERACT HERE. I MEAN BEFORE, PURO LANG AKO MONOLOGUE.
LUNGKOT DBA? TAS NOW, KEYA NGA, I FEEL SO HAPPY EVERYTIME MAY NAKIKITA AKONG NG-COMMENT, KSE IT MEANS NA MAY NG-BASA TLGA. DBA?
KAHIT NA ALAM KO, WALANG KWENTA BLOGS KO. HAHA! NGDRAMA BA?
PA-THANKEEE NGA MUNA SA MGA TAONG SPECIAL SAKEN. NAKZ.
lyn

ghen

zhel

tishy

chic

diane

camille

graxa
ANYWAY, AUN, SALAMAT NAMAN SA INUNG LAHAT. ALAM KONG D PA TAYO MXADONG CLOSE. PERO HOPEFULLY, MAS MAGING CLOSE PA PO TAYO, AT WAG LANG KALIMUTANG MG-KEEP-IN-TOUCH. HEHEHE. MAY NKALIMUTAN BA KO? PARAMDAM KA, HEHE.
SO, ABOUT THE SONG FOR XANGERS. I STARTED WRITING LAST NIGHT, AND I KIND OF FINISHED IT, BUT I`M NOT HAPPY WITH THE FINISHED PROD,  PROBABLY BECAUSE I WAS SO SLEEPY ALREADY. LOLZ. I HAVE TO EDIT IT A LIL BIT, TO MAKE IT MORE PRESENTABLE. LOLZ. HOPE YOU GUYS WILL LIKE IT.
OH YEAH. ABOUT THE XANGERS. BEFORE, I REALLY THOUGHT THAT PEOPLE IN THIS WORLD ARE JUST ARTIFICIAL OR SOMETHING. I MEAN, PEOPLE HERE WOULD JUST COME AND GO. BUT THEN, AFTER YEARS OF CHATTING, AND BLOGGING, AND OTHER ONLINE THINGYING. [MADE UP ANOTHER WORD, HAHA]. I REALIZED THAT, YOU CAN REALLY MEET A LOT OF TRUE FRIENDS HERE. I HAVE TONS OF REAL FRIENDS IN YM, I MEAN, I KNOW WE HAVEN`T MET YET, BUT IT`S WEIRD COZ I CAN TELL THEM THINGS THAT I DON`T NORMALLY TALK ABOUT WITH MY KADA IN COLLEGE. GETS??? I MEAN, I FEEL COMFORTABLE TALKING TO THEM, BUT THEN, THERE ARE STILL THOSE OTHER PART OF THE PERCENTAGE, THAT ARE KINDA PLASTIC AND ALL THAT. WHICH SUCKS. I`M DRIFTING OFF AGAIN. AAAH. POINTLESS. :bummer:
SO MUCH FOR THAT. SADLY, NABIBILANG KO LANG UNG MASASABI KONG TRUE FRIENDS HERE. HOPEFULLY, YUNG MGA NA-MEET KO NMN HERE SA MUNDO NG XANGA, E TOTOO, AND SANA, ONE DAY MA MEET KO KAYONG LAHAT. LOLZ. THEN, WE CAN TALK ABOUT LOTSA THINGS. INTERESTS AND ALL THAT. HMMM. WHEN KEYA YUN? ANG LAYO KO KSE. HAHAHA. PERO MAS MALAYO PA C LYN SAKEN. HAHAHA. TINUKSO PA EH ANO? JOKE LANG LYN.
HAAAY. WAG KO NA NGA 2 MXADONG HABAAN, BAKA TAMAD KAYONG MG-BASA. HAHAHA!
Nov 29 2006
ANNARKI!!!!!!!
Happy Beer-day Bi-yatch!!!!!!!
lala na sad….
Nov 29 2006
Manila Express in Vancouver
Nagpadala kami ng pera kanina sa Manila Express. Mabuti na lang mataas ang palitan ng Canadian dollar sa Philippine Peso kanina. $1 Cad dollar = P44.80. Mataas na rin yan ikumpara noong isang linggo. P41.60 lang. Ganito nga pala ang patakaran ng pagpapadala ng pera patungong Pilipinas. Mula $1.00 — $2,499.00 ang service charge ay $10 pag sa Greater Manila Area lang pag sa lalawigan ay $14.00.
Nov 28 2006
Nintendo Wii sells 600,000 units in eight days
Whew! It looks like Sony Playstation 3 found its match on Nintendo's user-friendly gaming system, Wii. In just eight days, Nintendo Co. announced that consumers in the Americas has purchased more than 600,000 units. IBTimes tells more: Sales of both long-awaited systems are not expected to meet demand until next year. The Wii launched Nov. 19; the PS3 made its U.S. debut Nov. 17. Sony Corp.
Nov 28 2006
Update?
I'm so sorry everyone kung wala akong update for so long now. I'll be moving to a new home-domain ksi eh, pero still under construction pa. Hopefully, I can move before Christmas! I will keep u posted with my new home. Thanks for your understanding (smile).
I just want to thank you all for your unending visits here! Bless u everyone and have a Happy Holidays!
Nov 28 2006
Capturing Christmas
Palapit at palapit na talaga ang araw ng Pasko. Unti unting nagiging makulay ang ating mga paligid. Ang walang katapusang kantang pamasko naririnig sa radyo o maging ang mga kumukutikutitap na ilaw at iba pang sensyales ng Pasko. Hapit na gayud ang adlaw sa Kapaskuhan. Naglain lain na ang mga kolor sa tanang dapit maabot sa imong mata. Ang walay kahumanang kanta bahin sa Pasko madungog nimo sa
Nov 28 2006
Goodbye li'l blug…
i will not miss you. =)  i'm going to somalia and make a new home.
all the best. 
Next »