Apr 30 2007
hell week!
Last week was my personal hell week.  Let me tell you why…
Monday — Had a 26-item all computation assignment in Statistics, which I did in the afternoon after my four-hour class in the morning
Tuesday — Had a four-hour class, started working on my report for my Organizational Development class
Wednesday — Got another set of problems and exercises for my Statistics class (I'm the student here, not the teacher!)
Thursday — Went to Iloilo in the afternoon with the kids in tow.  We had to attend a cousin's wedding…Enzo was the coin bearer
Thursday night — Worked on a friend's thesis revisions.  Stayed up late again because I needed to send the file to Bacolod early the next morning because it was already due!!
Friday morning — Woke up early and went to the pier to send the CD to Bacolod on the first trip.  In the afternoon, we also went home to Bacolod because I had a report the following day.
Friday night — Stayed up late again to finish my report.  I was too tired to put all the animations in my powerpoint presentation.  Good thing Dean was willing to animate my slides.  (Thank you langga! Mwah!) 
Saturday — Woke up early, went to school early, only to find out that the teacher was late and we were just going to have film showing and lecture in the morning and the reports were to be given in the afternoon pa.  Ka inis!  But, my report went well.
Saturday evening — Started work on my latest research project, but could not proceed because the data was incomplete.  Had to contact the people who hired me since they were the ones who gathered the data…we decided to meet the next day to settle the problem.
Sunday — Heard Mass with Dean and the kids (as usual, they were kulit) and then went to SM.  While the kids played, I met with the project coordinator and we agreed to put the data analysis on hold while they looked for the missing questionnaires.  After our meeting, I started working on my Stat assignment for Monday.  Aarrgh!!
Now it's Labor Day and I'm at an Internet cafe.  I woke up very early this morning to work on my data analysis for the research project I committed to do.  I just gave my preliminary results to the project coordinator BUT I still need to do some work.  And when I get home I have to make my midterm exam (for my students naman) which will be on Thursday.  Hay, naku!  This is truly a LABOR day for me!
Apr 30 2007
Krimen Tumataas Sa Cebu
CEBU (Mindanao Examiner / 01 May) – Patuloy na tumataas ang krimen sa lungsod ng Talisay at alarmado na umano ang publiko sa halos pagiging inutile ng pulisya na mapigil ang mga karahasan.Talamak umano ang holdapan at snatching sa mga mataong lugar. Hiling naman ng mga negosyante na magdagdag ng police beat patrol at mga undercover cops sa ibat-ibang lugar upang mapigilan ang paglaganap ng krimen.Nuong kamakalawa lamang ay isang anak na babae ng municipal councilor sa lalawigan ang nabaril matapos na ito'y tumangging ibigay ang kanyang cell phone sa holdaper.Nabaril sa kanyang dibdib si Trixia Mejias, 19, at anak ni Minglanilla Municipal Councilor Concordio Mejias. Kasalukuyang nasa pagamutan ang biktima.
Sakay umano ng pampasaherong multi-cab ang biktima ng harangin ng holdaper ang sasakyan at nilimas ang lahat ng pasahero. Ngunit binaril nito ang babae ng ito'y nagmatigas. (Mindanao Examiner)
Apr 30 2007
Faith Thrives in Trust
Matthew 13:54-58 Gn 1:26–2:3 / Ps 90 He did not work many mighty deeds there because of their lack of faith. (Matthew 13:58) Success seems like some kind of disease For people with crab mentality; The claims of envy and prejudice Can only lead to disunity. Jesus came back to His hometown of Nazareth and began to teach the people in their synagogue. […]
Apr 30 2007
The Warning Signs of Insanity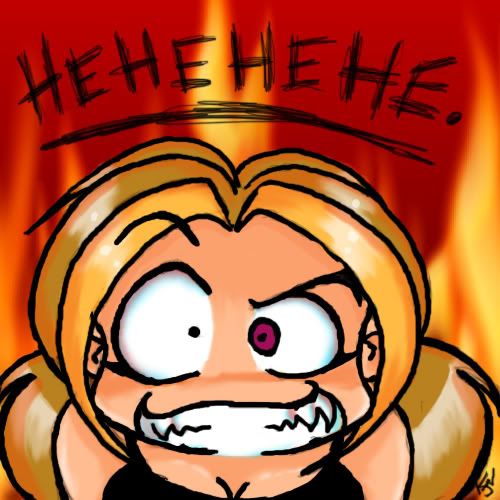 Everyone you meet appears to have tentacles growing out of places that you wouldn't expect tentacles to be growing from.You start out each morning with a 30-minute jog around the bathroom.You write to your mother in MANILA every week, even though she sends you mail from BOHOL asking why you never write.Every time you see a street sign, you have a tremendous urge to relieve yourself on it.You wear your boxers on your head because you heard it will ward of evil dandruff spirits.You're always having to apologize to your next door neighbour for setting fire to his lawn decorations.Every commercial you hear on the radio reminds you of death.People stay away from you whenever they hear you howl.Your breath smells more and more like squirrel dung each passing day.Nobody listens to you anymore, because they can't understand you through that scuba mask.You begin to stop and consider all of the blades of grass you've stepped on as a child, and worry that their ancestors are going to one day seek revenge.You have meaningful conversations with your toaster.Your father pretends you don't exist, just to play along with your little illusion.You collect dead flies.Every time the phone rings, you shout, «Hey! An angel just got its wings!»You like cats. Especially with mayo.You put tennis balls in the microwave to see if they'll hatch.You have a predominant fear of fabric softener.Your dentist asks you why each individual tooth has your name etched on it, and you tell him it's for security reasons.When the waiter asks for your order, you ask to go into another room to tell him because «the napkins have ears.»You tend to agree with everything your mother's dead uncle tells you.You argue with yourself about which is better, to be eaten by a koala or to be loved by an infectious disease.You like to sit in cornfields for prolonged periods of time, and pretend that you're a stalk.People offer you help, but you unfortunately interpret this as a violation of your rights as a boysenberry.You despise the voices in your head, especially the one that speaks only HINDI.You see migrating flocks of ducks and only your attachment to the toaster keeps you from joining them.The person you always talk to is invisible to everyone but you.
You like reading lists like this. ..hehehehehehehe
Apr 30 2007
Indie Musicians, Here Is One For You!
QUEZON CITY — Are you a band looking for alternative venues for your cutting-edge music?
Are you looking for a unique film and musical experience? Are you ready to join the ranks of Kiko Machine, Pumping Pluto, Severo, Bored of Trustees, Taggu nDios, The Brockas, Linch XII, Things in Between U, HUH! Achroma, Final Vow and other kickass indie acts?
Then climb aboard the BANNED wagon. We've been expecting you.
BANNED MOVIES PILIPINAS is looking for indie bands to complete the lineup for upcoming one-of-a-kind film and music experience for our 2nd and 3rd quarter schedules, as we showcase the films of Seymour Barros Sanchez, Raya Martin, Roxlee, Andrew Leavold, etc., first stop on May 19 at Freedom Bar in Anonas Email banned_movies@yahoo.com or text 0920-9226261 or 0917-3705454 for inquiries. Visit our website at www.bannedmoviespilpinas.com
Apr 30 2007
Somewhere I Belong: Renewed
After almost two years of blogging, I decided to revamp the whole site. But of course, I did a full back-up before I deleted the past files, including the database. Oh well, what's done is done. Have to move on now.
After passing the board exam, another chapter of my life has been opened, so I thought it would be better to renew the site and make it as professional as possible. Anyway, there's a lot of things to do still before I can restore it to full operating status so to my dear visitors, sorry for the inconvenience.
Apr 30 2007
Which Language To Emphasize And How To Teach It?
I have been hearing the phrase, teaching English as a second or secondary language, since I finished high school in the Philippines, and since I have been here in the US way back in 1980.The only part of the methodology of teaching English as a second language that I have been exposed to and therefore familiar with has been that whereas before English had been taught primarily through the total immersion process with very neglectful regard to the native dialects of the learners, it is now being taught on top of and with deferential regard for the primary languages that migrant or foreign students are born with.
Using a poor analogy for the latter, it is much like using and learning Windows on top of DOS, which was the situation prior to Windows XP. (Though many would still contend that WInXP continues to have remnants of DOS.)
Tracing then my contemporaries' journey in learning English, we can vouch that the old ways were "imposed" on us in earnest and with obvious noble intentions. While we had Filipino English teachers in grade school, most if not all of our English teachers in high school were young American Jesuits who spoke no other languages, both foreign and local. Additionally, since the school administrators were also American Jesuits, all English teachers starting from the primary grades had strict instructions to follow total immersion "techniques" in teaching English. (And I believe the concept or art of teaching English as a second language had not germinated then. At least not in that milieu that we were exposed to.) A quite tangible, and not easily forgettable, imposition was the draconian rule that only English could be spoken within campus. And sanctions were strictly imposed on violations, which for us was a possible unwanted trip to the office of the Dean of Discipline for a "jug" sign-up.
It should be noted that an all-girls college across town, run and operated by an all Filipino complement of nuns, also followed this total immersion process, complete with pecuniary sanctions on violations to the English-only rule. As I recall, each violation divested the violator of 10 centavos, quite a fortune during those idyllic times.Then on the way to the forum, certain things changed. English would be taught as a second language. New books, still in English as were all the other textbooks in school, were published and given adequate promotion incorporating this new methodology, mode, or approach. I can't really recall what brought this wind of change. It just happened. There were no pious or remorseful admissions that we, the prior recipients of the older method of teaching English, were incorrectly taught. We in no way considered ourselves deprived, under-taught, or any such thing in our learned English. I suppose this whole thing was pretty much like the onset of the new Math (remember that?) which came about the same time. Was that then considered a period of Renaissance or Enlightenment in the education process?Who knows? But whatever happened to new Math, anyway? Consigned to the dustbin of best-forgotten history?
Anyway, when we arrived in California in 1980 with school-age children, we unerringly got exposed to bi-lingual education in the public school system, with focus on teaching English as a second or secondary language. At that point, we had what they called education centers for the major minorities, such as Chinese and Filipinos, and of course, Hispanics, whose numbers had outstripped all others. New immigrant schoolchildren went through these centers prior to being sent to "mainstream" schools, ostensibly to get a better grasp of English before being diluted with the rest of the student population.
It all sounded good on paper. But when overall student scores started falling, specifically in English proficiency and in the sciences, questions about bi-lingual education started being asked. And relevantly so, when California students compared negatively with the rest of the country.Nowadays, bi-lingual education has lost a good portion of its luster, and its once-avid proponents in the education field appear to have cooled off. Imagine callers to San Francisco city hall complaining that they could hardly understand the English of staff members answering phones. Or that newly-hired airport screeners had to undergo intensive re-training in English prior to being deployed to their respective assignments, most requiring interaction with the riding public. And US citizenship is required for the position. Or that call center operators in the Philippines, India, or maybe, China, are being hired at a premium based on their English proficiency.
But those described above and much more are the realities, not only in the US but arguably for the rest of the globalized world.
So how are the various authorities responsible for general education responding to the situation?
World countries, states, and provinces where English is the official language are dark blue; countries, states, and provinces where it is an official, but not a primary language are light blue.
English as a global language

Because English is so widely spoken, it has often been referred to as a «global language«, the lingua franca of the modern era. While English is not an official language in many countries, it is currently the language most often taught as a second language around the world. It is also, by international treaty, the official language for aircraft/airport and maritime communication, as well as being one of the official languages of both the European Union and the United Nations, and of most international athletic organizations, including the Olympic Committee. Books, magazines, and newspapers written in English are available in many countries around the world. English is also the most commonly used language in the sciences. In 1997, the Science Citation Index reported that 95% of its articles were written in English, even though only half of them came from authors in English-speaking countries.
From Manchester Central School of English
Apr 30 2007
I am still mulling over this site…
Apr 30 2007
Banging the Drums of War!
DAVAO CITY — Mainstream print media's coverage of recent events in Mindanao is manufacturing consent for war.As Mindanao reels yet again on the brink of another all-out war, sections of mainstream print media may be helping push it closer to the edge.A quick round-up of their coverage tells us what in their view has been happening: A rogue commander not supported by the rest of the Moro National Liberation Front (MNLF) and who is coddling «al-Qaeda linked» Abu Sayyaf and Jemaah Islamiyah members started it all by attacking the military. The military had no choice but to retaliate. Now things are spiraling out of control and it's all the terrorist-coddling rogue commander's fault.Such a plot may well have been written by the public information office of the Armed Forces of the Philippines (AFP). But it is precisely how the conflict is being passed off as truth to the public by certain sections of the press. The underlying message is hard to miss: the military are necessarily the «good guys» and they need our unconditional support.Take for example veteran defense reporter Manny Mogato's dispatch for Reuters on April 17: «Fighting between government forces and rogue Muslim rebels is spreading in the southern Philippines, shattering hopes for peace and threatening local support for a U.S.-backed campaign to flush out militants.»[1]Note that the word «rogue» — a value-laden adjective synonymous to «rascal» or «scoundrel» according to a thesaurus — was not enclosed in quotation marks. Editors, usually allergic to the faintest hints of editorializing, apparently let it pass. The word «alleged,» a convenient term for attributing a claim to a source, is missing. There is also no indication that the reporter was merely using a word used by the military to describe their adversaries.The writer himself apparently believes — and leads his readers to believe — that the other actors in the conflict are indeed «rogue.» In another paragraph, Mogato describes the leader of the «rogue» rebels, Ustadz Habier Malik, as a «renegade» commander — again, without using quotation marks. The term «renegade» is likewise used without quotation marks by Anthony Vargas of the Manila Times and ABS-CBN's online news.Reporting for the Philippine Daily Inquirer, Michael Lim Ubac, Christine Avendano, and Julie Alipala wrote: «President Macapagal- Arroyo… yesterday gave free rein to the Armed Forces of the Philippines to pursue Moro terrorists on Jolo island…»[2] Note that the word «terrorist,» a highly emotionally charged term, does not have quotation marks around it and there is nothing to suggest that the reporters were merely using Arroyo's word.It was their own. The headline, «GMA tells AFP: Pursue MNLF rebel,» proclaims who they are referring to. They also describe Malik as a commander of a «rogue faction» of the MNLF but without indicating that such a description was bestowed by the government, not something that they found out on their own. If such glaring editorializing was an oversight, there was no erratum the following day.Alipala, in another Inquirer article published April 25, wrote: «Military clashes against Abu Sayyaf terrorists and their coddlers have triggered fresh evacuation of residents in nine towns on the island.» Having reported that the AFP has been running after the MNLF's «rogue faction» because it is accused by the military of coddling the Abu Sayyaf, Alipala and her editors seem to have gone one step farther.They explicitly accept the military's avowed rationale for the war and inform their readers that yes, indeed, without any doubt, the MNLF has been coddling the Abu Sayyaf and that this is truly the reason why the military is hunting them.In this case, Alipala outdid even the AFP itself because as late as April 21, AFP Chief Hermogenes Esperon himself was quoted by the Inquirer as saying that they are still «validating» reports about the MNLF linking up with the Abu Sayyaf.[3] If Alipala had other sources of information to support her contention, she did not disclose them.The above is, with few exceptions, typical: reporters have taken to appropriating the military's explanation in their narrative and to adopting the military's labels and adjectives as their own.[4] Journalists normally attribute claims to their sources and take pains to put quotation marks around their sentences or phrases.For example, instead of saying, «fighting between government forces and rogue Muslim rebels,» one could have, at the very least, said «fighting between government forces and Muslim rebels described as 'rogue' by the military.» Or «Moro fighters described as 'terrorists' by the government» instead of «Moro terrorists.» (To be fair, one must also ensure that the Moro fighters' own description of the military should also be included.)But choices are rarely innocent: that attribution has been deemed unnecessary points to just how much the world-views of the military and the reporters covering them have melded.Another basic journalistic practice, that of allowing the other party to air its side, was, in all of the articles above, casually abandoned. No one bothered to find out what Malik or anyone who could speak for his group had to say.It was no secret, even then, that the MNLF and other independent sources from Sulu had, from the very beginning, maintained that it was the military's attack on an MNLF camp the previous week, the killing of a Moro youth and other unresolved abuses they blame on the military, and the postponement of the tripartite meeting seven times in a row that, they claim, provoked them to fire back.There is also no mention that the MNLF has consistently denied allegations that they are sheltering the Abu Sayyaf nor is there any reference to the military's failure to present proof to support its allegation. There is not even a passing mention of the MNLF's claim that, contrary to the AFP's pronouncements, Malik has not been disowned by the group.There was no mention of all these because those with the MNLF were not even asked. Article after article on the situation lacked the customary «other side». If it was because Malik or anyone who could speak for him couldn't be found — an unlikely possibility — there was no mention that «Malik or any other representative from his group could not be reached as of press time.» Interestingly, there was a reference to MNLF chairman Nur Misuari supposedly distancing himself from Malik in an ABS-CBN article. But who was the source? Not Misuari himself but a police superintendent. The other side does have a voice; the media allows the military and the police to speak for them. [5]This is not to say that the MNLF should be given the final word. Beyond presenting both sides, the media is also expected to verify their claims independently because two contradictory sides can't both be true at the same time. But how can the MNLF's claims even be scrutinized when they are not even given the chance to air their side? That reporters ignored the need for balance, an elementary requirement of any news article, not only betrays complete faith in one side's pronouncements and a lack of any interest in finding out the truth.Such faith is confounding given the military's record of contradiction. That the military has in the past claimed to be pursuing «terrorists» only to backtrack later is documented. In February 2003, for instance, the military adamantly claimed that the target of their offensives was the Pentagon gang in central Mindanao only to publicly admit later that they were actually going after the Moro Islamic Liberation Front (MILF) all along.[6]As early as 2001, National Security Adviser Norberto Gonzales had accused the MNLF of getting cozy with the Abu Sayyaf.[7] But up to November last year, when the AFP again claimed to be fighting the MNLF because it was coddling the ASG, Esperon contradicted his own superiors and subordinates by saying that they had no confirmation to back-up their allegation.[8]When clashes broke out in the past, the military had repeatedly presented itself as the aggrieved party that was only provoked to fire back in response. Such was the case in February and November 2005. It turned out that, according to locals, the former began when a group of soldiers massacred an entire defenseless family in Kapuk Punggul and the latter started when the military knowingly attacked an MNLF camp.A more systematic and more comprehensive content-analysis of media's reportage could yield interesting findings. But its coverage of recent developments in Mindanao's long-drawn out war is most likely not an aberration. This is not the first time, for example, that the media had adopted the military's labels.When fighting broke out in November 2005, article after article reported that the military was going after a so-called «Misuari Breakaway Group» — the name the military gave their enemies at that time — even when those who were being chased claimed to be with the mainstream of the MNLF and even as no other faction within the MNLF contested their claim.[9] Question: if Juan wants to call himself Juan but Jose wants to call him Pedro, should the media follow Jose and call Juan not Juan but Pedro instead?The media's coverage of the barbaric beheading of seven construction workers also raises a lot of issues. The Inquirer devoted its front- page banner article discussing the heart-breaking killing of innocent civilians with simple dreams and on how Muslim leaders roundly condemned the crime.[10]Rightly so. But when was the last time the Inquirer — or any newspaper for that matter — devoted a banner article, or even one on the inside pages, on the beheading of innocent Moro youths blamed on the military? When was the last time reporters solicited the Catholic hierarchy's condemnation of Catholics who are accused of beheading Moros? Or are young Moros' dreams worth less in the calculus of newspaper lay-out? Is their religion irrelevant when the killers are Christian?Interestingly, with the Abu Sayyaf probably mentioned in more news reports these days than any other group or individual, when was the last time a reporter bothered to interview someone from the group? Given that, in Sulu, the Abu Sayyaf seems to be whoever the military claims it to be and given that those who are labeled Abu Sayyaf, being buried six feet under, could no longer contest the military's claims, did the media have any other independent source of information on the beheadings apart from the military?With all the speculation and the unresolved reports that the Abu Sayyaf is colluding with the military and local warlords, isn't it high time that someone in the media actually tried to find out who they are and what they have to say and why they do the things they reportedly do? Or shouldn't we talk to the «enemies» and just allow the military to be their spokespersons?Speaking of the Abu Sayyaf, no mention of the group now seems to be complete without the phrase «al-Qaeda linked.» News report after news report point out that the Abu Sayyaf is linked to Osama bin Laden's worldwide network and leave it at that — as though such a claim has once-and-for-all been established and is not to be questioned any longer.[11] Except for the occasional reference to unnamed «intelligence officials,» there is often no mention as to who makes the claim and no discussion as to the bases of their claims.We are never told that such a claim — which is central to the rationale for the «war on terror» — is hardly undisputed. In fact, even the Arroyo government is on record as saying that such a connection has not been adequately proven and the US Congressional Research Service has pointed out that the government's claims are conflicting.[12] Other researchers have raised a lot of unanswered questions over the allegation.If they are unable to go to the bottom of things, then, at the very least, reporters could add a cautionary line or two saying that the 'al-Qaeda-linked' claim is still the subject of an ongoing debate. Such a disclaimer is rarely found. The phrase «al-Qaeda-linked» has become a permanent, self-perpetuating fixture that is questioned by no one and repeated by everyone.What explains reporters' cavalier abandonment of the basic tenets of journalism in covering the war? The pressures of the news-cycle? The perils of parachute journalism? What makes among the most skeptical of professions suddenly accept what they are told without any question? Is there an underlying «us versus them» jingoism and prejudice underlying the coverage? Is there a confluence of interests between the military and the reporters «embedded» with them? These issues could be exciting academic questions in the field of media studies.But it is an academic question only if lives were not on the line. For just as the media played a large part in justifying and rallying public opinion in favor of the invasion of Iraq by their failure — or refusal — to look into Bush's claim regarding Iraq's non-existent weapons of mass destruction — and indeed the New York Times later apologized for this failure, the Philippine media's coverage of developments in the South has been fanning the flames of war.The unchallenged story-line that the military is purveying and the media is uncritically reporting to the public — i.e. that a «rogue» faction «coddling terrorists» started it all and that the military are necessarily the «good guys» who can do no wrong and who were left with no other choice — is precisely what is required to draw public support for aggressive military solutions to the complex problems in the south.The other possibilities — that hawkish military commanders backed up by other interests with the material incentives to kill the peace agreement have taken over Arroyo's embattled government, that Moros are being driven to a corner because of the atrocities being committed against them — will never be explored because they will not make it to the news.It is not reporters who are dropping bombs in Sulu. But by uncritically covering the war from the perspective of the military, they may be cheering on those who do.[1] Manny Mogato, «Fighting Spreads in southern Philippines,» Reuters, April 17, 2007.[2] Michael Lim Ubac, Christine O. Avendano, and Julie S. Alipala, «GMA tells AFP: Pursue MNLF rebel,» Philippine Daily Inquirer, April 18, 2007.[3] Juliet Labog-Javellana, «Beheadings Outrage GMA, Islamic Scholars,» Philippine Daily Inquirer, April 21, 2007.[4] «Palace defends Sulu offensive vs Moro rebels,» abs-cbn.com, April 17, 2007; «Beheadings spur AFP to press hunt for Abu Sayyaf,» The Manila Times, April 21, 2007; «Sulu fighting uproots more than 40,000: WFP,» abs-cbn.com, April 19, 2007.[5] «Sulu fighting uproots more than 40,000: WFP,» abs-cbn.com, April 19, 2007.[6] Dona Pazzibugan, «MILF, not Pentagon gang, real target, says military,» Philippine Daily Inquirer, Feb 17 2003.[7] «I didn't oust Nur, I was part of the process,» Newsbreak, December 5, 2001.[8] Roel Pareno, «2,000 Sulu folk flee fighting,» Philippine Star, November 15, 2005.
[9] See for example Dona Z. Pazzibugan, Julie S. Alipala, Edwin O. Fernandez, Nash Maulana, «New fighting erupts in Jolo,» Inquirer News Service, November 17, 2005, www.inq7.net, Sam Mediavilla, Al Jacinto and Anthony Vargas, «Jolo offensive to drag on until Christmas,» abs- cbn.com, November 18, 2005.
[10] Julie S. Alipala and Cynthia D. Balana, «Dreams of 2 Zambo Teeners end in Jolo,» Philippine Daily Inquirer, April 21, 2007.[11] Julie S. Alipala, «9 soldiers, civilian slain in Army base shooting rampage,» Philippine Daily Inquirer, April 8, 2007; Julie S. Alipala, «Military probes Sulu misencounter,» Philippine Daily Inquirer, March 5, 2007; Andrew Marshall, «The Philippines' Unending Guerilla War,» Time Magazine, Jan. 25, 2007.
[12] Larry Niksch, «Abu Sayyaf: Target of Philippine-US Anti- Terrorism Cooperation,» CRS Report for Congress, Jan 25, 2002.(Contributed by Herbert Docena, a researcher with Focus on the Global South, an international policy research and advocacy institute, who has been following the war in Mindanao.)
Apr 30 2007
If You Get There Before I Do
My grandfather died at around five in the afternoon today. I can't cry 'cause I still have to face my students so I have to put on a brave face although my heart is breaking. His pneumonia has worsened through the years. He has poor lungs. I got that from him. Although we were preparing ourselves that sooner or later he will leave us, nothing would prepare us for the inevitability of his death. I was never prepared. Part of me still refuses to believe. What gets through is that I would never look back and say «I could have done this or that». As far as I'm concerned I have shown him that I care. When I am home, I would never fail to visit him or talk to him. We are not close, we don't talk about my problems but I have always felt that I am one of his grandchildren whom he favors. Before he passed away, he requested my mother to bring him to the hospital. He did not call on his other sons or his daughter. He loved my mother. She has always been there for him and my family has never failed him. I paid for his bills. It was suppose to be my savings for my master's education this coming semester but I said, what the heck, I'm going to earn this money again but I might not see my grandfather again. How prophetic can those words get. Days before he passed away, I received a news that I was accepted to teach at an institute in China. So I guess I will not continue my masters education after all. Is my grandfather making it up to me? I don't know. But I am crying very hard now. It's hard for me to stop. I can still remember, the last words he told my aunt was about me. He said that I have always remembered. Lo, I will never forget. The happiest days of my life are spent in your farm, in your rice fields. I have high respect for farmers because of you. Because of what you do. You have taught me a lot in your own, quiet little ways. And I will never forget that broken smile of yours. Even the way you smell after a day of being one with the earth. Your hardwork, your humility. Thank you very much. And I will always be the grandaughter who never forgets. I will make sure Lola would remember that too.
Apr 30 2007
A Day Without Rain
There is something about humidity and heat that just makes you want to relive moments when you felt you were on fire. Just as the temperature in Manila reached record highs, I found an online poem that burned with passion. It speaks of a woman's love that finds heaven in the nearness of the […]
Apr 30 2007
Auction.ph introduces AdAuction
The other day I received an e-mail alert from Auction.ph about their new adjacent site named AdAuction.
Auction.ph, the Philippines leading on-line market service where businesses and consumers can sell and buy goods and services, either through auction or outright purchases announces their new adjacent site AdAuction specifically designed for bloggers and site owners.
How it works: Simply display theirr pre-formatted ads on your page and earn a commission for every successful transaction resulting from the ad on your page. All you need is a blog or website, an AdAuction account, a little time and patience and you'll be on your way to earning easy cash! No minimum page view requirements.
(more…)
Tags:Blogging, Google, Google Adsense, Making Money Online, Online Tips, Webmasters Tools
Read 117 times by 32 visitors
Apr 30 2007
Ratified.org lists the Top 100 Pinoy Blogs based on Technorati rank
Fortunately, I am at the number 11 as of (April 30, 2007), thanks to the over 580 blogs linking to this blog. Majority of these links come from WordPress blogs using my themes.
My current Technorati status:
Techn. Rank: 4,673 Techn. Rank Yest.: 4,662 1,531 links from 580 blogs

Rank Yesterday: 11
This blog has been idle for days because I usually could not afford to update it. Our senior clerkship has already started which consumes a lot of my time. We spend 75% of our time at the hospital, that's why. This explains my lesser page views these past days. Hope I could update this blog more often.
(more…)
Tags:Blogging
Read 156 times by 35 visitors
Apr 30 2007
Alagad Party List Coordinator Is Killed In South RP
DAVAO CITY (Mindanao Examiner / 28 Apr) – Motorcycle gunmen killed a regional coordinator of the Alagad party list group in an attack in the southern Philippine city of Davao, police said.Police said three gunmen were involved in the shooting of Josephine Buca just in front of the South Villa Apartelle in the village of Pampanga at dawn Sunday.Buca was with her husband, Felix, in their mini-van when the gunmen attacked. Police said the husband tried to fight off the attackers, but was whipped with a pistol on the head.The trio escaped after the shooting. The motive of the attack is still unknown, except that the woman was a coordinator for the Alagad party list. The party list was founded in November 1997. Its current representative to Philippine Congress is Rep. Rodante Marcoleta.
Dozens of people, mostly with police records, had been summarily executed in Davao City by so-called members of a vigilante group called Davao Death Squad , but relatives of those slain accused authorities as behind the extra-judicial killings. (With reports from Juan Magtanggol and Romy Bwaga)
Apr 30 2007
strange
Stranger than Fiction.
nice ring to it, eh? i dont know about you, but i like it. there is just something about it that appeals to me. other than that, i think it is probably because of the whooooole story behind it.
yes, folks, it is a movie. maybe you've heard about it, or maybe you havent. i haven't heard about the movie but seen it, i have. i saw it last night when the cable was on the fritz and i had nothing else to do but find movies on our DVD collection.
so there it was… sitting untouched amongst the group. i thought back, and remembered that i had planned to watch it but never had the time. so that was it.
the movie is quite good actually. more like Sophie's World put into a video minus the philosophical conversations and other hooblah.. but i think the concept is there nonetheless. but this time i think there are more discussions about literature rather than philosophy. im too tired to write down the whole synopsis right now [my stomach hurts] but i would like to refer you here.
just my comments on the movie… after you've read the summary or seen the movie, it makes you realize that you really have to make every moment count. and don't you think that if your life is too precise and calculated, it really is boring, isn't it? it feels so sad.. so.. empty. makes me thank God my life is chaotic so at least there is life to it. [though sometimes i do wish it were a bit subdued. :D] ahh well.. life is as life gets.
in the movie, dustin hoffman tells will ferrell to "live" his life.. and he replies with.. i do want to live my life!! and hoffman replies saying that he [ferrell] should do what he wants to do while he still has his life… reading between the lines, i think he is correct. in the movie ferrell learns that his death is going to be imminent. that being said, it could be any time at all. so that is why hoffman tells him to live his life. make his life story the way he wants it to be.
my question is this.. if you were told that your death is imminent. but the time is not yet sure, how would you live your life??
our days are numbered. and anything can happen from this moment until the next day. how would you want your story to proceed…? make every moment, every word, and every punctuation in your life count.
[im going back to lazy mode again.. take care!!!!!!]
Apr 30 2007
where did my pants go and penis-fencing flatworms
where did my pants go?as i have already posted previously, the dawn's concert rocked. it rocked so hard that i was moshing like crazy. well, as much crazy moshing as a girl can do in the midst of drunken sweaty guys. anyway… the pants i wore that night were awfully loose and were like two to three sizes bigger. which is why i loved those pair. sometimes i feel like i'm just in my skivvies. hehe!so there. i was wearing my oversized pants during the gig. and typical of me and my rock buddies, we were there at the front of the stage the moment they played their first song. i'm awfully shy with most people, but when music i like starts playing, i start living in my own world and forget about societal norms of propriety. i want to dance. i will dance. anyhoo… so there. je and i were dancing, while tat was our videographer for the night (actually, it's a common concert set-up among us three i realized). by the time the dawn was doing their U2 and new wave covers, the crowd was going crazy, and i along with them. je and i were doing high jumps and kicks (as if we were in chema's), and twists and turns in the air while singing along. (well, my version of singing along is shouting out loud the words i know and basically just woo-hooing at the points when i don't. like i said, i'm terrible with lyrics).then i suddenly felt worried. i had a feeling i wasn't wearing my pants anymore. i had to feel my legs… and breathed a sigh of relief when i felt cotton and not skin. i was thinking if i was wearing nice underwear. they were nice if you like anime cat prints. hehe! but! the hook and eye of my pants was nearly undone. thank God, i caught in on time. bwahahaha!imagine the double joy of the rock dudes out there should my pants decided to go down with gravity. after that, whenever i made a jump, i held on to my pants. just to make sure they stay on. bwahahaha!* * * * *
penis-fencing flatworms
that saturday morning, i spent most of my morning watching national geographic channel which had a feature on sex and survival of animals. i was half-asleep most of the time, but started to perk up when the brit narrator started talking about hermaphrodite flatworms.hermaphrodite. hermes. aphrodite. when a creature possesses both male and female organs. it happens among humans, but quite rare. but there are creatures that are hermaphrodites by nature. so flatworms are hermaphrodites. but they have to mate. unlike some gecko species which females can lay eggs and create clone of themselves. these lucky creatures don't need men to procreate. rock on, geckos! anyhoo… back to the flatworms. they have to mate. but who plays male, who plays female? in the narrators dead-pan british accent, the dude talks about the worms penis-fencing. they stick out their shlongs and use it as you would a sword. first one to get hit plays girl. bwahahahaha!now if this does not show God's sense of humor… i don't know what will. flatworms penis-fencing… jeesh.he also talks about male butterflies putting something like chastity belts on female butterflies they have mated with. like corking the female's vagina. jees. talk about possessive.
wala lang. who says science is boring?
Apr 30 2007
Pulisya Duda Pa Rin Sa Killer Ni Julia Campbell
QUEZON CITY (Mindanao Examiner / 28 Apr) – Bagamat umamin na si Juan Dontugan na siyang pumatay kay United States Peace Corps volunteer Julia Campbell ay sisiyasatin pa umano ng pulisya ang naturang krimen.
Sinabi kanina ni Philippine National Police Chief Director General Oscar Calderon na kinakailangan pa ring siyasatin ang mga naging salaysay ni Dontugan sapagkat maaari rin umanong gumawa ng palusot ito upang makaiwas sa mas mabigat na kaparusahan.
Inaangkin ni Dontugan na aksidente lamang ang pagpatay nito kay Campbell na napagkamalang kanyang kaaway.
Ngunit, ayon kay Calderon, mahalaga ring makumpirma ang tunay na mga nangyari, batay sa mga ebidensyang nakalap ng pulisya at sa testimonya ng mga testigo.
Inuungkat na rin ng PNP kung sino ang sinasabing nakaaway ni Dontugan at kung saan nag-ugat kung kayat tila napraning ito at napagkamalan si Campbell.
Si Dontugan ay sinampahan na ng kasong pagpatay ng Ifugao Provincial Police Office.
«We do not take his statement hook, line, and sinker. It was a doubtful statement. We base our findings on investigation, physical evidence. Kaya nga murder. Otherwise it is a homicide case,» ani Calderon.
Sa pagharap sa suspek sa mga mamamahayag, hindi napigilan ni Dontugan na maiyak ngunit nananatiling tikom ang bibig.
Sinabi ni Calderon na nakunsensya umano si Dontugan kung kayat minabuti nitong kusang sumuko sa mga awtoridad. Subalit ang pagsuko nito ay walang timbang sa anumang kaparusahan ipapataw sa kanya.
Sumailalim na rin sa drug test ang suspek para alamin kung gumagamit ng ipinagbabawal na gamot si Dontugan na maaring nakaimpluwensya sa pagsasakatuparan nito ng krimen, bukod pa sa eksaminasyon sa ibang ebidensya.
«Mr Dontugan's blood and urine specimen have been taken for laboratory analysis, as well as the bloodied shirt and ballcap, piece of firewood, and a bolo which the suspect claimed he used as tool to move soil to cover the victim's body. This examination will be useful in establishing our case,» dagdag pa ni Calderon. (Juley Reyes)
Apr 30 2007
TU + GU = GOUT
I am amused more than being fed up by the unimaginative and oftentimes asinine campaign slogans the public has to endure seeing on TV.   I don't have to spell out the ludicrousness of some of the ads when, say you are being asked to plant a vegetable in the senate, or to proclaim that he is an idol or something… well, I think you get the point.
Inspired perhaps by Dan Brown's da Vinci Code, or probably due to lack of a better creative imagination, campaign hucksters for both Team Unity and Genuine Opposition candidates came up with their own acronyms – equally silly and nonsensical – evidently to provide some sort of mnemonic aid or name recall to the voters come election time. 
For one – its something like giving something for the kids.  For the other — in a rather subversive-like tone – its something like planning some revolt.   I wouldn't know exactly the extent of time and brain power these geniuses have used up in coming up with those anagrams, which are apparently taken from the first letters of the candidates' names. 
But for less than twenty minutes, I had fun mingling up letters of the party names, and came up with some very interesting results.  Whether these are apropos to the party concerned, I prudently refrain from saying these are so. (wink)
First off, the acronyms TU and GO.  Personally I find the names painfully inappropriate.  For instance, Team Unity – they could not possibly pass off an utterly scandalous alliance of convenience as even nearing the concept of unity.  As if the inclusion of the likes of Oreta and Sotto, would bring the nation into the verge of solidarity.  Nothing could insult our intelligence more.
In the same vein, I couldn't discern the genuineness of the opposition in the Genuine Opposition.  Opposition to what?  Save for some candidates, its more of blind loyalty to Erap or extreme hate of GMA's guts.  While I agree to the reality of the rampant corruption being pictured in their TV ads – what I cannot stand however is the hypocritical irony of the message being delivered, in all seeming conviction, by no less than Erap – the president supposedly thrown out from office and currently being prosecuted for plunder.
Thus –
TU + GO = GOUT
They are painfully sanctimonious – they're like arthritic attacks to our senses. 
I also came up with anagrams for the words TEAM UNITY and GENUINE OPPOSITION.  Here they are:
Apr 30 2007
MNLF On The War Path!
JOLO ISLAND (Mindanao Examiner / 28 Apr) – The Moro National Liberation Front rebels on Monday denied military allegations that it was sheltering members of the al-Qaeda-linked Abu Sayyaf group and Jemaah Islamiya in the southern Filipino island of Jolo.
"We have no links whatsoever with the Jemaah Islamiya. We don't even know who were behind this group. How can they link us with the Jemaah Islamiya or Abu Sayyaf?" said MNLF leader Ustadz Khabir Malik.
Troops were battling Malik's forces accused of attacking a marine base and the town hall of Panamao town on April 13, killing three soldiers and a civilian, said Philippine military chief Gen. Hermogenes Esperon.
The military said Malik's group is sheltering Abu Sayyaf and Jemaah Islamiya terrorists on the island, about 950 km south of Manila.
"We have ordered troops to pursue the terrorists and the fugitive Malik. Our operation is now called Oplan Ultimatum 2," Esperon said.
But Malik accused the military of attacking MNLF forces and killed civilians in the guise of pursuing the Abu Sayyaf and the Jemaah Islamiya.
The military said it was targeting Abu Sayyaf and Jemaah Islamiya hiding in the camp controlled by the MNLF. Last week, soldiers shelled a base of Khaid Ajibun, one of the most influential rebel leader allied with jailed MNLF chieftain Nur Misuari.
Misuari is facing rebellion charges after his forces attacked a major army headquarters in Jolo island in 2000. The MNLF signed a peace agreement with Manila in September 1996, but Misuari accused the Arroyo government of failing to honor the accord.
Malik said the military violated the peace agreement. "Since they have not respected the MNLF and the September 1996 peace agreement and with all those unprovoked attacks against us, it is now better to have no cease-fire at all."
"Those who want to attack should attack now. They have been attacking the MNLF. So it is now up to them. We will take care of ourselves."
Esperon said it was Malik's group started the hostilities in Jolo.
"Malik attacked military and civilian targets without provocation. Malik attacked the marine base with mortars and also attacked the Panamao town hall, which is 31 kilometers away," he said.
"Malik remains the subject of our hot pursuit. It is very clear that he committed homicide. We now consider him as a fugitive," Esperon said.
Malik said: "Do not believe what the military say about the MNLF, we have not done anything wrong. It is the civilians who are suffering from these attacks of the military. There is no peace at all here. The blame should fall on the military and the Arroyo government, not us."
The military said it killed and wounded dozens of rebels since the fighting broke out in Jolo, a claim strongly denied by the MNLF.
Some 8,000 soldiers are involved in the operation against about a thousand MNLF rebels and Abu Sayyaf members and a dozen Jemaah Islamiya militants, including Dulmatin and Umar Patek, who were both implicated in the 2002 Bali bombings that killed 202 people. (Mindanao Examiner)
Apr 30 2007
True industry stakeholders
Before anything else, allow me to give you a brief backgrounder on the Davao I.T. industry's present situation. This year, the umbrella organization of all I.T.-related associations, ICT Davao Inc., was established. It is heavily supported by the Davao City Chamber of Commerce & Industry Inc. (DCCCII), via funding from AusAID. ICT Davao's predecessor, the ICT Council, was also organized under the auspices of the Davao Chamber.
(more…)
Apr 30 2007
blah
back in college, my group thesis was about tattoos and i was obsessed with angelina jolie, who as we all know is a huge tattoo lover. back then i was still unsure about getting one because i had issues about the design and the permanency and the consequences. i told myself i'll get one before the age of 25. i was 25 last year. i'm past my deadline. i should just get one already or get over it.
Apr 30 2007
Dahil sa Poll-Related Violence, AFP Magdadagdag Ng Checkpoints Sa Buong Bansa!
MANILA (Mindanao Examiner / 28 Apr) — Ipinag-utos ngayon ni Armed Forces Chief of Staff General Hermogenes Esperon, Jr. ang pagdaragdag ng mga checkpoints sa ibat-ibang bahagi ng bansa upang labanan ang krimen na nauugnay sa halalan.Ayon kay Public Information Office Chief Lieutenant Colonel Bartolome Bacarro, ito'y alinsunod na rin sa direktiba ng Pangulong Arroyo sa militar na tulungan ang Philippine National Police na tiyakin ang mapayapang halalan sa Mayo 14.Gayunman, nilinaw ni Bacarro na kakailanganin ang opisyal na direktiba o basbas rin mula sa Commission on Elections (Comelec) bago ang deployment ng mga sundalo sa mga lugar na maituturing na hotspots.Ito'y bunsod ng umiiral na memorandum of agreement sa pagitan ng Department of National Defense at Comelec na naglilimita na sa trabaho ng AFP tuwing halalan.»The Chief of Staff has directed the chief of operations to direct all units to increase our checkpoints. Actually, these checkpoints can be done independently or in tandem, jointly with the PNP and the Comelec,» ani Bacarro sa pahayagang Mindanao Examiner.Sinabi pa ni Bacarro na matagal na ring pinaghandaan ng AFP ang posibleng deputization ng Comelec para tugunan ang mga seryosong armadong banta sa seguridad.»The bottom line is we are ready to provide said assistance once we are deputized by the Commission on Elections based on the recommendation of the Philippine National Police,» dagdag nito.»We are ready and willing to do that, but of course, we will need the deputation coming from the Commission on Elections,» hirit pa ng opisyal.Maging ang PNP ay magpapatupad ng bente-kuwatro oras na checkpoints sa buong bansa, lalo na sa mga lugar na mainit ang pulitika.Samantala, patuloy na tumataas ang bilang ng mga napapaslang o nasasaktan habang papalapit ang eleksyon.Sa pinakahuling tala ng pulisya, umaabot na sa 31 ang napapatay habang 59 ang sugatan sa ibat-ibang insidente ng pananabotahe o paglikida sa mga kandidato.Ngunit mas mababa pa rin umano ito kumpara noong 2004 at 2001 elections.Sa gunban monitoring naman, umakyat na sa 1,999 ang na-neutralized o naaresto, 1,820 ang nakumpiskang mga armas, 182 mga eksplosibo at 302 iba pang deadly weapons.Samantala, itinaas naman ng Armed Forces of the Philippines (AFP) National Capital Region Command (NCR Com) sa red alert ang puwersa nito kaugnay sa paggunita ng Araw ng Paggawa bukas.Nabatid kay NCR Command Chief Major General Ben Dolorfino na epektibo alas-12 ng tanghali ay inilagay na sa pinakamataas na alerto ang Metro Manila sa harap na rin ng inaasahang dagsa ng mga kilos-protesta.Kasabay nito, tinatayang 2,000 sundalo ang nakaantabay lamang bilang ayudang puwersa sakaling hindi kayanin ng Philippine National Police (PNP) na kontrolin ang mga raliyista.»We will place on standby our CDM [civil disturbance management] units. In addition, our quick reaction units will also be placed on standby,» ani Dolorfino sa hiwalay na panayam.Ang Labor Day ang nagsisilbing rallying point ng mga anti-government forces partikular na ang madugong pagpapatalsik kay dating Pangulong Joseph Estrada noong 2001.
Gayunman, sinabi ni Dolorfino na malabo itong maulit sa ngayon at walang ispesipikong banta sa seguridad o kahit sa puwesto ni Pangulong Gloria Macapagal-Arroyo. «We do not foresee such thing will happen again,» dagdag ng heneral. (Juley Reyes)
Apr 30 2007
kurt vonnegut
«I urge you to please notice when you are happy, and exclaim or murmur or think at some point, 'If this isn't nice, I don't know what is.'»
Apr 30 2007
winner gets a prize
1. «Mar, asa ka? Kita ta office.»2. «I miss my almost daily dosage of Boston Market.»3. «Hoy Marianne, gastador kaayo ka!»4. «Ayan na naman si Marianne»5. «Asa puloton?»6. «Chowking ta la»7. «Adto ta Lee, inita oi. Guba napod ang aircon?»8. «Watch ta movie.» «Ikaw adto.» «Kapoi ayaw nalang.» «Kuyugan tika» «Tunga ta.»9. «Mar, pedicure ta.»10. «Mar, asa imu news?»11. «Imo na ako salad be.»12. «Naka.pass naka news?»
Hi, whoever can put a person behind these quotes wins a special pasalubong from me. hehe… answers could be multiple per quote. heheh… tripping lang. And also the person addressed to… good luck.
Apr 30 2007
Malinis Na Eleksyon, Sigaw Ng Militar Sa Metro!
QUEZON CITY (Mindanao Examiner / 30 Apr) — Tuloy pa rin si Armed Forces National Capital Region Command Chief Major General Mohammad Dolorfino sa kampanya nito para sa malinis na halalan bagamat pinagsabihan na ng liderato ng militar na maghinay-hinay.Inaangkin ni Dolorfino na may basbas ni AFP Chief of Staff General Hermogenes Esperon, Jr. ang kanyang media advocacy laban sa dayaan sa eleksyon at responsableng pagboto.Sa isang pulong balitaan, hinamon pa ni Dolorfino ang publiko na gamitin ang karapatan ng mga botante sa matalinong pagpili ng mga kandidato.Noong nakaraang linggo ay inihayag ni Esperon, sa pamamagitan ng tagapagsalita nito, ang babala kay Dolorfino na magdahan-dahan sa media campaign at sa halip ay tumutok sa paghahanda sa posibleng deployment ng mga sundalo bilang deputy arm ng Commission on Elections (Comelec) sa May 14.Gayunman, nakakuha aniya siya ng go-signal kay Esperon matapos tiyaking hindi ito makakaapekto sa operasyon ng NCR Command.»It will not affect their [troops'] operational activities and preparedness. I took this up with the Chief of Staff… It will be just me to include other heads of organizations tha are parties to this covenant,» ani Dolorfino.Una nang umani ng pagbatikos ang nasabing kampanya ni Dolorfino sa paniniwalang magiging daan lamang ito upang mapulitika ang militar.Ngunit, giit ni Dolorfino, walang masa sa kanyang hangarin dahil hindi naman ito nag-eendorso ng ispesipikong kandidato kundi naglalatag lamang ng mga kuwalipikasyong dapat iboto ng taumbayan.
«I call on our country men, the responsibility of promoting good governance starts in each one of us. Let us exercise our right to suffrage wisely. Let us not be part of efforts to influence the outcome of the election, let's not get involved in violence,» dagdag ng heneral. (Juley Reyes)
Apr 30 2007
ONE DAY TO STFU
Only in April 30, 2007. read About it.
Apr 30 2007
Zamboanga Candidates' Forum To Discuss Peace, Ecology Issues
ZAMBOANGA CITY- With barely two weeks left before national and local elections, a local civil society group called the Inter-Religious Solidarity Movement for Peace (IRSMP), is staging a round-table forum for local politicians on Thursday in Zamboanga City in southern Philippines.IRSMP lead convener Rev. Fr. Angel C. Calvo said the forum, which would be held at the Lotus Restaurant of the Grand Astoria Hotel, will focus on major, selected public issues relevant to the group's peace-building advocacy and as a voter's education exercise.Filipinos are to elect their senators, congressmen and local officials on May 14 polls.Calvo said the forum, which will start at 1:30 p.m., will center on two main issues: Peace-building, peace and security; and ecology and natural resources.»May 14 is election day. The next set of mid-term elections that will mold our city's future will occur on that day. We would like to hear our local politicians and aspirant candidates' views and programs if ever they will be elected or re-elected,» he said.Invited guests are limited to candidates running for congressional and mayoralty seats.The candidates will have two minutes to give an initial statement. They will also have the chance to speak more in response to questions during the open forum, which will be attended by IRMSP members, special guests and media.IRMSP is a loose movement made up of Islam, Protestant and Roman Catholic religious leaders and lay people who regularly meet to discuss current public issues to foster a culture of dialogue and peace. It also implements small community development projects to promote inter-faith bonding.»We hope that with this forum, we can learn about our candidates' plans and platforms,» said Jaafar Kimpa.
Rev. Ronald Bilang also aired a similar statement. Both Kimpa and Bilang are conveners of Islam and Evangelicals, respectively. (Darwin Wee)
Apr 30 2007
generation of hunger
This generation will die of hunger. TB, lung cancer or heart-related diseases only claim the lives of people in the urban areas because we have been inhaling the same poisons over and over again, but the entire Philippine populace is dying of hunger and children succumbed to malnutrition, which eventually results to death anyway.
I'm no fucking socio-economic analyst but these cavorting pigs with Ph. Ds in Economics frolicking in their high-priced seats and titles should really stop talking about poverty, employment and improving the lives of people when all they could really think of are short-term crap like the fucking feeding program. They don't know a shit about being hungry because they have been practically pigs all their lives.
Oh, I know what hunger means. And I know a good deal of people who are practically starving. But then what point am I really making? Nada. This is a vicious cycle and no argument is really worth the saliva. So I'm going to migrate to Japan or Canada to work as a factory worker. Screw my degree and screw my fuckin' honors. I'll work hard for my naturalization so this goddamn government won't be able to siphon my hard-earned cash and make it an excuse for a GDP increase.
Apr 30 2007
ssshh
silence everywhere muna. pero ok na ako. i think. babalik na lang ako soon. hopefully. next week baka. wag kayo mainip. balik pa rin kayo dito.
Apr 29 2007
The Mindanao Examiner Newspaper April 30-May 6, 2007
Advertise with the Mindanao Examiner, the fastest growing and one of the largest independent weekly newspapers in Southern Philippines.
We also offer photography and video production services, media seminars and training, private and corporate consultancy.
Please visit also our online news sites at mindanaoexaminer.com and mindanaoexaminer.net Call our Marketing and Advertising Department at telephone & fax: +6362 9925480 or mobile phones: +63915 2756606, +63919 3587983 or e-mail us at mindanaoexaminer@gmail.com
Apr 29 2007
An Ato Danaw (Our Lake)
Photo credits: Monyx Libarnes, Joy Mosad, Ann Gatpolintan
Post: Zimm (www.pidjanga.blogspot.com)
Crossposting: www.bisayabloggers.com; www.insidecaraga.uk
Apr 29 2007
MY BEST FRIENDS For LIFE [Carla & Katrina]
Best Friends Forever
by Anna Marie
From the days when we were little,To the years we're going through.We didn't know much of friendship,But now we surely do.Some days were really scary,When we were walking home.We were scared of big dogs,And the neighbor's plastic gnome.But all throughout the many days,Of laughter, sadness, and fear.We somehow managed through it all,'Cause the other was always near.We've been through almost everything,And we've had our share of fights.Those empty days of loneliness,And many sleepless nights.But eventually we gave it up,We need each other forever.For everything we go through,We need the other to endeavor.We know we'll have each other,Right up until the end.You're here for me, I'm here for you,We'll always be best friends.
Best Friends
Friends that watch your back
Friends that play with your heart
All act the same from the start
Before you know it some disappear
Others stay beside you for life
Those are the friends
The best friends
by Gary R. Hess
Forever Friends
Sometimes in life,you find a special friend;Someone who changes your lifejust by being part of it.Someone who makes you laughuntil you can't stop;Someone who makes you believethat there really is good in the world.Someone who convinces youthat there really is an unlocked door
just waiting for you to open it.
This is Forever Friendship.When you're down,and the world seems dark and empty,Your forever friend lifts you up in spiritand makes that dark and empty worldsuddenly seem bright and full.Your forever friend gets you throughthe hard times, the sad times,and the confused times.Your forever friend holds your handand tells you thateverything is going to be okay.And if you find such a friend,you feel happy and complete,because you need not worry.You have a forever friend for life,and forever has no end.

I love you BIGTIME Carla and Katrina!!!
Best friends for life!Ajah! 😉
Apr 29 2007
The Sheep's Gate
John 10: 1-10 Acts 11:1-18 / Psalms 42, 43 Amen, amen, I say to you, I am the gate for the sheep. All who came (before me) are thieves and robbers, but the sheep did not listen to them. (John 10:8) When he beckons me to follow Him I shall not sit around and wait; Ere my steps falter, my sight […]
Apr 29 2007
i repeat: THE BEST DAVAO CONCERT EVER!!!
at least for me, anyway.i have totally vindicated my 11-year old self for sleeping during their concert back when we were still living in angeles city! yeah, stupid me. totally fell asleep in the midst of blaring music and a wild crowd. and woke up right smack in the middle of «salamat.»anyway, it was good i was already able to watch «tulad ng dati» before their davao gig because i was totally pumped out to listen to the great live music of the dawn.
but i had to get over one hurdle of the day first. my mother was godmother to a wedding, so i offered to accompany her for the afternoon so i get to wear my princess dress (which i willing victim to kaladkarin's masterful manipulation of thrift shop shopping) and eat a free dinner at apo view.
after having my chow, i go from princess….
to frog… er… rock fan…

…and was all set for the concert. (i didn't even stay to watch the program. freeloadin' is fuuun!) i proceeded to gaisano mall to meet up with the gang. 1017 was playing, a davao local vocal (mwahaha! private joke) that i enjoy listening to. unfortunately, i only caught their last two songs. they didn't even give the guitarist a chance to do his antics. after them it was G-String. not a band i was entirely happy to have playing at a night i was out for the music. so my pals just poured our attention to the beer tower. which is another story all together.
the whole time we were waiting for jerry to come already. he would be coming straight for marbel to the concert. none of the girls wanted to be bothered from watching the dawn just to give him tickets. with a little stroke of luck though, jerry came JUST IN TIME for the dawn. right smack in time, that he didn't even get a chance to sit down because tatit and i already dragged him to the front (leaving my relak-lang uyab behind)
and so i, along with my rock buddies jerry and tatit, claim the honor that we were the first kapalmuks to go up front and jiggy from first song to the last. hah! so there! i crown us three the king and queens of courage and bravery (or in bisaya, baga nawung award). deadma to embarrassment. listening to rock legends in davao city is rare and has to be enjoyed with much passion and gusto! so hah. deadma. keber. what-eyber.syeeyt. ang galing nila. jett definitely has the most distinctive rock vocal in recent history of band music. close your eyes, or even one ear… you know it's jett singing. and francis is guitar magician. look at those fingers fly over those strings. and buddy… honestly, i couldn't really hear much of the bass, because i was so mesmerized by jett and francis… but buddy has always been one of my favorite bassists. and uhm i had a crush on him back on e-heads days… mabuhay kang chavacano ka! and jb… i could only see his hair behind the drums… pero mehn… steeeeegg! mean drums, pare!!!and they covered U2 and simple minds and some other new wave songs. asteeeegggg! ang saya. the dawn doing U2. pareho lang kaming rock fans after all. this was when more people joined us in the front. drunk guys moshing can be pretty scary (except if its jerry). thank god, i'm good at eluding danger. hehe!
me, tat and kitoy with the band (feeeeeliiiiinggg!), jerry behind the cam.
then they sang «enveloped ideas,» the crowd really went wild. one even got accosted by the police for throwing a plastic cup to the stage (which he might have stolen from either jerry or tat who placed their beers on the speaker while dancing). and tat has evidence of how wild in her camera.when they did «salamat» i was near-panic because that meant the end of the night. no! no! no! you can't stop yet. it's only 1130! noooh. but they did. when the lights dimmed on the stage… most of the crowd were on their way out. we, on the other hand, still had to finish the rest of the second beer tower.it was then that we realized that jerry had not eaten and had downed so much beer already. the slur in his speech was funny that we forced him to have dinner and sober up in gerry's grill.
the band was there! the band was there!
but i was tyope the whole time. i so wanted to go up to them and thank them for such a great time. instead i just told my story of penis-fencing flatworms and chastity-belting butterflies.finally, when they seemed to be on their way home, a sense of urgency rushed up to me that i was only 20% tyope to go up to them. but kang had more courage and got my camera and asked the dawn if we can have our picture taken with them. of course, they were more than kind to oblige. aaaaahhhhh. inakbayan ako ni jett! aaaaaah. piniktyuran kami ni francis. aaaaahhhh!after the whole thing, we went back to our seats. my knees were shaking so bad. i couldn't even kneel on the chair to grab a piece of tokwa. sheyt. what i felt that night was somewhat similar to what i felt when i met neil gaiman after lining up for seven hours at rockwell. this was less hassle and more simple. but this is one of those days when i'm such a fan girl! (the funny thing is… i don't own a single album of the dawn. nakakahiya. buti na lang meron si jan. hehe!)i had such a good time. i hope they come back soon!!!
(realization this morning: iba ang dating ng concert when there aren't shrieking fangirls around. the shouting during the concert was low pitched instead of tinny.)
Next »