Jan 31 2007
the WOW starts now!
wow after over 5 years Microsoft released their new operating system Windows Vista, which many claimed it was just a copycat of Apple's OS X.for me Windows Vista looks similar to OS X but with a wider support of applications.
Jan 31 2007
stardust update deux
Jan 31 2007
past present: bagets
It's been a while since I unearthed my 80's music from the depths of my My Music folder. I picked up some old favorites to join the other songs in the dancerous folder. While going about mechanical chores of re-filing papers, "Just Got Lucky" blared out from the computer's worn out speakers. True to form, I stated jiggy-ing in slightly behaved manner as our seminarian volunteer was on Sonny's computer typing something. I asked, "napanuod mo ba ang Bagets?"J: sino nga ang mga bida dun?
I: sina aga mulach, William martinez, Herbert bautista… mga 15, 16 pa lang sila nun.
J: hindi e.
I wasn't surprised. He was 21. Born in 1985. A few years after Bagets.
I: panuorin mo. Classic yun.
Before Bagets became gay speak for an offspring, it was a movie. And honestly, I think every tween, adolescent and teen-ager should watch the movie. And even those of us who have seen it in our youth should watch it again. See, I got to see it again in full last October. And found myself amused at the short-shorts, the high socks, the head band, the mullet, and worse, William Martinez in trunks! But more so with the fact that Bagets can now be considered a great classic as it has reached beyond twenty years and still has the same impact as it did when it first showed.
Arguably, it is the best Filipino teen movie in history. Even with the dated outfits and half of the cast thrown into showbiz oblivion, the issues explored in the movie remain valid after all these years. From falling in love with older people, to finding the courage to say you like a girl, to peer pressure to family issues, Bagets tells it lightly and comically albeit naturally and frankly.
"Pare Ko," starring the Gwapings, Jao Mapa, Victor Neri and Gio Alvarez (aylabyu!), was the closest thing that tried to do a "Bagets" in the 90's. Though it was fun, and relatable at that time (I was 16 when it showed), it can never reach the level Bagets has achieved. And they had Claudine Baretto whith her thick eyebrows and puruntong shorts. That is a terrible ordeal to be subjected to. Definitely worse than William in trunks. Defintely.
Or it could be just the soundtrack that makes it great. Hehehe!! (matanda na talaga ako!)
Bagets 2, I can barely remember. But it does have Francis Magalona, Richard Bonin and Ramon Christopher in it. Kilala niyo pa ba ang last two ta-artits? Hahaha! Francism talks about their reunion in an old old entry. A commemorative DVD? Anybody seen one? I want! And Ninja Kids? Meron din? Tat, tat!!! Let's scour the stores na!
Jan 31 2007
Cannelloni
Cannelloni Ingredients:CannelloniBéchamel sauce3 Tablespoons olive oil½ kilo ground beef2 cloves garlic (finely chopped)2 white onion (finely chopped)1 teaspoon ground cumin seeds1 ½ cup tomato sauce4 fresh tomatoes (finely chopped)2 carrots (finely chopped)1 red pepper (finely chopped)Salt and pepperGrated cheeseParsley (finely chopped)Basil (finely chopped) To prepare filling:Heat oil in a pan
Jan 31 2007
Lasagna Chips
lasagna chips Lasagna pasta sheets Oil for frying Cheese Powder Water Salt Procedure:Boil salted water in a deep pan and add lasagna, boil for 2 minutes, or until al dente. Do not overcook. Set lasagna one by one by letting them drape over a rim of a deep pan or strainer to get rid of excess water. When cold enough to hold; cut them into strips or triangles. Deep fry and drain in kitchen paper
Jan 31 2007
Pasta Salad
Pasta Salad Ingredients:Ribbon PastaParmesan Cheese (grated) Dressing:2 Tomatoes (diced)1White onion (thinly sliced)1 clove garlic (crushed)¼ cup Seedless green olives (sliced)¼ cup Seedless black olives (sliced)1 cucumber (peeled and diced)1 Tsp. CapersJuice of ½ lemonLemon zest1/2 cup olive oilSalt & pepper To prepare pasta:Boil pasta with salted water or stock until al-dente. Strain in a
Jan 31 2007
Fish 'n Eggplant wrap
Fish 'n Eggplant wrap Ingredients: 4 Tbsp. olive oil 2 Tbsp. butter 1 large Eggplant 6 slices of fish fillet (skinned) parsley Salt & pepper to taste Carrots Bell Pepper How to: Slice eggplant lengthwise into thin long slices. Brush with butter unto the surface of the eggplant. In a very hot grill pan or flat pan, pan roast the eggplant until soft and sides turn slightly brown. (with a grilled
Jan 31 2007
IT's marketable
Marketing. Not a very well-developed or well-appreciated service here in the Deep South. Especially among IT companies. Which is an irony, because the geeks possess the most powerful marketing tool in the world. (Oops! I hope I haven't offended anybody's sensibilities — see, a friend once told me that being called a geek is actually not derogatory…but this should be in another post!)
(more…)
Jan 31 2007
Egg Surprize
Egg Surprize Ingredients: Oil for deep frying 1 kilo ground pork 1 onion (finely chopped) Coriander (finely chopped) Salt & pepper to taste 6 boiled eggs 2 slightly beaten eggs Bread crumbs How to: Season ground pork with onion, coriander, salt & pepper. Place a plastic cling wrap on a flat board. Form a ball of the seasoned ground meat on top of the plastic wrap. Place another plastic cling
Jan 31 2007
Stuffed Chicken Rolls
Stuffed Pork Rolls Ingredients: Oil for frying slices of lean pork Salt & Pepper Finely chopped parsley How to: Flatten slices of pork with a meat tenderizer. Season with salt & pepper and sprinkle finely chopped parsley. Roll the piece of meat and tuck with toothpick. Set aside. In a nice and hot flat pan, pan fry the stuffed rolls of meat setting the sealed side down. (Toothpick removed) When
Jan 31 2007
Stuffed Chicken Breast
Stuffed Chicken Breast Ingredients : 2 Pcs. Chicken Breast (deboned) 6 Tbsp. olive oil 2 pcs. white onion 4 cloves garlic 1/4 Cup All Purpose cream 4 Tbsp. white wine 2 Tbs. onion-tomato sauce 1/4 Cup chicken stock 1 lemon salt & pepper to taste Procedure: Slice a slit into chicken breast, just enough to form a pocket, do not split into two and set aside. Crush garlic and sprinkle with salt.
Jan 31 2007
Arroz Branco
Arroz Branco A good alternative to the conventional plain boiled rice..Different aroma, different texture, and slightly different taste. jst give it a bit of twist than usual! Smells great! Ingredients: 2 Cups Rice 2 Cups Water 1 Pc. white onion (finely chopped) 3 Tbsp. Olive Oil 2 bay leaves Salt Procedure : With a medium fire, heat olive oil in a deep pan, add onion until soft but not brown
Jan 31 2007
Fried Potatoe cubes
Fried Potato cubes Ingredients: 4 Tbsp. oil 4 large potatoes 2 tsp. ginger powder 1 tsp salt 1 tsp pepper 1 tsp garlic powder a dash of cinnamon powder 2 tsp. cornstarch How to: Slice potatoes into small cubes set aside. Heat oil in a pan, add potatoes and fry until done. When the sides begin to turn slightly brown, add ginger powder, garlic powder, cinnamon powder, salt and pepper. Toss all
Jan 31 2007
Crispy Pork
Crispy Pork 4 Tbsp. Olive oil 2 thin slices of lean pork ½ Cup Couscous Ground black & white pepper Salt How to : Season pork with ground pepper (rubbing each side to distribute the flavor) add salt and set aside. Coat the pork with couscous and deep fry.
Jan 31 2007
Fish Cake
Fish Cake Cooking oil for frying 2 Fish Fillets (medium size) 4 potatoes (medium size) 2 Cups water ½ Cup flour ½ Cup Milk 1 egg (slightly beaten) salt & pepper How to: Peel potatoes and bring to boil with water until tender. While the cooking the potatoes, in another saucepan put the fish and milk, bring to boil with low fire, season with salt to taste, continue cooking until fish is well
Jan 31 2007
Inon — Onan
Inon-unang Isda Ingredients: 6 pcs. Fish (any kind of fish will do, less bony the better) ½ Cup oil ¼ Cup lemon juice 2 Tbsp. Oyster sauce 2 Tbsp. white wine vinegar 1 onion 3 cloves garlic bay leaves salt to taste How to: Clean fishes, free of gills and intestines, season with salt, set aside. In a sauce pan, arrange bay leaves at the bottom, add onion and garlic. Add fish by arranging them
Jan 31 2007
hunky harry + t-shirt love
first and foremost, harry potter fans, check out hunky harry in yahoo.com. 😉 found another website of a small company that sells the cutest shirts. the company's called dirty microbe, «an awesome t-shirt company created by four college students in 2006.» lol. they also sell cute japanese stuff that they import directly from tokyo. and if you have a cool design, you can sell it to them. this
Jan 31 2007
bday blurbs
5 things you may want to give me (heartfelt ha…) on my birthday (the week after pwede pa…):
1. The new Loalde light brown polo with the folded sleeves. (Would appreciate it also if may match na black slacks…hehe).
2. Ipod Nano, color apple green.
3. Nostromo by Joseph Conrad or Tropic of Capricorn by Henry Miller.
4. A TeamManila shirt, yung design is either the The Carinderia Connoisseur or yung Rizal wearing aviator shades.
5. Girbaud wallet.—-
I searched the birthday calendar to see others who have the same birthday as mine. I know for a fact, ka-birthday ko si Justin Timberlake. But was glad to know that Jessica Walter and Portia de Rossi, the two misfits from my all-time fave sitcom Arrested Development, celebrates the same birthday as me. No wonder I love that show. It gives me gas spasms just watching 5 episodes consequently.
Jan 31 2007
on the eve
Last night, the eve of my birthday, I was walking along the sidewalks near our office, heading home, feeling the breeze of the cold wind (which later I found out was the tail-end of a cold front). I got a call from Ate Wowie inviting me to join the dinner with Siriporn, our guest from Thailand. Siri is the Corporate Communications manager of Oracle ASEAN. Earlier in the morning, I finally met her during the press briefing which was attended by Oracle Phils.' country manager Francis Ong and two of the directors.
I thought it would turn out to be a bad day because I lost my friggin' worn-out belt. I arrived late and was shocked to see the VIPs in the function room already, all primed up, tousled and looking anxious. They were quite early or should I say I was late. Thank God the media arrived late so the presscon didn't start until 8:30am. The industry-participated forum followed in the ballroom of Marco Polo. It was a grueling morning. I had a headache by lunch.
The real blast was during the evening when we went out with Siriporn. It is interesting to meet other nationalities because you have a lot to talk about. I learned that her name means 'good blessing' in Thai and the Sanskrit version was incredibly short. She was friendly and felt really at home during the dinner and she was so amazed by the food that was ordered (lechon kawali, pinakbet, tinolang manok, kinilaw… indeed very Filipino), that she took pictures of it. She said she's going to brag about it to her friends. We were driving around when Kuya Dicky asked her videoke bars were popular in Bangkok. Indeed it was, and off the four of us went to a famous KTV. So that's why she like singing, she didn't prove disappointing at all as she hit the right notes. We drove her to Marco Polo after our throats got parched, thanked her profusely, promised to exchange emails and bid farewell.
I went home past 12 and thought about Bangkok. How I'd love to be there. I thought of Siriporn's promise to take us around whenever we come there. How I like it to be now. As in right now. That would be a perfect treat. Just before I went to sleep I got the first text message from a far-away friend greeting me 'happy birthday!' Gawd, I'm friggin old. A friend told me 23 is a magic number. Well…
Jan 31 2007
SALES! Consumerism? or Consumer's Paronia?

Winter sales! Discounts is everywhere. Aanbieding and Opruiming!(Sale!). Alles moet weg! (Everything must be sold!) Executive uitverkoop! 50% — 70 % Korting! All these phrases are in the promotional papers and display windows of stores. From householdwares, clothes & accessories, computer and electronics, mattress, meat and veggies, dog food, toilettres and cosmetics, kid's paraphernalias,…aaah…name it and you will pay it!Pretty much everything in the store is on sale. Don't you just love January???Everywhere you go, signs beckon you to come to big sales. Walk through the streets and the word "Sale" is displayed prominently in dozens of stores. With so many stores holding sales, is the shopping field rife with bargains?
What is it that makes people crazy about? SALES. What is it? It is buying an item less than the present fair market value. A deduction from difference between the sales price and the original selling price.Savvy shopper is now back from holidays, shopping out with a vengeance. It seems to suggest that people treated the weekdays, as shopping days, and Saturdays as their even bankbreaking days.Whenever koopzondag (Sunday sales) is, shoppers prompting early morning queues across the centers as consumers hunted for bargains.From hitting the mall with your friends on a Saturday afternoon, to unplanned holiday spending on gifts, shopping could be called one of girl's favorite pastimes. For most people, it means some new clothes for work or a small trinket for a friend. For others, however, shopping is much more than an enjoyable pastime, and in some cases, it is a real and destructive addiction that can turn into a financial disaster. But that's only when you do it as an unseasonal habit. In this time of year, let's go check, what is it in a sale.
Naturally, you can earn more value of your money by exchange of goods or commodities in lesser amount. Winter sales is consider as an inventory sale. Here you can buy stuff that were not sold during their specific sale time. That is another thing different from a one-type of weather season country just like the Philippines. In a four-season country just like the Netherlands, here you can find different things good for every season. When new season comes, all things especially in fashion or home decors and accessories also vary. So if you are a shop owner, you have to sale things out of business necessity, to start over a new inventory.
Well, you think sellers are charity? They can also gain out of their sales. Business is business. Items are sold in depreciating value, however, businessmen incur gain on the difference between the sales price and the cost basis allocated to the sale element. (this is what i remembered in my economics…correct me whatever…) They are taxed on sale proceeds (capital gains). So, tax deduction is based on value of property and sales prices and from there they can avoid of capital gains tax. Well, I'm just saying this, just to remind shoppers, that we are not the one who are actually gainers, but shop owners are the one who profit most. Sometimes, shoppers may think that they bought something out of charity, and they grab the chance till the supply last.Shopping business and retailers have had a brisk start to their winter sales and will be repeated even during summer sales, çoz of some shopping «madness» in their busiest trading day of the year.
Another thing that attract window shoppers, just like me, is the fractional prices suggest to consumers that goods are marked at the lowest possible price. Now that consumers are used to psychological prices, other prices look odd. Do you think it's one way of consumerism? Well, this is a broad subject that till now, numbers of issues raised above debates and even protests. I'll keep my mouth shut here!
Here we go…I can't resist. Let's observe the word consumerism. As I see, we, the consumers are created through extensive advertising and media influence, rather than arising from our own natural ideas regarding the kinds of things we need. (I am not an anti-consumerist per see). In other words, consumerism is an artificial creation sustained by artificial social pressures. When it comes to sale bargaining…indirectly, a way of redirecting consumers to a so called market pressure value.In many contexts, consumerism is used to describe the tendency of people to identify strongly with products or services they consume. Especially those with commercial top brand names and obvious status-enhancing appeal, e.g. an expensive automobile, rich jewelry, so on and so forth. Back to consumerism, many luxuries and unnecessary consumer products are social signals that allow people to identify like-minded individuals through consumption and display of similar products. Some believe that relationships with a product or brand name are substitutes for the healthy human relationships lacking in dysfunctional modern societies and along with consumerism itself are part of the general process of social control and cultural hegemony in modern society. A culture that is permeated by consumerism can be referred to as a consumer culture. I think I am not. I am not collecting items, that just for the goodness sake for 'social appeals'. I am mentioning this, since the idea of bargaining is also giving an implication of attracting consumers in an unhealthy propaganda.
In other words, Sales is a marketing strategy that makes consumers paranoid. (Excuse me of my term but this will apply for irrational buyers huh!).
Impulse buyers who cannot resist spending money are commonly termed shopaholics. Yes, you can see these people walking around the corners. Actually, I'm one of those 'windowholics'.Ok. I think I am now turning your heads out there trying to understand what I am trying to say. Let's not be too critical here and let's go through how we observe during Big Sales! When a dollar or euro store has a .70 cent bonanza blowout sale, can it really be called a bonanza blowout sale? A savings of 30 cents on a euro/dollar or peso etc., is hardly what I call a sale, let along a blowout sale. The crazy thing was, the store was packed. People were bumping into each other nearly fighting over the stuff. I had to ask myself in the middle of a frenzy of mad shoppers, is any of this crap worth a euro let alone a 70 cents?Well, for many people, shopping is just a pleasure and for some is luxury and some is necessity. Whatever it is, for me it is fun. It's like unwinding, seeing people around in busy corners. I may spend or not, I feel like I earned something. Walking along the cobbelstreets is just like picking up a single coin of integration. It's nice to feel and assimilated with the locals. I feel attached in some way and give me comfort due to familiarity. Every once in a while you find a good deal, too good to turn down and there are times when you need to build a shoe wardrobe without breaking the bank. That is if you are even careful and be a wise buyer.I'm sure that there are lots of little ways to stretch your euros to make shopping even more fun. Just don't forget, that what you also try to save might compromise the quality of the goods and commodities you like to buy.
I already had fun in the busy shopping galore of Amsterdam, Den Haag, Rijswijk and of course in Delft. Luckily, I'm not yet broke. 🙂 ( 'coz I'm just busy adding items in my list…beware for the giver 🙂 hehehe!
This photo was in Kalveerstraat, Amsterdam.
At this moment, sales is nearly extended in February. It's happy Hearts Day, which means, arising of price.
So, what are you waiting for? Run, and start sighting for gifts. BRING your list with you to avoid unnecessary shoppings. Avoid panic buying. And try not to be tempted with those ambiguous sale tactics. Always remember, that bargain sales items are goods not being sold at their specific time of demand. Meaning, you have to think if the item has still a purpose fo you and not just because it is ON Sale!
Happy shopping 🙂
Jan 31 2007
14th PTAA Travel and Tour Expo 2007
Now this is something I'm putting in my calendar! The annual TravelTour Expo is considered the biggest in the country. It's going to be held at the Megatrade Hall of SM Megamall from February 9 to 11. The theme for this year is «Gateway to Your Dream Vacation» as it expects to draw nearly 100,000 visitors hoping to get the best bargains, tour packages, travel discounts and souvenir items from the various exhibitors which include 41 travel agencies, 45 hotels, resorts and tour operators, 19 travel shops, 17 internationals airlines and 5 cruise operators. Even the tourism offices of other countries will be there, hoping to lure Filipino travelers to their shores. Check out their website for more information.
Jan 31 2007
DVD backlog
Looking at the stack of DVDs neatly piled on the TV rack, I remember that I still have to watch 5 of them. Not to mention the countless other movies I've downloaded but have yet to be viewed. As much as I want to sit all day in front of the TV and watch movies, juggling family responsibilities and a new job can be quite exhausting. Nowadays I get home and go through the motions of dinner and dishes in a daze. I try and stay up long enough for me to amble through the kitchen and brush my teeth. I'm happy with the new job, that goes without saying. It's fun and there's really never a dull moment. But it takes so much of me that for the first time in a long while, I skip a night of watching DVDs to get some much deserved rest.Now herein lies my dilemma.Just across the street from where I work a couple of DVD shops line the sidewalks. As I look from the third floor I can see them sitting there immaculately wrapped in clear plastic. Some lie there, all snug in their black plastic cocoons. Colors shimmer as the 5 o'clock sun hits the covers. Once in a while when the working day is done, I stop by to look at their displays, trying to see which movies to snag come payday. I feel like a kid in a candy store…all those choices. Ripe for the picking.Then when I get to my stop at the corner of the Mandaue Coliseum, just a few meters away from the jeepney stop, there are 2 other DVD shops as well. It seems like there is no escape. Everywhere I turn there is a DVD shop. I can't shake them off…it's like a nasty rash. They just keep turning up in places you'd never expect.
I try and tell myself to lay off the DVDs until I've gone through my backlog…then this happens.
Jan 31 2007
So…
On my way home, I took a jeepney and sat right next to two mutes hand signing frantically at each other. It was frantic, because they seemed excited about what they were "talking" about to themselves. And then I realized that one of them was a crossdresser, and the other one was brimming gay — so the hand gestures I probably caught up with even if I really didn't know what they mean couldn't be any less than what I thought they were because they looked PRETTY DAMN LEWD to me.
Haha, I'm just laughing. Actions speak louder than words. And even the sound of silence has a music of its own.
Jan 31 2007
pinay wins. (may 16, 2004) Patricia Evangelista, …
pinay wins.(may 16, 2004)Patricia Evangelista, a 19-year-old, Mass Communications sophomore of University of the Philippines (UP)-Diliman, did the country proud Friday night by besting 59 other student contestants from 37 countries in the 2004 International Public Speaking competition conducted by the English Speaking Union (ESU) in London.She triumphed over a field of exactly 60 speakers from all over the English-speaking world, including the United States, United Kingdom and Australia, reported Maranan.The board of judges decision was unanimous, according to contest chairman Brian Hanharan of the British Broadcasting Corp. (BBC).
PATRICIA'S SHORT SPEECH WORTH READING….
BLONDE AND BLUE EYESWhen I was little, I wanted what many Filipino children all over the country wanted. I wanted to be blond, blue-eyed, and white.I thought — if I just wished hard enough and was good enough, I'd wake up on Christmas morning with snow outside my window and freckles across my nose!More than four centuries under western domination does that to you. I have sixteen cousins. In a couple of years, there will just be five of us left in the Philippines, the rest will have gone abroad in search of «greener pastures.» It's not just an anomaly; it's a trend; the Filipino diaspora. Today, about eight million Filipinos are scattered around the world.There are those who disapprove of Filipinos who choose to leave. I used to. Maybe this is a natural reaction of someone who was left behind, smiling for family pictures that get emptier with each succeeding year. Desertion, I called it. My country is a land that has perpetually fought for the freedom to be itself. Our heroes offered their lives in the struggle against the Spanish, the Japanese, the Americans. To pack up and deny that identity is tantamount to spitting on that sacrifice.Or is it? I don't think so, not anymore. True, there is no denying this phenomenon, aided by the fact that what was once the other side of the world is now a twelve-hour plane ride away. But this is a borderless world, where no individual can claim to be purely from where he is now. My mother is of Chinese descent, my father is a quarter Spanish, and I call myself a pure Filipino-a hybrid of sorts resulting from a combination of cultures.Each square mile anywhere in the world is made up of people of different ethnicities, with national identities and individual personalities. Because of this, each square mile is already a microcosm of the world. In as much as this blessed spot that is England is the world, so is my neighborhood back home.Seen this way, the Filipino Diaspora, or any sort of dispersal of populations, is not as ominous as so many claim. It must be understood. I come from a Third World country, one that is still trying mightily to get back on its feet after many years of dictatorship. But we shall make it, given more time.Especially now, when we have thousands of eager young minds who graduate from college every year. They have skills. They need jobs. We cannot absorb them all.A borderless world presents a bigger opportunity, yet one that is not so much abandonment but an extension of identity. Even as we take, we give back We are the 40,000 skilled nurses who support the UK's National Health Service. We are the quarter-of-a-million seafarers manning most of the worlds commercial ships. We are your software engineers in Ireland, yourconstruction workers in the Middle East, your doctors and caregivers in North America, and, your musical artists in London's West End.Nationalism isn't bound by time or place. People from other nations migrate to create new nations, yet still remain essentially who they are. British society is itself an example of a multi-cultural nation, a melting pot of races, religions, arts and cultures. We are, indeed, in a borderless world!Leaving sometimes isn't a matter of choice. It's coming back that is. The Hobbits of the shire traveled all over Middle-Earth, but they chose to come home, richer in every sense of the word. We call people like these balik-bayans or the 'returnees' — those who followed their dream, yet choose to return and share their mature talents and good fortune.In a few years, I may take advantage of whatever opportunities come my way. But I will come home. A borderless world doesn't preclude the idea of a home I'm a Filipino, and I'll always be one. It isn't about just geography; it isn't about boundaries. It's about giving back to the country that shaped meAnd that's going to be more important to me than seeing snow outside my windows on a bright Christmas morning.Mabuhay. and Thank you. credit: mishy
walay ayo.
..means worth nothing..not worth anything..of no value..senseless existence..walang kwenta
calling someone «wala ayo» everyday, will eventually make her believe that she is..
Jan 31 2007
Induced Abortion in the Philippines
During my three-day duty at the OB-GYNE outpatient department, I was overwhelmed by the number of abortion cases. We had an average of five cases a day. At least one-third of these mothers had induced abortion, which means that they resorted to mechanical or chemical means to terminate their pregnancy. Usually they seek for consult because of fever and chills, and other associated symptoms of septic abortion.
Our city is just a small portion of the Philippines, yet there are already numerous induced abortion cases encountered. It made me think (or not like to think) of the rampancy of the case nationwide. Prolife.org say that every year, as many as 750,000 women undergo induced abortion in illegal "clinics" all over the Philippines. That's how prevalent induced abortion is. It's quite a frustrating number.
I asked one mother what was her reason why she opted for abortion and she immediately replied poverty. Is it an enough excuse for terminating a life? It's practicality, some says. If they were practical, they should have avoided the pregnancy through contraceptives beforehand. I understand that the Catholic church oppose for artificial contraception, but I think they won't agree more of the abortion. It was also frustrating to see that while I was interviewing some of the mothers, I couldn't see even a streak of guilt from their faces. Had they lose their consciences?
Prolife.org also suggests other reasons:
For those who are married: to space pregnancies; too many children; added financial burden.

For the unmarried: unwanted pregnancies.

Many have an abortion because the latter "interferes with occupation, studies, or employment."

The men do play a role in childbearing. Some reasons given by women had to do with their menfolk: some women are now separated from their husbands, others had a quarrel with the husband; husband has no job; husband is irresponsible; common-law husband has other family. Poor health was also cited (although there were no medical indications).

Over half of the women who had induced abortion are married, showing that abortion is used to regulate or limit the number of children.
In a strong Christian nation like the Philippines where abortion is considered illegal and immoral, I also see it as a reason why mothers opt to seek the help of illegal abortion clinics. I am not suggesting that abortion be legalized in the Philippines, so this can be prevented. There are other ways it could be successfully eliminated. Perhaps a strong implementation of family planning and good education of these women about family planning could be a good preventive way. The media, such as television and prints, could be utilized through ad campaigns since everybody has access to them.
Tags:Clinical Clerkship, Community Medicine, Education, Health, Medicine, Politics, Social Issues
Jan 31 2007
mingaw
karong takna-a gili-li ko ikawpinaagi sa selponnga hilum ug basin nakatulog
na ug hinuwat sa bisitang mensahe
kada gabie gihandom ko ikawpinaagi sa mga pulong nga imong biyaansa mga pahina sa imong istambayanannanghinaot adunay mapu-po
sa imong gibati karong adlawa
kalayo sa atong distansyanga naglangkat niiningmga taknang naghinam-hinamnga usa ka adlaw,ikaw ug ako, magdulog sa panganod
nga way babag, way katapusan…
gitaptapan kining matasamtang gipamati niining mga padang init sa kalayo sa kandilanga hinay-hinayng mapupos.
Jan 31 2007
honeyed bahalina
monday night. ahh, what a nice to time to… drink.
monday started early with me rushing to kabacan to take care of what i left there. i am virtually clean of assisi stuff. but then again, maybe not, judging from the panaw sa kalinaw shirt i am wearing right now. but then again, i may never ever get to steer clear away from it. not now not ever…anyways.i arrived just in time for a late dinner of batsoy in lanang executive homes. thanks for the meryenda treat of batoto i survived the trip back home until 8p.model homes is not very far from lanang so we were there in a jiffy. judging from the look of things, this is going to be an easy night. one bottle of red horse grande, one bottle of red wine for the ladies. some chips, lots of stories, calendar presents from two of my best buddies. no sweat.so i thought.
the time came for everyone to come together and open this beatifully wrapped bahalina bottle-present from rhia-hand carried by kitoy. hmmm, interesting how it smelled. it smells like sweet vinegar.
when we were young, omar, janet and i used to fancy dipping our fried galunggong into natural cane vinegar from pangasinan with a dash of sugar. it makes the oh so ordinary galunggong more interesting like what mang tomas does to other dishes. this is not to say i fancy that brown liver sauce.fast forward to monday evening at rubs.one shot of the elixir and i tasted its treachery masked by the sweet, cold sensations that i feel in my mouth. it would not be long now when my head will spin, my eyes will get chebekoy and my tongue will twirl and make slurred sounds that can still be discerned (thank god) as speech.but i was not about to give up this beautiful drink swirling in my glass for that drunken state later. after finishing the bottle, some 3 shots for me and yani, small wine glasses for ava and tatit and churchill mixing it with red horse, i just about got what i expected. that happy, sleepy feeling of being drunk.but not wastedat all.
Jan 30 2007
My mini-library
This is my mini-library…
But I'm not really much of a reader. I just got addicted to buying books a long time ago…Faith/ Christianity/ Catholicism: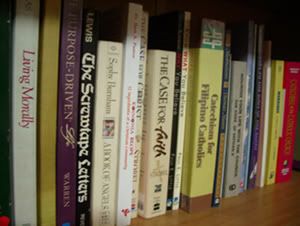 Fiction: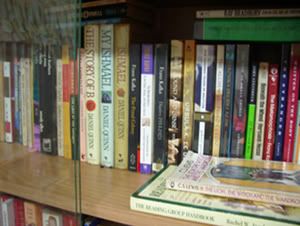 Filipiniana:
Education:
Philosophy:
Psychology/ self-help:
And of course, the (dreaded) nursing books: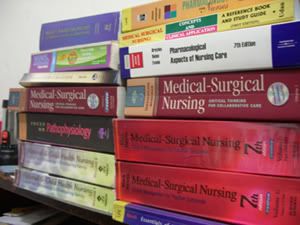 I also have a kind of «virtual library» (ebooks, audiobooks, BBC radio dramas and audio lectures) in CDs and in our PC… There's just so much stuff I've already collected that it overwhelms me… I don't know if I can ever find the time to listen to all of them…
Jan 30 2007
I cannot speak with sense now. I cannot speak sen…
I cannot speak with sense now. I cannot speak sense. But when did I? But I want to speak. Perhaps, talk is the correct term. Or blabber. Only that there's no one whom I can talk to right now. Someone whom I really trust that I can outpour. Don't mind me. I am at it again. Ask me about it and I will tell you nothing about it for the simple reason that I myself don't get it. Yes, much of this life is too complicated, so like a complex maze, to solve and get away with easily.Of course, I have someone whom I can talk to, speak with, blabber about, and outpour everything that I want to. Whatever that is that I want to release. Tension…tension…and the subtext of tension, I can always release whenever I arrive home.And yes. This is so nonsense.I told you.Don't mind me.Just at it again. My drama. Damn.I want a scandal.A sex scandal?It won't surely sell.But yeah, I want a scandal.I want to get myself in a scandal.A sex scandal.Sure. I'm at it again.
Told you, don't mind me.
Jan 30 2007
Falling in love with Davao over and over again…
Our Philippine trip rekindled my love for my hometown Davao City. The white sand beach at Pearl Farm, the noisy public market at Bangkerohan, the 15 minute traffic going to SM Davao, the little freshly brick oven baked pan de sal from Doughboy, the fishing at the majestic Eden, the crocodile farm and coffee breaks with my friends and the new friends i met. Going back to Davao brings
Jan 30 2007
Mortadella Pizza
Mortadella Pizza Ingredients: Pizza crust Toppings Tomato sauce Toppings: Mortadella (sliced in small and thin triangles) Black seedless olives (sliced) Button Mushrooms (sliced thinly) 1 white onion (sliced into cubes) 1 red bell pepper (sliced in small and thin triangles) 1 cup Mozzarella or flamingo cheese (grated) Tomato sauce: 1 white onion (finely chopped) 4 Fresh tomatoes (diced) Herbs
Jan 30 2007
Seafood Pizza
Seafood pizza
Jan 30 2007
Parsley Rice
Simply add finely chopped parsley to newly cooked rice. Add parsley while still hot.
Next »