Jul 31 2007
Lust Not On This "Lust" WordPress Theme
I have some problem with its theme name but for certain, I have no such acrimony for how it looks in its entirety. This "LUST" WordPress theme is so neat and remarkably clean that despite the liveliness of its very red headers, it remains soothing to the readers' eyes upon …
Jul 31 2007
You Got Blogged! Review-a-Blog Competition
You Got Blogged! DigitalFilipino.com / MindanaoBloggers.com Review-a-Blog Competition This competition is under the upcoming 1st Mindanao Blogging Summit to spice up a bit the event and aims to spotlight on Mindanao Blogs and Bloggers. Of course there will be prizes for grabs, 1st prize — $150, 2nd prize — $100, and 3rd prize -$50. One of the […]
Jul 31 2007
Vacant positions at the Office of the Solicitor General (OSG)
—————-(through email) We would like to invite all qualified persons to submit their resume to the Office of the Solicitor General (OSG). Republic Act 9417 expanded the OSG providing its lawyers with more compensation and benefits. Currently, the office has 29 vacant solicitor positions. The Solicitor position carries with it judicial rank so there is a requirement of […]
Jul 31 2007
Fascinating islands
Long stretches of white sand, clear blue waters, majestic palm trees, and more – these are just few of the reasons why the beaches in the fascinating islands of The Bahamas are one of my dream destinations.
Jul 31 2007
August 1, 2007
So another month has passed me by. My wall calendar tells me it's time to take out last month's page to uncover the page of a new month, August.
It's kinda sad 'cause for the whole month of July, I've been waiting and praying for something to materialize but it didn't. I wanted to be kulit (overly persistent) to Mr. Q as to when it will clearly push through but I didn't want to pressure him too. It actually depends on a third party. At first I was counting the days, waiting for a confirmation…until I learned to accept things as they are. Well, I should have been moping around but thankfully I don't even feel that bad now. I just kept myself busy so I didn't have time to feel sorry about it. The seemingly bad situation actually opened up new opportunities for me and has given me a different perspective about my future plans. 
Jul 31 2007
Bad Davao Taxi Driver!
Last rainy night around 10pm i was going to Bangkal to visit someone. I was irritated that night since around 10 taxi cabs drop by and they deny me a service. I feel embarrassed since i was already in the front seat seating and when the driver ask where i will be going — i […]
Jul 31 2007
My new Personal Blog
At last! just move on a new site and more personalized blog. If you see i use my lastname as domain and my firstname as a subdomain. I've been planning this since last year but because of lack of budget (i blame myself for misuse/mismanage of funds — naubos sa gimik!). I bought the domain […]
Jul 31 2007
The calm before the storm
Right now we're just enjoying the time we have left alone together.  Not that we haven't been doing that for the past years but I guess now that we know it's about to end soon, it just makes the time together so much sweeter.  I think I've calmed down a …
Jul 31 2007
The Hidden Treasure
Matthew 13: 44-46 Ex 34:29-35/Ps 99:5,6,7,9 The kingdom of heaven is like a merchant searching for fine pearls. When he finds a pearl of great price, he goes and sells all that he has and buys it. (Matthew 13:46) There is but one pearl of great price, Paid for at such great sacrifice. Life's greatest tragedy would be If its value […]
Jul 31 2007
300 Cops Search For Rebels In Basilan Island
Some 300 Filipino policemen, led by Basilan island police commander Salik Macapantar, hunt down Tuesday July 31, 2007 Moro Islamic Liberation Front rebels tagged as behind the beheading of ten of 14 marines soldiers killed in fierce fighting in the mountain town of Al-Barka. Police said it has warrants for the arrest of 130 suspected MILF and Abu Sayyaf militants implicated in the gruesome murder on July 10. Filipino defense and security officials say they are reviewing the names in the warrants. The MILF is currently negotiating peace with Manila. (Mindanao Examiner Photo Service)
BASILAN ISLAND, Philippines (Mindanao Examiner / 31 Jul) – Police forces on Tuesday hunted for Moro rebels implicated in the beheading of ten of 14 marine soldiers killed in the southern Filipino island of Basilan.
Some 300 policemen searched houses in the village of Guinanta in Basilan's Al-Barka town, a known stronghold of Moro Islamic Liberation Front rebels, but returned to their base later in the day without any arrest.
"It looks like the rebels have fled their homes and could be hiding to elude arrest," the island's police chief Salik Macapantar told the Mindanao Examiner.
Police said it has warrants for the arrest of some 130 suspected MILF and Abu Sayyaf militants implicated in the gruesome murder on July 10.
Police forces also searched an MILF training camp in the mountain town, but the place was abandoned. An obstacle course and several empty thatched huts were spotted in the area.
Government soldiers were also seen guarding a mosque in Guinanta village.
The MILF, which is negotiating peace with the Arroyo government, denied beheading the soldiers and called for an international human rights group to investigate the incident.
The fighting erupted after some 100 soldiers entered an MILF territory in search for a kidnapped Italian priest Giancarlo Bossi after military intelligence reports said the clergy was being held by rogue rebels.
The reports turned out to be false because Bossi was freed by rebels July 19 in Lanao del Norte province in Mindanao island. The priest said he was never brought to Basilan, but stayed most of his captivity in the town called Karomatan.
Philippine military chief Gen. Hermogenes Esperon has demanded the MILF to surrender those involved in the killing and return the weapons it seized, but the MILF was defiant and said it would not yield any of its fighters.
Mohagher Iqbal, chief MILF peace negotiator, said the fighting was a legitimate encounter and warned any attack on the rebel group could escalate and may hurt the seven year old peace talks.
Filipino acting Defense chief Norberto Gonzales has threatened to launch punitive actions against the MILF in Basilan if they do not surrender the rebels behind the murder.
Gonzales flew to Zamboanga City and Basilan island where he met with senior military and police commanders about the impending punitive actions.
He said the government would also review the charges against the rebels after learning that the police implicated 130 people in the beheading of the ten marine soldiers.
The MILF and the government cease-fire committees were also investigating the incident.
The MILF is the country's largest Muslim rebel group fighting the past three decades for a separate homeland in the restive southern region of Mindanao. (Mark Navales)
Jul 31 2007
Bisdak Planet Kitakits sa CEBU
Norwin, Aydoc, Tish, Nympha, Glorie, Charo, Ylan and Cocosa Gerry's Grill sa Ayala Cebu.
Jul 31 2007
THE COOK-OUT FEVER
Mag ROCKRAKAN 'ta sa UP… August 10,2007, 6:00 PM at the UPGrounds
ROCKRAKAN sa UP… COOK-OUT 2007
naay dance showdown…» indigay sapagsayaw»ug adunay rampahan… «pagpakita sa UPNAMING NAGING MAHAL»naa pa diay singingshowdown… «kantahan na»di nato kalimtan ang bandshowdown… «rakrak»ug uban pa…Mag-uban-uban ta sa Cook-out… I blocknana sa schedule… August10, 2007 sa UP Cebu College Grounds.With some guest bands: (list given byPaolo Varela)———— ——— ——— ——- PowerspoonzAmbassadorsPandoraPohakuCDMCPelican St.
Refrain
———— ——— ——— ——-For UPV Cebu College Students, pleasebring your ID or recent FORM 5for identification.
For non-UP students, tickets are sold
at Php 40.00 each.
Cook-out 2007 is brought to you by theUPV Cebu College StudentCouncil( UPVCC-SC), the Unified StudentOrganizations (UNISO) and
the Production Team.
Jul 31 2007
I open at the close.We often take things around us for granted, in search for more brilliant, more beautiful, more worthy things. We look at the faraway stars, we search the depths of the seas, we traverse high mountains in order to get a glimpse of what natural beauty is. But after having dealt with microscopes for more than a year now, I realized that there's this whole new microscopic world [waiting] to be seen that's also full of mystery and glory. Yes, the physical strains that comes with climbing mountains and diving deep oceans may not be equal to trying to see the few inches of the eyepiece of the microscope with your two eyes open, but it's sacrifice, nevertheless. And the fruits of your that? Beautiful, simply beautiful.
Even though I still have to get the hang of memorizing all the phyla and genus that comes with these beautiful creatures, the greatness that comes with just their being there makes me wonder about the other beautiful things that God has in store for us to see.
Jul 31 2007
yummy…
there is nothing more satisfying that a couple of square brownies, all so lusciously yummy, enticing, mmmmmmm.. yum.
im hungry for real food though.. i guess the brownies i have are my dinner now. well.. that has been the case for a couple of weeks already. but no biggie.
ehn asked me early this morning as to why i'm so happy.. for somebody who obviously lacked sleep, i couldnt stop smiling.. i laughed, teased, and smiled some more. even now i can't stop smiling.. does this mean something bad is about to happen?? i hope not..
~~~
right now, im listening to Fergie's Big Girls Don't Cry. i love this song soooo much… i guess it's the beat, plus the lyric… even dhirrac likes it. hehehe i feel like swaying to it.. gee, if i had the voice, i would belt out singing it out without missing a beat. but then again, im a fan of music, but i dont think she wants me to join her group. hihihihihih..
~~~
stuff at prison camp is getting worse… i dont exactly know what to do anymore.. i just have to let everything be.. well, i have work to do.. be back later!
Jul 31 2007
Kinabuhi sa Usa ka Estudyanteng Nars
Haaaayyyy nag general cleaning gyud mi sa NOPH ganinang buntag. Mao ra gyud to among nahimo ganina! huhuhu ug si Wilbz naka assist ug Debridement and drainage nya ka'y minor operation ra man to so…
This is only a teaser. Visit my blog for full links, other content, and more! betterthanezraH.blogspot.com
Jul 31 2007
A Wedding in Bacolod
Last week I went to Bacolod City to attend the wedding of a high school buddy — one of the last in our batch to get hitched. It was tiempo muerte when I arrived in Bacolod; the sugar centrals in Negros were idle, the canefields fallow and people are generally more «relaxed» (for want of a better word). My friend's wedding became a sort of a mini-reunion of my high school barkada in Don Bosco-Victorias, many of whom I haven't seen in years. After the wedding, our group decided to have a night out at Piazza Sorrento (located at the corner of Lacson and 13th Street) which seems to be the new «in» place in Bacolod City. When we arrived, Sorrento was packed: aside from locals there were also many Koreans and a sprinkling of Caucasian-looking people. The crowd at Piazza Sorrento would put Malate or Timog to shame. You have to hand it to the Negrenses — they do know how to have a good time.The following day I went on a «pilgrimage» trip to Victorias Milling Company to visit old friends and to see once again the place where I grew up. I then went to the VMC Golf Course to play some golf but it was drizzling so I wasn't able to play. Still, I was able to get some goods shots of the course here:
Jul 31 2007
What we should learn from the Japanese?
The foremost thing we should learn from the Japanese is "Have a healthy diet to live longer."
The Japanese Health, Labor and Welfare Ministry showed that the average life expectancy of Japanese women stood at 85.81 years in 2006, remaining the longest in the world for the 22nd year in a row. Life expectancy measures the expected length of life of an individual.
One reason for this is their healthy lifestyle including their traditional Japanese diet which is based around fish, rice and vegetables, and is very low in red meat, dairy products and processed foods. The Japanese foodways were also presented to the American public as a nation benefiting from all the dietary paradigms deemed politically correct.
Continue Reading »
Jul 31 2007
The Human Security Act and the right to Sue the State
Under the Human Security Act of 2007 (RA 9327), the accused who is acquitted from the charge shall be entitled to damages in the amount of P500,000 for each day that he has been detained. The Human Security Act also provides for detailed mechanism on how the damages should be paid. The pertinent provision of […]
(This is a content summary only. Please visit the site to read the entire article.)
Jul 31 2007
Got this video via pauline's site. Great video. …
Got this video via pauline's site.
Great video. Nice moves. Mischievous roommate.
Jul 30 2007
clean.. r u?
"who are you to judge the life i live?..i know i'm not perfect..and i dont live to be..but before you start pointing fingers..make sure your hands are clean." — Bob Marley
Jul 30 2007
The Boss
I picked up the phone after three missed calls. It was unregistered and I have an immediate withdrawal syndrome for unnamed callers. When I answered an enigmatic hello, the guy from the other line shouted «Bossing!«, a Tagalog derivative of boss or someone who usually leads and dominates the pack. It was Angelo, one of my high school classmates. I should've guessed it. The spur-of-moment semi-reunion was actually happening in real time and that I should be there. I'm the bossing anyway, despite the fact that I cannot shell out 43 pesos for the taxi and would have to text Frances, another close classmate of mine who promised to pay the fare, to save my face.
(Diversion: The realities of an overworked low-wage-earner loser is a case that should be documented already by Amnesty International. Imagine the psychological effects of seclusion and deprivation of proletariat ramblers like me due to perforated-pocket syndrome. Double whammy. I bet there are bazillions of undocumented (unsung, in a rather 'lyrical' melodramatic sense) out there that could rival the ever-increasing statistics of political prisoners and media slayings.)
Trying to dislodge the bossing irony, while sipping a pretentious mocha-on-the-rocks surrounded by noisy class A people and faux pas bourgeoise, I am again transported to that memory in high school, where the bossing etymology is rooted.
I was the only male cadet officer during the fourth year PMT heydays when commando-crawling in both rocky and muddy grounds and eating lamaw-like buffet gives a stupid adrenaline rush. Sir Sonny, our beloved commandant was not around during our pointless training month, and was replaced by the dominatrix Sir Emilia (his alternate name). If clinching the credits to sustain the honors thus the scholarship was not in question, I could easily have quit along with five of my guy classmates who shared to me they just couldn't stomach the pointless stupid training with the bitch. The other five called themselves «the quitters» and emerging as Alpha Co. Commander and only thorn among the brave roses, I was tagged their bossing.
It would have been a different ball game had I quit, had I proven a different point, had I disappointed expectations. My reasons may not have been as valid but later gaining the respect and confidence of the rest of the guys is priceless even if I had endured burnt arms in the searing pavement and the nauseating, puke-inducing stench while submerged in the canal. Gawd, I really could have done away with it, no? Oh, fuckit.
Jul 30 2007
All Tied Up
Parang naubusan na ako ng kwento. Like I'm all done talking. I have nothing to blog about. I'm spent. I've run dry.What other cliches can I use?****
Lolo is doing relatively well.
I'm still hooked on Asian dramas.
I've re-prioritized.
I keep seeing these gorgeous guys on television. Where are the real ones?
I'm on a *very* tight budget. In fact, I will continue to be until I pay off my student loans. I'm trying to be very positive about it.
My patience is being tested and refined. Ah, the joy in life's trials.
I want to get on a plane again, and get out of here, even for just a while.
Jul 30 2007
Hello world!
Welcome to WordPress. This is your first post. Edit or delete it, then start blogging!
Jul 30 2007
MEME — Trio Loco
I think this is the 1st time i try nor response to a meme? hehe. This was long overdue. I was so lazy and bumming around my room. I wonder why this is called a meme?LOL! I was tagged by Andrew. I'll try to answer as honest as possible…. LOL! Three Things That Scare Me 1. Big […]
Jul 30 2007
Virtual traveler
I may not be Hiro Nakamura* with teleportation abilities, but I can still travel virtually with my favorite browser and a few clicks of my mouse to my favorite destinations… with a sigh though. My big sis' family will be off to Finland soon, and recently she showed me photos of her choices for their house which gave me some idea of the culture and architecture of this place. It would be nice to visit them one of these days (yeah, I'm dreamin') and when that happens I would very much like to explore the Finnish Lapland, known as Europe's last frontier where the Sami indigenous people live. It would be fascinating to experience their way of life among old villages and possibly watch herds of reindeer along lakes.
Jul 30 2007
Review a Mindanao blog and win cash!
During the launch of the 6th MICT Congress last 25 July, Commission on ICT Acting Commissioner Mon Ibrahim presented some challenges to Mindanao's economic development. One of which is the challenge of improving Mindanao's negative image. Ibrahim said that overcoming this obstacle will result in better opportunities for Mindanao's I.T. industry to flourish.
Well, one very effective way to address this need is to have more and more people writing about Mindanao. The best medium for this is the Internet. And the best tool the blog.
The Mindanao Bloggers Summit, which will be held during the MICT Congress this October, has a very apt theme: "Spotlight Mindanao: Blogging for Culture, Identity and Understanding". The fundamental idea behind the Summit is to promote the use of blogs as a powerful tool for bringing out to the world the true image of Mindanao. Also, the Summit aims to foster understanding among the various peoples and cultures in Mindanao. (more…)
Share This
Jul 30 2007
Domesticated
Of course it is bein difficult for me juggling personal and academic thinkings with the current events that not once in a while flash in front of my eyes. Feeling surprised for a while and complacent eventually after I get back to where that previous school of my thought was. In between this and that were the random […]
Jul 30 2007
St. Ignatius Loyola
Matthew 13: 36-43 Ex 33:7-11; 34:5-9.28 / Ps 103:6-13 The one who sowed the good seed is the Son of Man. The field is the world, and the good seed stands for the sons of the kingdom. (Matthew 13:37-38) May we be counted to belong Among the good seeds God has sown; To fight for justice, right the wrong, And make His […]
Jul 30 2007
Argao In My Mind
Batch 72 graduates of City Central School in Cebu City has scheduled a tour in Argao on August 4. That brought back memories of the few years the family lived in that southern town in the middle '60s.
I studied Grade 1 at the Argao central school, in that campus visible from the national highway going to neighboring Dalaguete and which is surrounded by rice fields. We used to frolic in those muddy fields, like children often do. It was there where we thought we saw the image of the Virgin Mary atop the far off mountain. Or was it the clouds?
We lived in a two-story wooden house that had a lanzones tree that grew as high as the second floor window. At the back was an abandoned well. We had some few encounters with some "spirits" in that house. Or we believed they were spirits.  I thought I heard, for example, the clanging of a chain in the yard when one time I woke up at dawn. Must have been an evil spirit in chain.
And here's an interesting scene.  I was reading a book facing my brother Wenie who was sitting in another chair when I thought I saw a hairy hand reach out to him from the window. "Unsa na manoy?" I remembered telling him. We both shouted in fear and the hand just vanished. Illusion?
One night, our father Tiyong and mother Juling failed to come home early so we children were left on our own. Suddenly, the wooden door of the house, which was a bit heavy, opened, bringing in the cold evening air. We huddled together in a corner shouting for help. Surprisingly, nobody heard us. Then Nanay Juling arrived.
My favorite playing ground was the beach where the old Spanish kuta (fort) that was already buried in sand was located. Tatay Tiyong owned a large fishing net that they used for pamaling just near the shoreline. The catch was good. Today, fishermen already has to go far off to the sea to get as much catch.
The scar in my right heel I got from a bicycle accident. I was in the back seat when my heel got caught in the wheel while we were moving fast. That experience developed in me a mild fear for bicycles, the reason why until now I don't know how to drive one.
I could not remember how long we stayed in that town, probably 3-4 years. We went back to Cebu City after my father suffered an accident that almost took his life.
Tatay Tiyong was driving a soft drinks truck when the brakes failed, forcing him to ram the vehicle on the coconut trees (the other option was to fall off a cliff). He was pinned by the steering wheel while standing, dislocating the joint connecting one of his legs to his torso. He stayed in the hospital for several months.
I would like to think that my love for rustic setting was formed by my experience living in Argao. Indeed, given an employment opportunity in the countryside, I would prefer to live there than endure the anarchy of an urban setting.
—-Candido O. Wenceslao, July 30, 2007 
Jul 30 2007
i read Harry Potter 7
no, i wont post yet-another-summary here. i think you can consult good ol' WIKIPEDIA for that.
but i would simply like to give a comment or two..
i hate the fact that HP7 might be the last HP book.
i hate the fact it makes me cry…
i hate the fact that a LOT of people die…
i hate the fact that it is sooo great that it makes me long for more..
i hate the fact it makes me cry.. (oh wait.. i already said that)
i love the breathtaking beat of it all.. i think i forgot to breathe — especially during the battle of Hogwarts…
i love the fact that good reigns over evil..
i love that Harry does not need people telling him what to do.. and that he figures it all out unknowingly.. or something..
i dont feel like it that Harry is married with kids.. i still picture him as a kid… especially Ginny…
i think the epilogue did not give me what i was looking for…
i wish Hermione and Ron had more to say in the epilogue..
i love how the plots twist and turn..
i like how Harry sees Snape in the end…
i dont know..
i just love it. *bow*
Jul 30 2007
Commies Kill 2 Soldiers In Sorsogon Province
MANILA, Philippines (Mindanao Examiner / 30 Jul) – Two government soldiers were killed and seven more wounded in a clash with communist insurgents in the province of Sorsogon, east of Manila.
The Philippine News Agency said the fighting occurred late Sunday in the town called Juban and that two civilians were injured in the cross-fire.
It said the soldiers were patrolling a remote village when members of the New People's Army attacked them sparking a firefight that lasted more than four hours.
About 70 NPA gunmen were involved in the attack. There were no immediate reports of NPA casualties, but security officials said more troops were sent to the town to hunt down the insurgents.
The NPA, armed wing of the Communist Party of the Philippines, is fighting the past decades for the establishment of a Maoist state in the country. (Mindanao Examiner)
Jul 30 2007
a birthday treat
Last saturday,my birthday, as my darling husband's treat, we drove to visit the most popular castle in the world,the mad king's castle 'Neuschwanstein' It was built by King Ludwig II in the 1800s, although apparently he died (rather mysteriously)before it was completed.More stories here! The castle is situated in a scenic area of southern bavaria with magnificent panorama with beautiful mountains surrounding it .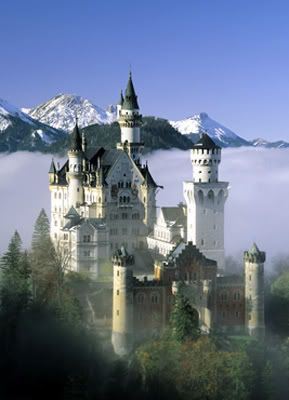 Ludwig II, King of Bavaria since 1864, addressed the following lines to the man he so greatly admired, Richard Wagner:
"It is my intention to rebuild the old castle ruin of Hohenschwangau near the Pöllat Gorge in the authentic style of the old German knights' castles, and I must confess to you that I am looking forward very much to living there one day (in 3 years' time); there will be several cosy, habitable guest rooms with a splendid view of the noble Säuling, the mountains of Tyrol and far across the plain; you know the revered guest I would like to accommodate there; the location is one of the most beautiful to be found, holy and unapproachable, a worthy temple for the divine friend who has brought salvation and true blessing to the world. It will also remind you of 'Tannhäuser' (Singers' Hall with a view of the castle in the background), 'Lohengrin' (castle courtyard, open corridor, path to the chapel); this castle will be in every way more beautiful and habitable than Hohenschwangau further down, which is desecrated every year by the prose of my mother; they will take revenge, the desecrated gods, and come to live with Us on the lofty heights, breathing the air of heaven".
My husband booked a tour online, our spots for the tour at 2:30pm, and it was only 11:00ish.So we ate an early lunch at alpenstuben (Hotel Resto) . Husband and I had 'Sweinebraten' and MIL had Pfifferlinge Knödel.It was really nice.Here's the view from the restaurant:
My two 'makulets' while waiting for our horse-drawn carriage,our service uphill to the castle.
The castle was really like a fairytale, very pretty. I loved the paintings in particular. Interestingly they are preserving it very well, with viewings only allowed on guided tours and no photographs are allowed inside the castle sadly, I don't have photos to show you from there.Below is the way to the main entrance of the castle.
Just wanted to say, thank you for all the birthday wishes & hugses. I was really touched by the fact that many of my fave people online & offline took the time to note my birthday.You guys ROCK!(at sa mga hindi naman bumati at nakalimot,kayo ay BATO!!hahaha jk!lol)