May 31 2007
Pinoy Remittance Goes High Tech
MANILA — Maxis Communications Berhad and Globe Telecom launched what company executives say is the world's first international mobile to mobile money transfer service between Malaysia and the Philippines.Having acquired approval from Bank Negara, Maxis is now authorized to offer mobile international remittance service in Malaysia through M-money. The mobile international remittance service is a simple SMS-menu based service that enables Maxis customers to instantly transfer money up to the value of RM500/P6,500 (per transaction) to friends and family in the Philippines using their mobile phones. Customers can request to remit M-money in Ringgit value to Globe's GCash customers in the Philippines, which will be converted into Pesos on the fly and immediately deposited into the recipients' GCash wallet. GCash customers can cash out the money at any of the 6,000 Globe partner outlets in the Philippines. They also have the easy option of transferring the money via SMS to other friends and family in the Philippines or to pay bills directly such as electricity, school fees and etc. Maxis M-money service offers a convenient and affordable alternative to international remittance services provided by banks and licensed remittance providers that charge a service fee that varies between RM10-20 per transaction to the Philippines.The service removes the need for senders to arrange for money in small amounts to be sent home via banks and financial institutions, which requires several days to clear between banks before the beneficiary can receive the funds. M-money is meant to complement local remittances channels and to make transferring money internationally significantly more convenient and affordable for consumers. "We believe M-money will revolutionise money transfer as it takes full advantage of the pervasiveness of mobile phones in this country, providing immense benefits to foreign workers across Malaysia and their families overseas through its reach, ease of use and lower transaction costs," Maxis Chief Executive Officer Sandip Das said in a statement.He said international money remittance is a substantial business, with the two largest outbound remittance corridors from Malaysia being Indonesia and Philippines, estimated at USD$4.3 billion annual transaction volume according to industry statistics. It is estimated there are several hundred thousand Filipinos residing in Malaysia and the total transaction value of money transfers from Philippines to Malaysia sits approximately at US$1.2 billion per annum. Globe's Head of Consumer Business Ferdz De la Cruz said: "The realization of our vision for the mobile international remittance system signifies a breakthrough in cross-border financial services.""We are proud to unveil another global first, a milestone in our continuing quest to pioneer relevant, consumer-responsive mobile technologies» Utiba Pte Ltd is the technology provider appointed by Maxis and Globe for the M-money and GCash services respectively.Utiba's Justin Ho said: "It is really exciting to be able to provide our international remittance service to two of our premier mCommerce customers. This service is the first step towards addressing the global challenge of providing affordable and instant micro-remittance to the un-banked population that needs it most. This service has the potential to change lives."To get started on Mobile International Remittance, Maxis customers can instantly cash in to their M-money account via selected Maxis centers or DropZone outlets and Maxis Partner Banks in Malaysia. Customers can also register for M-money service for free by sending Mmoney to 27007.
Charges for the Mobile International Remittance services are RM5 per remittance to Globe GCash customers in the Philippines and RM0.15 SMS fee per transaction. No additional fees will be levied on the remittance to the beneficiary in Philippines, Maxis said.
May 31 2007
pray. always. pray.
The Way Things Workis by admitting
or opening away.
This is the simplest form
of current: Blue
moving through blue;
blue through purple;
the objects of desire
opening upon themselves
without us; the objects of faith.
The way things work
is by solution,
resistance lessened or
increased and taken
advantage of.
The way things work
is that we finally believe
they are there,
common and able
o illustrate themselves.
Wheel, kinetic flow,
rising and falling water,
ingots, levers and keys,
I believe in you,
cylinder lock, pully,
lifting tackle and
crane lift your small head—
I believe in you—
your head is the horizon to
my hand. I believe
forever in the hooks.
The way things work
is that eventually
something catches.
— Jorie Graham
May 31 2007
What Now?
You Should Get a PhD in Liberal Arts (like political science, literature, or philosophy)

You're a great thinker and a true philosopher.

You'd make a talented professor or writer.
What Advanced Degree Should You Get?
It's a different result now compared to before, taken a full year ago. I guess my responses to the quiz questions have changed enough for me have a very different result. What now? Your guess is still as good as mine. Unfortunately.
May 31 2007
a prayer
Make me a channel of your peaceWhere there is hatred let me bring your love;Where there is injury, your pardon, LordAnd where there's doubt the true faith in you.O master, grant that I may never seekSo much to be consoled as to consoleTo be understood as to understandTo be loved as to love with all my soul.Make me a channel of your peaceWhere there is despair in life let me bring hope,Where there is darkness only lightAnd where there's sadness ever joy.O master, grant that I may never seekSo much to be consoled as to consoleTo be understood as to understandTo be loved as to love with all my soul.Make me a channel of your peaceIt is in pardoning that we are pardonedIn giving to all men that we receiveAnd in dying that we are born to eternal life.~Prayer of St Francis of Assisi
May 31 2007
Heritage is alive in Macau!
I won't write about the Hong Kong and Shenzhen leg of my trip since you've already read about the forgettable stuff below. But Macau was definitely a breath of fresh air. We arrived at the border close to 7 p.m. of May 27 and were brought straight to the Hotel Taipa Best Western where we stayed for our last night. Then we were on our own.
For dinner, we just got some take out food next door and ate in our hotel room. My family slept early that night but I went out for some drinks with my brods around old Taipa. I really like the way other Asian countries treat their colonial heritage. Taipa was an old fishing town and they were able to preserve the historic core. Walking the narrow streets gave one a feel of its rich history and age. We chilled out at this place called Taverna which looked like an old shop house that was reused as a bar.
The next day, after breakfast at the hotel, we took a cab to Plaza Senado and strolled around the charming colonial buildings, many of which were reused as shops and restaurants. Indeed, heritage is alive in Macau. It's historic core is a UNESCO World Heritage Site. But the old buildings continue to suit the needs of the current generation with this wonderfully implemented adaptive reuse. One should not miss the Ruins of St. Paul which are the iconic symbol of old Macau.We weren't able to do much since we had to be at the airport by 1 p.m. Add to the fact that it rained. But it was fun exploring on our own, with no tour guide ramming down compulsory shopping tours down our throats.
Check out my latest albums:
Seremban, Malaysia 06/13
Singapore 06/12
Singapore 06/11
Jakarta, Indonesia 06/09
Bandung, Indonesia 06/08
Yogyakarta, Indonesia 06/07
Yogyakarta, Indonesia 06/06
Central Java Indonesia 06/06
Central Java, Indonesia 06/05
Yogyakarta, Indonesia 06/05
Jakarta, Indonesia 06/04
Jakarta, Indonesia 06/03
Kuala Lumpur, Malaysia 06/02
Macau 5/28
Shenzhen, China 5/27
Hong Kong 5/26
Technorati Tags: macau, taipa, china, travel, travel blog
May 31 2007
firedance
attended another party—send-off party for les couple who are going back to City of Angels. it was a blast and fun. they rafflled off all the things they couldn't bring home and i got the dartboard and a hello-kitty stuff toy. and in the middle of the party, a russian girl strutted her firedancing skills on stage and the excitement was held off for a moment. what's with chinese bars all over china? from all my travels — north to south, east to west, they've got some kind of weird entertainment by ladies in skimpy shorts. gosh, i've seen so much awkward women-pole dancers and skinny guys showing off their bones and dirty navels. They gyrate wildly, mostly bang their heads as if they're into some kind of unexplainable ecstasy or just plain crazy dance. The the worst part is, they're into absurd, outlandish, glittery fashion that would almost let you think you are watching «Joseph the Dreamer» musicals. good gawd, this one in the photo is not one of those showgirls with fully-sequined fashion.  i'd rather perform the chicken dance or the ever-famous macarena.
*sigh*
May 31 2007
Fruitful, Fearless, Faith-full and Forgiving
Mark 11: 11-26 Sir 44:1.9-13 / Ps 149 Have faith in God . . . whoever. . . does not doubt in his heart, but believes that what he says will come to pass, it shall be done for him. (Mark 11:22-23) Lord Jesus, free me from any doubt, Give me courage for faith to stand out; Unless my life is […]
May 31 2007
A Question and an FYI
When you view your blog, do you see this HTML tag added after each (or most) paragraph?I see these added strings in some of the blogs I visit.
I learned that this is due to proprietary HTML tags created by Microsoft word or other MS applications.
Also learned that there are ways to strip your blog entry of these unintended and unnecessary additions. One way is to try exporting one's draft entry to Blogger as a filtered HTML.Or, I am made to believe that there are programs out there that can perform the stripping for exported messages or entries. Will try to research.Hope this helps.
BTW, tried broadcasting this "error" to friends, quoting the exact same tag and Blogger's comment box will not allow it as acceptable HTML.
Any ideas?
May 31 2007
The Jeepney Driver Who Got Us Laughing
 He has gone to the great beyond.  But his songs remain.
The songs were hilarious, well at least to our ears then – growing up in a household where such contraptions as computers, or cable tv were unheard-of.  No electricity during the day and during the nights – recurrent brown-outs were totally acceptable.  Friends snorted out their disbelief when I told them that we used to have a refrigerator  – run by kerosene.   Back then people in our hometown turn to transistor radios for entertainment.  I didn't hear of FM stations – not until I reached high school.  I'd seen pictures of Voltes V on my classmates' notebooks, but not on TV. 
May 31 2007
Attended Teng's birthday last night. The party was…
Attended Teng's birthday last night. The party was really a blast—the booze was overflowing and the food was just perfect! Teng's a chef, too, aside from being a filmmaker.
Went there with housemate Jim. We were later joined by friends, one of them Sarah, Teng's cousin.
But I never thought that I would be revisiting something in my past that night. That I will keep to myself now. That particular past I have no regrets of having experienced because it taught me not be hooked on it and other things associated with it.But I became kind of excited when it was showed to me by Teng's long time buddy.Excited because I thought I would get a part of it. But perhaps Teng's boy was too excited than I am that he brushed off my salivating over it. Yeah, he got it all by himself. Wondering what happened, I excused myself and looked for Teng's buddy only to find him on the floor. Asleep.I asked.He was answering in gibberish.I bugged.»Nandoon…ubos na…wala na…nandoon,» he said.Damn!—And yeah, we had Madonna keep us company the entire night. Teng earlier told us how he became too emotional upon hearing Madonna's Borderline. Madonna? Borderline? Tearjerker?»Kasi dahil sa kanta na yan na-realize ko na bakla pala ako,» he said.Now, sharing to you Borderline. Not Madonna's but Jody Watley's.
May 31 2007
SMS Warns Of Terror Attacks In South RP
GENERAL SANTOS CITY (Mindanao Examiner / 31 May) – Police doused off public fears of terror attacks in General Santos City in the southern Philippines after cell phone text messages warned of an impending bombings by the Abu Sayyaf and the Jemaah Islamiya.
It was unknown who spread the text messages, but police assured the public that there was no such threat. Police headquarters here have been flooded by calls about the threats.
The text message warned that a blue motorcycle would be used by terrorists to launch attack in General Santos. The bike, it said, would come from Maguindanao province.
Police said it would be impossible for the motorcycle to pass through layers of security and road blocks in General Santos City.
Officials appealed to the public to stay calm and vigilant. General Santos has been bombed many times in the past that killed and wounded scores of civilians. (Romy Bwaga)
May 31 2007
Police, Military Tighten Security In Shariff Kabunsuan Province
COMELEC officers headed by lawyer Jocelyn De Mesa (2nd from left) reads the COC results during the Provincial Canvassing in ARMM Sanggunian Panlalawigan office, at the back are the representatives of the candidates with their Legal Council and watchers. The Provincial Canvassing held inside the Mindanao State University Maguindanao in Datu Odin Sinsuat, Shariff Kabunsuan Province.The military tighten their security during the Provincial Canvassing because before the canvassing there is a grenade launcher explosion and strafing incident happened near the area. Another Gubernatorial candidate Tocao Mastura's and supporters denounce the canvassing because MSU Maguindanao is Datu Bimbo Sinsuat his political opponent territory.
A family walks in the isle were one of the tanks park near the Sanggunian Panlalawigan Office were the Provincial canvassing is on going. The military tighten their security during the Provincial Canvassing because before the canvassing there is a grenade launcher explosion and strafing incident happened near the area at 2am in the early morning. (Mindanao Examiner Photos/Mark Navales)
COTABATO CITY (Mindanao Examiner / 31 May) – Philippine authorities tightened security in the southern province of Shariff Kabunsuan due to rising tension between supporters of opposing politicians.
Canvassing of votes in the May 14 national and local polls in the province has been disrupted many times by violence.
An explosion on Wednesday in the province sent policemen and soldiers scampering to secure vital government installations.
Army Col. Mario Mendoza, commander of the 603rd Infantry Brigade, said he deployed troops to help local policemen secure the province, one of five under the Muslim autonomous region, from further violence and to allow the canvassing of the Commission on Elections.
Politicians accused each other of fraud and cheating to win the elections, especially in the gubernatorial race.
Regional police commander, Chief Supt. Joel Goltiao, said they have put up road blocks and checkpoints to prevent the entry of illegal weapons that can be used to stir more violence in the province.
"I am really dismayed about the election here in Shariff Kabunsuan because of very obvious and rampant vote-buying during the election."
"I personally saw ballot boxes brought to the Maguindanao provincial capitol before they bring them to the Mindanao State University where the canvassing is done" one village elder, Datu Kali, told the independent regional newspaper, the Mindanao Examiner.
Thousands of people held a rally on Tuesday to protest allegations by the opposition of massive cheating and fraud in the province.
May 31 2007
Photo: Carat 2007
The United States Navy's USS Harpers Ferry, a 16,500-ton amphibious warfare ship, and two 4,000-ton frigates, the USS Ford and USS Jarrett, and three smaller Filipino ships are participating in the ten-day war games called CARAT 2007 or Cooperation Afloat Readiness And Training. Some 2,000 troops are involved in the training that begins Thursday, 31 May 2007 off the Sulu Archipelago where local troops are battling members of the al-Qaeda-linked Abu Sayyaf group and Jemaah Islamiya in the Sulu Archipelago. (Mindanao Examiner Photo Service)
May 31 2007
Pandami Native Wins Sulu Polls
JOLO ISLAND (Mindanao Examiner / 31 May) – A member of the Sulu Provincial Board in the 2nd District, Muhammad Nur Sitin, took his oath of office after winning in the recent national and local polls.Sitin, accompanied by his relatives and supporters, took his oath before Judge Peter Eisma, of the Regional Trial Court, at the Hall of Justice in Zamboanga City.The Commission on Elections proclaimed Sitin as winner after garnering more than 31,000 votes, a landslide victory for the Pandami native, during the May 14 elections.Board Member Muhammad Nur Sitin is a native of Pandami, Sulu and fondly called «Uto Nur» by his relatives and friends in Sulu. This young and energetic politician from Pandami, belongs to original clan of Sitin, Berto and Pulahong of Pandami, Sulu.""As God-fearing politician, he is honest and dedicated to do his services for the welfare of the people in Sulu particularly the 2nd district of Sulu," one of his supporter said."Position of any kind is God-given opportunity for mankind, so it must be made use for the benefit of the people in accordance with the fundamental law of the land and the law of God," Sitin said.
"I am very much thankful to all the people especially in the 2nd district of Sulu who in one way or the other supported me in the last political exercise in the province of Sulu. And above all, I am so much thankful to Almighty God for giving me the opportunity to serve the people in the province of Sulu, particularly the 2nd district," he said. (Hassan Hatab)
May 31 2007
Kidnappers Free Hostages To Muslim Rebels In South RP
NORTH COTABATO (Mindanao Examiner / 31 May) – Kidnappers have freed on Thursday four people they earlier seized in the southern Philippines, officials said.Gunmen released the four to the Moro Islamic Liberation Front (MILF) rebels in the village of Balongis in North Cotabato's Pikit town, said Col. Pedro Soria, commander of the Army's 602nd Infantry Brigade in the province.The release of the hostages previously reported as Caucasians came hours after the rebel group, backed by security forces, mounted a massive rescue operation.But it turned out that only one hostage is foreigner, Thomas Wallart, a German national. Other reports identified the German as Wallraf, from Cologne. The others are Filipinos – May Sharon, the German's wife; and Diego Daniel, the van driver; and Consuelo San Juan, a friend of the German couple.»The victims were released to the MILF and they will be turned over to us,» Soria told the independent regional newspaper, the Mindanao Examiner.The four were heading to North Cotabato from Davao City onboard a van when gunmen flagged down their vehicle.Major General Raymundo Ferrer, commander of the Army's 6th Infantry Division, said the four hostages were not harmed by the gunmen. "They are all alright," he said.Ferrer said the Moro Islamic Liberation Front (MILF), the country's largest Muslim rebel group negotiating peace with Manila, offered to help track down the kidnappers.The MILF has in the past helped the government rescue kidnapped foreigners and Filipinos in Mindanao.A rebel spokesman, Eid Kabalu, said the four would be handed over to the Philippine authorities and the Malaysian-led International Monitoring Team. "We are glad it's over," he said in a separate interview.One of the hostage, May Sharon Wallart, said they were not harmed by the kidnappers, but shaken by the ordeal. «We are really thankful that they did not harm any of us. We are so tired and probably fly back to Manila to get some rest,» she told reporters in Pikit town.She said the gunmen, clad in military uniform, flagged down their vehicle at a checkpoint and seized them. «We did not think it was a kidnap because they were all wearing uniform like those of the soldiers. They took our belongings and tied our hands and took us away,» she said.The woman said she and her husband were in Pikit on a business trip. «We are into metal trading,» she said.Other reports said the German national is a treasure hunter.The abductions coincided with the start of the ten-day joint amphibious war games between the Philippines and the United States.Marine Major General Mohammad Dolorfino, chairman of the government Ad hoc Joint Action Group, said the abductors were bandits operating in North Cotabato."The MILF is able to react immediately and rebel forces sealed off the area where the abductors are holding the four victims and recovered them safely," he said.
It was unknown whether the MILF arrested any of the gunmen. (With reports from Juley Reyes, Mark Navales and Juan Magtanggol)
May 31 2007
so i believe…
«The beauty and genius of a work of art maybe conceived, though its first material expression maybe destroyed; a vanished harmony may yet again inspire a composer; but when the last individual of a race of living being breathes no more, another heaven and another earth must pass before such …
May 31 2007
in love with love
It's just amazing that some people find someone to stick with, to adore and to love. Many people say that a person should find love. Love finds a person. However, love is elusive. Like a beautiful butterfly… You're afraid to touch a butterfly. You wouldn't want to hold it or you might break its colorful wings. You just look at it with longing, lingering its beauty, form and grace. But you have to take it. It might go away, or might die that soon.
May 31 2007
oVErplAYed SoNG
I've been living with a shadow overhead I've been sleeping with a cloud above my bed I've been lonely for so long Trapped in the past, I just can't seem to move on I've been hiding all my hopes and dreams away Just in case I ever need em again someday I've been setting aside time To clear a little space in the corners of my mind All I want to do is find a way back into love I can't make it through without a way back into love Oh oh oh I've been watching but the stars refuse to shine I've been searching but I just don't see the signs I know that it's out there There's got to be something for my soul somewhere I've been looking for someone to shed some light Not just somebody just to get me through the night I could use some direction And I'm open to your suggestions All I want to do is find a way back into love I can't make it through without a way back into love And if I open my heart again I guess I'm hoping you'll be there for me in the end There are moments when I don't know if it's real Or if anybody feels the way I feelI need inspiration Not just another negotiation All I want to do is find a way back into love I can't make it through without a way back into love And if I open my heart to you I'm hoping you'll show me what to do And if you help me to start again
You know that I'll be there for you in the end
May 31 2007
Ruel & Johnna's Wedding
Photobucket Album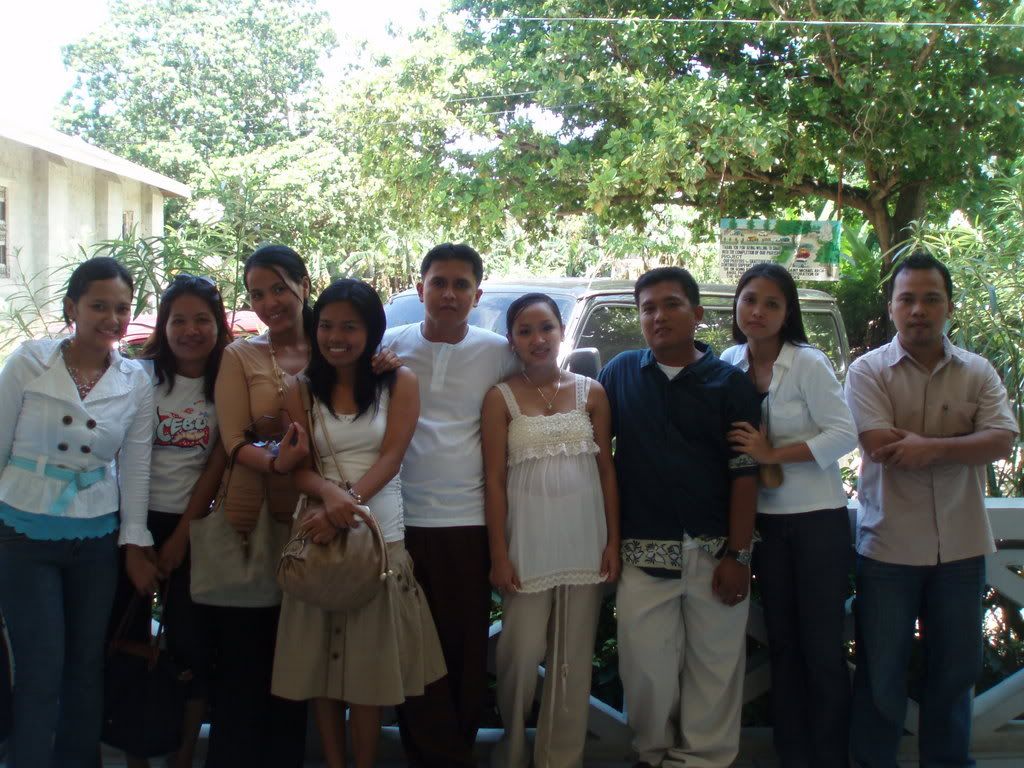 May 31 2007
Four Caucasians Kidnapped In Southern Philippines
NORTH COTABATO (Mindanao Examiner / 31 May) – Unidentified gunmen seized four Caucasians Thursday in the restive region of the southern Philippines, officials said.
Officials said troops and policemen have mounted a search for the foreigners – two males and two females – who were abducted near Pikit town in the troubled North Cotabato province.
The four were heading to North Cotabato from Davao City onboard a van owned by Filipino businesswoman, Roselyn Timbal. It was unknown if she was with the foreigners or not and whether the driver was also abducted.
"We are tracking down the foreigners and their abductors. We still do not know who are behind the abductions and their motives," Major General Raymundo Ferrer, commander of the Army's 6th Infantry Division, told the independent regional newspaper, the Mindanao Examiner.
Ferrer said the victims were herded to motorcycles that followed the van near the town. "Some people witnessed what transpired," he said without further elaborating.
Other reports said the hostages were spotted in the hinterland villages of Balongis, Tinutulan and Balatikan, all in Pikit town.
The Moro Islamic Liberation Front (MILF), the country's largest Muslim rebel group negotiating peace with Manila, also offered to help track down the kidnappers, the general said.
"The MILF has offered to help and we are closely coordinating with the CCCH and the ADJAG," Ferrer said. Ferrer was referring to the MILF and the government's Coordinating Committees on the Cessation of Hostilities and the Ad hoc Joint Action Groups.
The MILF has in the past helped the government rescue kidnapped foreigners and Filipinos in Mindanao.
"We are closely monitoring the situation and our forces are awaiting orders from the MILF about this problem and how we should help the authorities recover the foreigners safely," Eid Kabalu, a rebel spokesman, said in a separate interview.
Kabalu, quoting MILF intelligence reports, said the four foreigners were flagged down in Pikit town by the gunmen.
The abductions coincided with the start of the ten-day joint amphibious war games between the Philippines and the United States.
May 31 2007
Nokia 6820
Nokia 6820 Originally uploaded by engkanta My new mobile phone
May 30 2007
The Will To Understand and Be Understood
Three summers ago I went on a pilgrimage to Fatima in central Portugal. The city is famous for the Marian apparations that took place there in 1917. I celebrated masses in the Basilica and in the Sanctuary with a group of Dutch-Filipino pilgrims. Aside from checking out Fatima's shrines, museums and bookstores, I also visited nearby towns and communities.
One place that is worth mentioning is Cova da Iria. For it was there where I met an old woman sitting at a well. She claimed to be a relative of Lucia, one of the three peasant children who witnessed the apparition of the Virgin Mary. The other two were Francisco and Jacinta. Continue Reading »
May 30 2007
destination: tinago falls
«It's possible to believe in something
and still fail to live up to it.»
— Dr. Wilson of House, MD
manman, one of my ids99 buddies in manila, wanted to take his canon eos 400D (digital rebel xti) «out for a walk». since he wasn't able to count on the company of his usual gimmick pals here in iligan, he decided to «pester» me one monday morning (may 28, 2007) with a series of one-liner text messages: «val, naka-adto na ba ka sa tinago recently?» followed by «tinago ta ninyo karon.»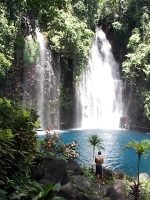 tinago refers to tinago falls, one of MY iligan city's majestic falls and, as such, a tourist destination. from where i live here in iligan city, tinago is quite far and getting an invitation to hie off to where it is in such short notice is not my idea of a morning/wake-up greeting.
i was interested to visit tinago but i wasn't keen on going that day. i made use of my negotiating skills (read: bratinella powers) and convinced manman that the trip be moved to tuesday — a day after. so last tuesday, may 29, 2007, three of us ids99 peeps went — manman, naomi, and i.
getting there
we met at the city proper. jollibee abalos, hello! then, we boarded a jeepney bound for brgy. buruun — a 12-peso ride away. in brgy. buruun, we took a habal-habal (motorcycle) ride which cost us PhP20 each. the habal-habal took us up the mountain — all the way up to tinago nature park. we could have hiked the entire distance from the foot of the mountain to where the nature park is. had we done so, however, we would have used up much of our chakra (haha, blame naruto!) — energy, i mean — and it would have taken us longer to get to our destination.we wanted to get there fast and with less effort. thus, the fun motorcycle ride up the winding road…
tinago falls
one of the things iligan can really boast of is the abundance of water. on one side, it is bounded by mountains where cold springs and cascades of freshwater come from, and on the other side, it is bounded by seawater. the city has 23 waterfalls — tinago falls is one of the better known ones among them.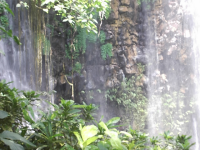 i have to admit that it sounds kinda ironic that, in my 24 years of existence, i — an iliganon, by heart and by breeding (haha!) — have only been to 5 (or 4?) of these 23 waterfalls. i need not be ashamed of this «tragic» truth though. i know of a greater tragedy and it is this: an iliganon afraid of going into the water, not knowing how to swim!!! hahaha. fortunately for me, i don't have this kind of problem — thanks to the drowning episodes i went through when i was sillier and younger — they surely made a braver kid out of me.
owkey, back to my tinago talk.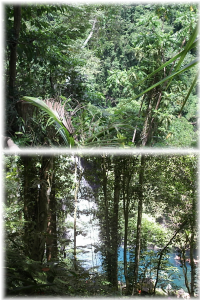 tinago is so named because of its location and accessibility. it is hidden (thus, the name tinago) deep in a ravine and in order to see the cascading waters, one has to go a long, long way down first. with «long, long way down,» this means that visitors have to be physically fit to make the energy-zapping trip to and back from the falls alive.
actually, the walk down to the falls isn't as difficult as it used to be. when my mama went there for a tree-planting project many years before, there were no defined steps and they had to cling to roots and branches of the trees growing in the area. there is a winding staircase leading to the falls now, which makes the trip easier and, yes, less dangerous. however, those with respiratory or cardiovascular problems are not advised to go. to see the hidden waterfalls, one has to take all 300 steps down the steep ravine — not for the faint of heart and spirit. BUT the wonderful sight of tinago's cascading waters and blue lagoon is a lure worth pursuing and «toiling» for.



05.29.07 tinago nature park: going down the steps
we've only gone halfway down when my acrophobia got the better of me and my knees started shaking uncontrollably. i toyed with the thought of
«pwede magpaligid na lang ko?»
but, good thing, photo moments were there to distract me from minding my knees and my fear and all that queasy feeling. ehehehe! hooray to my most recently recognized «anti-acrophobia» medicine.manman insisted that we use his camera only… but i knew that it would take time before he'll upload copies of the photos from his toy (waaaaaaaaaaah, i want a canon eos 400D / digital rebel xti, too!). so i insisted on playing with the point-and-shoot camera i brought along with me.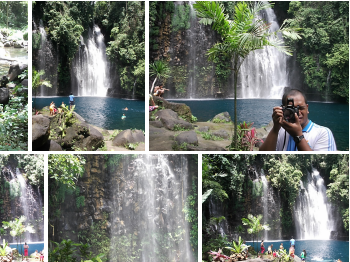 05.29.07 tinago falls
ain't tinago a marvelous sight? cool, clean and clear water, as freshwater should be. it's fun to swim to the foot of the falls and meet the waterdrops there. wait, what waterdrops? they're more like jets of water beating down on your head and body — free natural massage with cool ouch factor.a word to describe the place? paradise! p.s.(1) from tinago, we were supposed to go to mimbalut falls that day, too. however, we started our day late… so no «falls-hopping» (ehehee) for us.(2) pictures that appear on this post are point-and-shoot outputs.
(3) pictures of us a-frolicking and a-swimming in tinago's 55-foot deep lagoon will have to wait 'til manman makes the pictures from his camera available.
May 30 2007
Iranian President Mahmoud Ahmadinejad Greets Philippines On Its National Flag Day
Iranian President Mahmoud Ahmadinejad. (Photo by Fox News)
MANILA (Mindanao Examiner / 31 May) – Iranian President Mahmoud Ahmadinejad cabled a message to his Filipino counterpart Gloria Arroyo to felicitate her, the government and the people of the Philippines on the country's National Day.
"President Ahmadinejad expressed the hope that through mutual cooperation of officials, both countries will witness further expansion and bolstering of relations," the Iranian news agency IRNA reported on Wednesday.
The Philippines on Monday celebrated its National Flag Day with parades. (Mindanao Examiner)
May 30 2007
When I was a litel boy
In the contemporariness of our world today, we are drawn towards everything explicably new in every sense like the latest tech gadget, the in's of the fashion world, new asphalt-burning fast cars that are faster than the previous acclaimed 'fast' cars, and everything else of that sort. I admit that I'm also attracted to these fancy objects. In fact, some of my friends would tag me as 'boy gadget' because of these techy objects that I normally carry around. But don't let the tag fool you. I am beyond those two words, I think.
When everyone are getting ahead of themselves with the tech gadgets tha
t they have, some people use its advantages to meticulously create their nostalgic fantasies of the past that they have unconsciously left behind and now are touched by their eternal significant glow. And the output of their imagination through the use of these gadgets has rekindled in them the 'child' that they once were. And I just happen to be one of them.
I took these pictures while we were at the Gawad Kalinga Build in Tibungco. We were setting up the makeshift pavilion to cover us from the sun's immense heat then these small bunch of kids started gathering around us while we were moving planks of wood to and fro. They were somehow curious of what what we were doing. Maybe, they think we were building a large tent where we would gather around inside it and share ridiculous horror stories while pointing flashlights to our faces. I wish we were but sadly, it was not part of the night's program. After the tent was set up, the emcee's took the stage and spieled while I took pictures of them for the event's documentation. One of the kids took notice of the camera I was holding. Obviously, he knew it was a camera because he gave out this 'papicture ko beh' action with matching pouting lips. I gave in with a smile and took a snapshot of the kid. And after that, the other kids started showing me the 'papicture ko beh' action. And again, I gave in to their witty charm.
While I was happily taking their pictures at random, I happened to take a picture of this small boy who gave a faint smile in a shy manner; I could tell he was shy because he was the most behaved and quiet among the loud and boisterous group of kids he was in. Somehow, he made me remember the little shy timid boy that I was back then: the matching tight polo shirt and the shorty shorts that almost hampered the airflow to my crotch, the short haircut (not the 2×3 haircut that makes you look like a military conscript) that contradicts the length of the hair that I have now, and the unadulterated humor and charm I should have used to woo the pretty little girls in our neighborhood then. I was shy but, contradictorily, adventurous,playful, and ecstatic about anything novel. Shy, in a way that I would feign stomach aches and leg pains when my mom would forcefully drag me to be introduced to her 'amiga' and their pretty I looked at the picture of the shy kid I just took a picture of and unknowingly, I was slowly trying to reminisce both foolish and glorious things I did during my childhood days.
I remembered the time when the tennis court in front of our house wasn't build yet and all it looked like was a small piece of land with a big tree in the middle with a cheap landscape surrounding the tree's roots. But with the creative imagination of a little child, it looked like an enormous grassy plain with mountain ranges surrounding the strong and mighty enchanted tree that would grab any pesky kid who would attempt to hurt it with its strong slithery
branches. It was our large playground.
We used to play a 3-in-1 ball game that has the setup and rules primarily of a baseball game setup. Instead of hitting
the ball with a bat, we kicked it. The pitcher rolls the ball on the ground to the batter instead of throwing it into the air. And in order to eliminate any runners from any of the 3 bases, we would throw the ball at them with great precision and aim. Obviously, we used a small rubber ball rather than the standard baseball. I could imagine what would it be like if we were throwing hard leather baseballs to our enemy's faces.
There was one time that I was the one standing at the pitcher's mound and the batter was this pretty girl from manila who stayed in her tita's house in our
neighborhood for the summer. She was smiling at me while she was preparing for the pitch just like a professional batter would do before the pitcher throws the ball. Of course, I was also acting like a professional pitcher: meticulously cleaning the ball from any dirt that stuck unto it, pretending to coordinate with the receiver, and swinging my arm to 'warm it up'. The only difference was my right hand held the ball and the other, my shorts. That day was the 1st week of my becoming a 'man'. It didn't hurt anymore. I thought that the warm water from the boiled guava leaves really did its miracle to hastily heal the wound. Now back to the game, I was ready to roll in the ball. I thought I would just roll it in softly but conceal it with the look of a normal throw so as not to give her the impression that I was giving her a 'partida' (advantage). I threw it in. And the moment the ball was a meter away from her leg's swing, everything was in slow motion. As she swung her long slender leg with utmost grace and poise, her long dark hair swayed to the movement of her body; beautifully contrasting her white smooth face. She hit the ball. I was supposed to strictfully follow the ball's trajectory but I was not. My eyes' gaze was fixed at her glowing beauty. I should have watched the ball's trajectory because it was not going upwards, it was headed for me! But, it was too late for any body maneuver to avoid it's path. I got hit THERE. Of all the area on my body vulnerable to the ball's approach, I got hit THERE. My teeth clenched and my eyes opened wide in extreme shock. Every player of both teams on the field, never moved a hair. Everyone stood still. The pretty girl gave out a guilt look. After what seems to be a decade of silence, everyone into pitiful laughter. I was embarrassed. The game should have been canceled for the great tragedy that has just happened, as if I was an important player in the game. But instead, they replaced me with another pitcher far less better than me. I went home limping while murmuring invectives for the terrible embarrassing incident that just happened to what should have been one of the glorious moments for me.
May 30 2007
Mano Banoy… all the best!
I have not personally congratulated Mano Banoy yet. So before I do that, let me congratulate him, in behalf of the entire Mosende Clan.Congratulations!
Mano Jessnar «Nonoy» Mosende
Vice Mayor — electMunicipality of Mainit, Surigao del NorteWith your candidacy, the Mosende Family, particularly the clan of Don Capitan Hilario «Ayong» Mosende, has once again UNITED as a family.It can be recalled that in the past elections, several Mosendes ran for posts at the same time and on different parties. This time, the family has showed unanimous support to you. Your victory is also the family's victory. Auntie Cenang and Uncle Felix, together with the rest of our kapopopo-an and kauya-uyahan (grannies) up there are certainly happy for you and for the family.The Mosendes in key position of Mainit:
Hilario «Ayong» Mosende — 1880s
First Teniente del Barrio of Mainit, Municipio de Placer
Vedasto «Bitoy» Mosende — 1930s
First Vice Mayor (Bise Presidente) of Mainit
Hilario «Yonie» Mosende — 1986
OIC Mayor of Mainit — Post-EDSA Revolution
Felix «Felis» Mosende — 1986-87
OIC Mayor of Mainit — Post-EDSA Revolution
Azucena «Cenang» Mosende — 1990s
3-term Municipal Councilor of Mainit
Ronnie Mosende — 2000 (re-elected, current)
3-term Municipal Councilor of Mainit
Arturo «Torax» Mosende Mosote — 2007 (newly elected, current)
Municipal Councilor of Mainit
Post: Zimm (www.pidjanga.blogspot.com)
Crossposting: http://www.bisayabloggers.com/; http://zimmbodilion.multiply.com/journal
May 30 2007
BPOs on the rise in Davao
Another potential investment in the field of business process outsourcing (BPO) is on the horizon. Michael Chua of Transkripsyo Inc, a 200-seat medical transcription company based in Ortigas, was in Davao last 29 May 2007 for a first-hand look at what the Land of Promise has to offer.
Chua was welcomed by Wit Holganza, school administrator of MTC Academy and founding president of Transcription Alliance of Davao Inc (TADI). Holganza reports that Chua considers Davao as having 3 plus points: a significant pool of human capital; the city's accessibility in terms of air routes; and, lower power rates compared to Iloilo's.
Transkripsyo is apparently also looking at Iloilo City as another possible investment site. Then again, it might not even be a toss-up, relates Holganza. If feasible, Chua said that his company might in fact locate in both cities. Transkripsyo is planning on opening an initial spread of 20 seats, and possibly transferring half of their operations outside Metro Manila in the near future.
Let's examine this sudden increase in BPO locators in Davao more closely, though. Does this signify that we are now really prepared for the influx of bigger I.T. / ITES investments? Are all necessary facilities and allied services already in place? This might not be the case in reality. In recent articles I have pointed out some weaknesses in our city's development planning, especially in our purported I.T. Parks. Those issues aren't resolved yet.
Chua observes that this growing interest in Davao and other regional I.T. hubs is driven not necessarily by their preparedness, but by the weakening dollar. Remember, BPOs are essentially exporters. It might be that these call centers and medical transcription companies are relocating to regional hubs in order to cut their losses — hence the concern for power rates. Of course Davao, Iloilo and other I.T. hub aspirants can offer cheaper lease and rental rates as well.
So, the strengthening of the peso against the dollar may be good for us now. But this cannot possibly last: eventually the currencies will stabilize. And when industry recovers from its effects, we will probably lose our sudden advantage — IF we do not secure our position.
How? We give ICT Davao, the representative organization of Davao's I.T. industry, a set of teeth. It's a mobile and young group that has the capacity to adapt. It has leadership potential. But, it does not yet have any authority to set the course for Davao I.T. It cannot yet interface directly with the local government, much less influence it. (Easier said than done, I know. But somebody's gotta put a finger on the button!)
Another way of ensuring that our BPO locator numbers continue to rise, even beyond the grace of a weak dollar, is a success story. Or several. Holganza says that the 40+ member-companies of the MTIAPI are at present on a wait-and-see mode. That is, if Transkripsyo locates to Davao and decides to stay for good due to fiscal viability, we might see more of MTIAPI companies here in the foreseeable future.
Ergo, in order to address immediate concerns in I.T. / ITES investment management, a consolidated and collaborative effort by industry, academe and government is urgently called for. Imagine this scenario: An I.T. firm wants to locate to Davao, and sends representatives here. Whomever they contact here will know to which agency or office they should be referred right away. Whatever requirements this company might have will be met within a reasonable period. They need office space? Our answer: 'How large?' We'll even anticipate that they'll need a leased line to the U.S., and a 24-hour standby generator that can power an entire high-tech building (which they most probably won't use because our power company is super reliable). They need manpower? Our schools interface directly with industry, so fielding graduates won't be a problem….
Utopia? I hope not, because this situation is supposed to be within reach if we are to truthfully call ourselves an honest-to-goodness I.T. hub.
Share This
May 30 2007
Tonight
I am.. Grieving how mean can people be. Wondering how a single person's act would  change the course of history. And.. Hoping that my remaining days be not the same as the past few weeks' days i had. Also.. Tired of pretending that everything (in me's) okay.
May 30 2007
A Letter I Write While Staring at You Passed Out in a Sitting Position on the Couch (and while I am half-watching Frankie and Johnny)
(Incomplete and Bridged)
Written in the early minutes of Sunday, May 27
I want you to know that I am holding you responsible for your own life (and inevitable demise). That if ever something happens to you—death, disability, a chronic, lingering illness—I shall not be held liable to harbor any form of guilt or regret.I wrote you a long letter a few years ago. I shed many tears on that letter. I humiliated myself in class during my fourth year retreat in high school by being reduced to a sniveling, weepy mess pouring my heart out writing that letter. All that for nothing. Therefore, should any of my forecasts hold true in the future, I can only tell you this: You brought (and are continually bringing) this upon yourself; I therefore exercise my right to extricate myself from any emotional entanglements brought about by your loss.(This Frankie and Johnny seems like a good film, only I can't enjoy it fully because you have taken up my space in front of the TV. )Oh, you have no idea how many times the idea of your death has played in my mind. The many scenarios range from you being shot or wounded fatally with a sharp object by one of your soused buddies. Or you suffering fatal injuries from an automobile accident. And worse of all yet: you getting an expensive, lingering illness, like cirrhosis of the liver or diabetes. No, I don't want you to get that, because I always imagine the anguish (financial and otherwise) it will cause Mama. And then the punishment will rest more on Mama and not you. Lord knows she's been through enough already.I guess this means I want you out of my life. Or that I'm prepared for the possibility of it.(If you don't mind, I'll cut this letter short. I'm enjoying Frankie and Johnny too much to spend any more time digging up negative energy to fuel this letter. ).:.:.:.:.:.:.:.:.:.:.:.:.:.:.:.:.:.:.:.:.:.:.:.:.:.:.:.:.:.:.:.:.:.:.:.:.:.:.:.:.:.:.:.:.:.:.:.:.:.:.:.:.:.:.:.:.:.:.:.:.:.:.:.:.:
Papa has slipped into alcohol dependency again. I don't know what's wrong with him. I don't understand him. *releases an audible sigh* I'm too tired/distressed/bummed-out to write any further.
May 30 2007
WHY ABORTION IS SO WRONG!
Luke 1: 39-56 Zep 3:14-18 or Rom 12:9-16 / Is 12:2-6 Blessed are you among women, and blessed is the fruit of your womb. (Luke 1:42) For all abortions men performed All the angels in heaven mourn; May all – by God's will be transformed — Rejoice for every baby born! In those days Mary went with haste to a hilly town of […]
Next »