Sep 30 2007
Writ Of Amparo Gives New Hope To Human Rights Groups In RP
DAVAO CITY, Philippines (Mindanao Examiner / Oct. 1, 2007) — A Filipino human rights group on Monday praised the Supreme Court for upholding the Writ of Amparo that would protect citizens from human rights abuses and extra-judicial killings and enforced disappearances in the Philippines.
Kelley Delgado, Karapatan Secretary General, said the Writ of Amparo is a remedy made available for the victims of human rights abuses and to the worsening human rights situation in the country."As human rights defender, the Writ of Amparo is a welcome step particularly to the victims of human rights abuses. This will block the military to invoke in their defense the 'presumption of regularity', Delgado said in a statement sent to the Mindanao Examiner.The presumption of regularity, he said, is often used as an excuse by the military that official duty has been regularly performed to evade responsibility or liability and will further bar officers in judicial proceedings to issue denial answers regarding petitions on extrajudicial killings and enforced disappearances.He said as the writ of Amparo which will take effect on October 24 will compel state agents to look for the missing person or surface those who are believed to be in their hands. "The decision will hopefully make the military and its cohorts to rethink their attacks against human rights, if not really stop them from perpetuating these abuses," Delgado said.Chief Justice Reynato Puno officially announced the approval of the Writ of Amparo last month.Amparo, a Spanish word that means protection is a Mexican legal procedure that aimed at protecting human rights. The «recurso de amparo» is an exhaustive remedy which originated from Latin America's Mexican, Chile and Argentina legal systems.Mexico's Amparo is found in Articles 103 and 107 of the Mexican Constitution — the judicial review of governmental action, to empower state courts to protect individuals against state abuses. «The law now allows kin of human rights victims to file and invoke the petition before the Regional Trial Court of the place where the threat, act or omission was omitted. The writ shall be enforceable anywhere,» Delgado said.Karapatan said that since President Gloria Arroyo became president in 2001, there have close to 1,000 extra-judicial executions and hundreds of abductions, mostly political activists.Amnesty International and the United Nations Special Rapporteur Philip Alston have reported similar findings.Militant and left-wing groups have blamed the military for the killings and other human rights violations as part of the government's counterinsurgency program.
The United States also expressed concern that US aid to the Philippine military and police is being used to commit the killings.
Sep 30 2007
Itigil ang Libing!
Biernes ng umaga ang libing ni Herman. Ako, si Kulot at ang mga bakla sa aming bukid ay dumiretso na ng simbahan. At doon ko nakausap si Amay, ang lesbianang negosyante sa aming bukid. «Dapat magtayo tayo ng grupo,» sabi ni Amay. «Meron na kami,» sagot ko. «Ano?» tanong niya. «Santa Isabel Gay Association,» sabi ko. «Dapat kasali kami,» suggestion ni Amay. «Pwede rin,» sabi ko. «
Sep 30 2007
of separation and post-break up effects II: 'I need to know' feeling, albeit 'concern'
Every now and then, I take a look at what we were before now that everything is gradually becoming a past, surprisingly in increments.
This morning, sir jun greeted me,
«in fairness, ang aga mo talagang mag-internet»
«nag fry kasi ako ng rice para sa aking mga kapatid»
I said.Her wife work as a scholarship director in their company. He'll make sure we meet when her wife visits Davao. «aha, pag nagpunta misis ko jan sabihin ko nga imeet ka niya» I said I'll be glad to meet her and he said something that caught me off guard, «pag nagpunta naman siya sa cebu ko imeet niya si candy» I read the lines as if they were an excerpt of a beautiful novel. The last word hit me.I don't have the faintest idea how you are going through your life right now. How well you're doing right now, I can only surmise. At least, you could drop me a message or few just like the off line messages that I send you very so often. It's not that I terribly miss you, but it irks me not knowing how you're doing.I thought, the ones who are left are the ones who are sought after. In some cases, the ones who leave surprisingly think of their 'special someone' they left behind after a certain period of time. It's not that they terribly miss them but they get the 'I need to know' feeling. You could say that it's the warm concern that's still present. But for some, this feeling isn't reciprocated. Our messages of concern fall on deaf ears.
It's ironic how we can still be able to feel worried for the loved ones we once deeply hurt; the ones who
would've given up everything for us for the simplest reason that they unconditionally love us.note bene: I never thought I'd write a part two.
Sep 30 2007
I'm not drowning,I'm waving:)
So here's todays for all of you who are still asleep,lol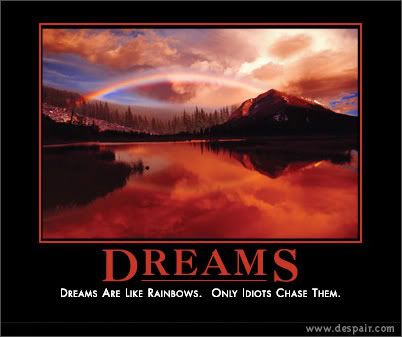 Demotivators you may have never heard of, so if you're into them, you should check out this site!
Have a  great monday! More later… 
Sep 30 2007
Paris Hilton's Saddest Day on TV
Paris Hilton just got grilled by David Letterman, and it was her saddest day.
Okay, here's my two cents' worth: if it's really over, then it could have never affected her one bit, right? And I'd say given the reputation of David Letterman, she could have at least expected it. Moreover, it would certainly be more self-redeeming if she just matched Letterman's candidness with her "wit."
In this world where even your littlest mistake is rubbed into your face, it pays to be real tough and gracious.
Sep 30 2007
paksiw vs embutido
ayoko ng paksiw. ayoko ng kahit anong luto na paksiw. pinaka ayaw ko ng paksiw na isda. lalo na paksiw na ganlunggong. tuwing paksiw kasi ang ulam sa bahay alam ko konting tulak nalang lupa na kakainin naming mag-anak. oo, sa tingin ko simbolo ng kahirapan ang paksiw. parang baseline, bar ng poverty line, sa […]
Sep 30 2007
Holy Rosary Podcast (Tagalog Version)
I have not podcasted for quite a while, so I said yes when Jun Asis of mabutingbalita.net asked me to help him make a Rosary podcast. The Rosary podcast we've recorded is in the Tagalog language. Since October is the month of the Holy Rosary, we thought it would be timely to make it available […]
Sep 30 2007
jfh
why is it so hard for me to understand? of all these thoughts, you always come to mind? my mind's not spotless. its full of complexities. but why? of all these uncertainties.. you always come to life? if you're not coming back.. would you please just let me go?
Sep 30 2007
Feast of St. Therese of Lisieux
Luke 9: 46-50 Zec 8:1-8 / Ps 102 Whoever is least among you, is the one who is the greatest. (Luke 9:48) Lord, make me be like St. Therese, Your "Little Flower" undefiled; Not for glory seek to increase, But to follow You like a child. And an argument arose among them as to which of them might be the greatest. But Jesus, […]
Sep 30 2007
SOFTWARE ENGINEER
Objectives:- To define software engineering and explain its importance- To discuss the concept of software products and software processes- To explain the importance of process visibility- To introduce the notion of professional responsibilityResponsibilities:- Develop distributed grip applications in a network control architecture.- Develop and implement software services for use in a service oriented architecture.- Evaluate and perform design tradeoff regarding the architecture.- Responsible for the development of several product features from the generation of requirements through design, coding, debugging and product shipment.- Work with members of the team to develop a coordinated feature set.- Provide subject matter expertise in web technologies such as Java, Java Script, JSP, XML, SOAP, .NET, ASP, PHP, C/C++, C#, J2EE, WSDL, ODBC, JDBC, HTML, DHTML.- Communicate with all parties involved both Internal and External to facilitate smooth and efficient development processes.- Work with project lead and customers throughout the development life cycle.- Ensure customer satisfaction throughout quality workmanship.Education:- Require a Bachelor's Degree in Computer Science or- Equivalent experience or technical trainingExperience:- 2 years- certification in various software applicationsSkill/knowledge:- Ability to communicate and collaborate effectively with team mates.- Comprehensive understanding and hands on experience with Java, Java Script, JSP, XML, SOAP, DHTML, HTML, .NET, ASP, PHP, C/C++, C#, J2EE, WSDL, ODBC, JDBC.
| | |
| --- | --- |
| Date: | 31 July 2007 |
| City/Town: | Davao City |
| Location: | Davao |
| Wage/Salary: | 10K-12K |
| Start: | asap |
| Duration: | regular |
| Type: | Full Time |
| How to apply: | send resume by email |
| Company: | Jairosolutions, Inc. |
| Contact: | Glenda Ngilay |
Email:
Source: Best Jobs Philippines
Sep 30 2007
Put Up Funding For Workers, Labor Group Asks Manila
MANILA, Philippines (Mindanao Examiner / Sept. 30) – The Trade Union Congress of the Philippines (TUCP) on Sunday said Manila should set aside an initial P2-billion to provide a "safety net" for workers who may lose their jobs as a result of the controversial Japan-Philippines Economic Partnership Agreement (JPEPA).
Alex Aguilar, TUCP spokesman, said the labor group expects the JPEPA, once ratified by the Senate, to eventually cause «significant job dislocation» as a consequence of reduced, if not zero tariffs that will allow cheaper imports into the country.One of the sectors that would likely be hit hard by the JPEPA is the local automotive industry, which is ruled by Japanese companies, according to Aguilar.»Our sense is, Japanese car makers with global manufacturing operations will ultimately find it cheaper to just bring in completely built up units from less expensive production facilities in Thailand and possibly even Vietnam,» Aguilar said in a statement sent to the Mindanao Examiner.»We anticipate some of them will eventually scale down their car production activities here,» he said.Japanese firms Toyota Motor Phils. Corp., Honda Cars Phils. Inc., Mitsubishi Motors Phils. Corp. and Isuzu Phils. Corp. dominate the local motor vehicle industry that employs more than 74,000 workers and sells almost 100,000 units every year.Aguilar said the P2 billion could cover emergency assistance as well as skills retooling programs to enable displaced workers to get new jobs.He said that part of the fund could also be used to subsidize the language training of Filipino nurses, to allow them to readily qualify for employment in Japan.Under the JPEPA, at least 400 Filipino nurses and 600 caregivers would be allowed into Japan in the first two years, subject to re-negotiation thereafter. They would have to undergo a six-month language training to be supervised by the Japanese government.Aguilar, however, said the Philippines should not just totally rely on Japan for the language training.Despite the prohibitive initial quota, Aguilar expressed confidence that Japan would eventually open up its lucrative health care labor market in a bigger way to Filipino nurses, physical therapists and caregivers.»This is a function of demographics. As the Japanese population gets older, they will be forced to accommodate more foreign health care workers,» he said.»However, once this bigger opening is created three to five years from now, Filipino nurses will have to compete with practitioners from other Asian countries, mainly South Korea and Indonesia,» Aguilar said.
«Thus, we have to stay on top of the game by encouraging our nurses who are keen on seeking employment in Japan to learn the (Japanese) language,» he added.
Sep 30 2007
Sulu Gazette October
Sulu Gazette is the official newsletter of the Sulu Provincial Government.
Sep 30 2007
fiesta hangover.sabi nga ni tish, «photos are the new words..» so eto, pictures na lang muna. tinatamad akong magsulat.
kasadya onlookers
phot credit: dianne and krishna
*update: mas makulay ang Diyandi festival ngayon compared to last year, with all the colorful bantings and flags sa bawat sulok nang city [or at least at the main parts].
Sep 30 2007
Burma: One Monk For Every Soldier: The Observer
Only a mutiny in the army — and it is possible — can end the Junta's rule in Burma.
It is an epic clash between the monks and the military in Burma. On one side: the wisdom and non-violent principles of over 2,500 years of Buddhist tradition. On the other: military might honed over 45 years of brutal authoritarian rule. The number of monks in Burma is estimated to be anywhere between 400,000 to 500,000. The number of soldiers is around 400,000. So, one monk for every soldier.
When the monks began marching in peaceful protest over a week ago, the junta remained ominously silent. Then, on Tuesday, the crackdown began. An unconfirmed number of monks were shot dead, monasteries were raided and hundreds of monks have been imprisoned.
How will the predominately Buddhist population of Burma respond to this attack on members of its revered religious order? With absolute horror, I imagine, as they have done to previous attacks (an unverified number of monks were shot dead during the nationwide uprising in 1988, and over 500 were imprisoned).
But people's reactions will probably be expressed behind closed doors. The regime has a terrifyingly effective network of spies and informers, and people are often not willing to openly voice any criticism of the regime for fear of imprisonment and torture.
The surveillance has been so insidious that there are Burmese people I have met who do not trust anyone outside their immediate family; they won't talk openly to cousins or close friends. When I asked a friend for advice on how to safely do research in Burma, he told me to operate under the assumption that everyone I met was an informer — including him.
After the events of 1988, the regime began to eliminate all possible means of dissent within the country. The student community, which had led and organised the demonstrations, was politically emasculated. Through surveillance and intimidation, the regime managed to create a country in which there is no social or political space for people to gather or organise in big numbers.
Many Burma watchers, myself included, thought that protests of the kind which took place in 1988 couldn't happen again as there is seemingly no way to gain a critical mass within such an oppressive environment.
And yet, over the past fortnight, the monks have risen up in numbers it would have been impossible to imagine just a few weeks ago. They are being led by the Alliance of All Burmese Buddhist Monks, an organisation that must have been operating deeply underground as few people had ever heard of them before last week.
Many of my Burmese friends are unsurprised by surprising events such as this. One friend always travels prepared for any eventuality; he sits bolt upright throughout overnight train journeys with his belongings clasped in his lap, just in case. When I ask his opinion on future events, he squints his eyes with theatrical aplomb and says, «In Burma, anything can happen.»
Somewhere within that «anything» is the possibility of a mutiny within the army. For many soldiers, being ordered to shoot or beat up a monk goes against every grain of their spiritual up-bringing, and ensures they will carry the burden of bad karma for life-times to come. And the lower-ranking soldiers share certain similarities with the rest of the population: they, too, are poor, badly treated and afraid.
I used to see soldiers living in the crumbling outbuildings of the old British Secretariat, the regime's main ministerial building until it moved to its new capital. In the centre of Rangoon, these poorly-paid soldiers had to use kerosene lamps and cook over camp-fires as if they were in the jungle.
One of the many rumours to emerge from Burma over the past couple days is that there may be a split in the army. Troops from central Burma are said to be marching towards Rangoon. Some say they are coming to challenge the soldiers who are attacking monks; others say they are coming to reinforce them. Whether these rumours are true or not, they are often accurate barometers of people's hopes and fears: Will they free us, or will they crush us?
If the army succeeds in crushing this uprising — which, so far, it seems to be doing — then the regime will set to work purging the monastic order of what it likes to call «destructive elements» and even more monks will be imprisoned and tortured. The regime's intelligence agents will shave their heads and infiltrate the monasteries, praying among the monks as one of them.
What little space for political organisation once existed within the monkhood will be obliterated. Yet another attempt by the people to speak out about their suffering will have been silenced.
So how will the Burmese people respond to soldiers aiming their guns at unarmed monks? How can they respond? If they are able to push aside a lifetime of oppression and fear, they can make martyrs of themselves and walk out into the street towards the guns. And the monks could do the same — if they are still able to mass themselves — there is, after all, at least one monk for every soldier willing to shoot him. (Emma Larkin/The Observer)
(Emma Larkin is the author of Secret Histories: Finding George Orwell in a Burmese Teashop, published by John Murray. She spent the better part of two years living in Burma to research the book and is currently based in Bangkok, Thailand)
Sep 30 2007
Madness in Myanmar: Edmonton Sun
Increasingly serious situation could turn into another Iraq or Yugoslavia.
Growing unrest and mass street demonstrations across Myanmar could herald an extremely dangerous period for the nation formerly known as Burma.Military-ruled Myanmar is extremely difficult to enter and bans foreign journalists. This writer has managed to get into Myanmar three times. On the last, I was told the secret police were actually conducting bed checks in people's homes in the capital to ensure no trouble-makers from the rebellious northern states were in town.On a second visit, I eluded the secret police and got to see the nation's Nobel prize-winning democratic leader, Aung San Suu Kyi in her home in Yangon, formerly Rangoon, where she has been under house arrest for 17 years.The crisis in Myanmar seems a simple morality drama. The saintly Suu Kyi is held like a bird in a cage by a junta of brutal, wicked generals, who until recently called themselves the State Law and Order Council, or SLORC. In 1988, the junta's soldiers crushed student demonstrations, killing 3,000. After Suu Kyi's party won a landslide victory in 1990 elections, the generals annulled the vote and declared martial law.This week President George W. Bush and other western nations called for even tighter sanctions against Myanmar's junta and urged its replacement with democratic government.Myanmar, in-deed, is a nasty police state. Its generals have plundered resources and kept this magnificent nation in direst poverty. Myanmar is often called a «jewel» and «unspoiled Asia of 1940s.» True enough. But that's because the junta and its predecessor, mad dictator, Gen. Ne Win, turned Burma into a weird, hermit kingdom.But extreme caution is advised in dealing with Myanmar. If things go wrong there, it could turn into an Asian version of Iraq, Yugoslavia or Afghanistan.50 YEARSMyanmar has been at war for 50 years with 17 ethnic rebel groups seeking secession from the former 14-state Union of Burma created by Imperial Britain, godfather of many of the world's worst current problems.Burmans, of Tibetan origin, form 68% of the population of 57 million. But there are other important, well-defined, independence-minded ethnic groups: Shan, the largely Christian Karen, Kachin, Chin, Mon, Wa, Rakhine, Anglo-Burmese, and Chinese.The largest, Shan, with its Shan State Army, are ethnically close to neighbouring Thailand, and in cahoots with the Thai military. Each major ethnic group has its own army and finances itself through smuggling timber, jewels, arms, and drugs.The military juntas in Rangoon, and their 500,000-member armed forces, known as Tatmadaw, battled these secessionists for decades until the current junta managed to establish uneasy ceasefires with the major rebel groups.If the junta were to be replaced by a democratic civilian government led by the gentle Suu Kyi, and military repression ended, it is highly likely Myanmar's ethnic rebellions would quickly re-ignite. The only force holding Myanmar together is the military and secret police.Shan, Karen, Kachin, and Mon still demand their own independent nations. Myanmar's powerful neighbours — India, China and Thailand — have their eye on this potentially resource-rich nation.China exercises strong influence over Myanmar and is building a naval base near Rangoon to give direct access for the first time to the Andaman Sea and Indian Ocean.India sees rival China threatening its rebellion-plagued eastern hill states along the Burmese border, and is increasingly alarmed by Chinese naval ambitions in the Indian Ocean.NEIGHBOURING INTERESTSA new democratic government in Yangon-Rangoon that is not tough enough to deal with secessionist regions around its troubled periphery could see Burma fall into internal turmoil and also invite intervention by covetous neighbours.At worst, India and China could even clash head-on over control of strategic Burma, a threat identified in my book on Asian geopolitics and Indian-Chinese rivalry, War at the Top of the World.
So the West should tread with great caution in Myanmar. The West and Asia must exercise great care they do not exchange military dictatorship for ethnic strife and regional conflict. (Eric Margolis/Edmunton Sun)
Sep 30 2007
Militant Groups Slam Arroyo For Burma Statement
President Gloria Macapagal-Arroyo waves to well-wisher during her arrival from New York, United States of America (Sept. 30) at the Ninoy Aquino International Airport in Pasay City. With the president in photo are Immigration Commissioner Marcelino Libanan, Defense Secretary Gilbert Teodoro, Executive Secretary Eduardo Ermita and Armed Forces Chief Hermogenes Esperon Jr. (Luisito Iglesias/OPS-NIB)
DAVAO CITY, Philippines (Mindanao Examiner/ Sept. 30) – Two Filipino political groups on Sunday have criticized President Gloria Arroyo for calling on Myanmar to free pro-democracy activist Aung San Suu Kyi and other political prisoners while political killings still continue in the Philippines.
«The economic and political crisis in Myanmar, which triggered series of protests tackling variety of issues from oil price increases and human rights violations, is similar to what the Filipinos are experiencing under the Arroyo administration,» said Jeppie Ramada, a spokesman for the group Bagong Alayansang Makabayan (BAYAN) in southern Philippines.
Ramada said Arroyo's statements in the 62nd United nations General Assembly urging Myanmar «to go back to the path of democracy,» are mere rhetoric that contradict the human rights problems in the Philippines.
«With Arroyo's speech in the United Nations General Assembly centered on Myanmar's atrocities, it only manifests that she's trying to evade and divert the issue of political killings in the Philippines.»
«Instead of answering allegations of political persecution in her own country, she managed to wipe the dirt into her fellow dictators in Myanmar. She has lost the moral ascendancy to talk about human rights violations since 2001, when hundreds of activists summarily executed,» Ramada said.
The militant women's group, GABRIELA, also branded Arroyo's statements as hypocritical and ironic.
«Mrs. Arroyo's statements are attempts to cover up her regime's murderous record on extra judicial killings and disappearances, amid much international criticism over the human rights crisis in the country.»
«This duplicitous show of support for Aung San Suu Kyi and the pro-democracy movement in Burma is mortifying. Mrs. Arroyo even had the gall to summon women power for the Burmese leader when in her own country, her repressive policies are the very hindrance to women power,» Rep. Liza Maza said.
Maza said that human rights documentation in the country since Arroyo assumed office in 2001 indicate that 96 women have fallen victims to extrajudicial killings and 31 have disappeared.
Under Arroyo, the Philippines have had 22 women political prisoners, many of them in conditions no different from Suu Kyi, she said.
«No different from the military junta in Burma, Mrs. Arroyo has led the violent dispersal of protests with her calibrated pre-emptive response. She has led attempts to silence critics with her Proclamation 1017 and deny Filipinos the truth behind the rampage of corruption in her administration with EO 464. Certainly, her two-faced statements cannot hide her bloody record from the international community,» Maza said. (Mindanao Examiner)
Sep 30 2007
Rebels Blamed AFP Generals For Hostilities In South RP
BASILAN ISLAND, Philippines (Mindanao Examiner / Sept. 30, 2007) – Muslim rebels have blamed Filipino military generals as behind fresh hostilities in the southern Philippines.
Fighting had killed 2 soldiers and wounded more than a dozen others, including a civilian in the villages of Baguindanan and Silangkum in the town of Tipo-Tipo in Basilan island last week.
«They have not coordinated with us and went inside a territory and attacked our members without provocation,» said Hamza Sapanton, a senior MILF leader in Basilan island.
Brig. Gen. Juancho Sabban, commander of marine forces on the island, said troops were pursuing Abu Sayyaf militants in Tipo-Tipo.
Sapanton said government soldiers were attacking them in the guise of pursuing the Abu Sayyaf, a small but the most violent rebel group tied to al-Qaeda and Jemaah Islamiya and blamed for the spate of killings and kidnappings in the southern Philippines.
«The military generals are themselves the problem. They are always lying to the media about everything,» he said. The MILF said it has protested the attack on Basilan.
Manila is currently negotiating peace with the MILF, the country's largest Muslim rebel group fighting for a separate homeland in Mindanao. But despite a truce signed in 2001, sporadic clashes still continue in many parts of the region.
In July, MILF forces killed 14 Marines in a firefight after soldiers entered a rebel stronghold in the town of Al-Barka near Tipo-Tipo without proper coordination. Dozens of soldiers were also killed and wounded the next month in fierce clashes between security and rebel forces in the area.
Marine Maj. Gen. Nelson Allaga, commander of the Western Mindanao Command, said the MILF is coddling the Abu Sayyaf, an accusation strongly denied by the rebel group.
«The MILF is not coddling the Abu Sayyaf. We are not coddling terrorists and the MILF has repeatedly and publicly denounced terrorism. We have on many times condemned violence and terrorism,» Eid Kabalu, a rebel spokesman, told the Mindanao Examiner.
Peace talks have been stalled since last year after both sides failed to agree on the issue of the Muslim ancestral domain, which refers to the rebel demand for territory that will constitute a Muslim homeland. It is the single most important issue in the peace negotiations before the rebel group can reach a political settlement. (Mindanao Examiner)
Sep 30 2007
Dipolog City Joins "Clean Up The World"
DIPOLOG CITY, Philippines (Mindanao Examiner / Sept. 30) – More than 600 Filipino volunteers from across Dipolog City in Zamboanga del Norte province took action to protect and improve the environment by participating in the simultaneous global environmental campaign, Clean Up the World.
The local environmental campaign, held recently, was spearheaded by Clean Up Dipolog, a network of local organizations which have gathered together to inspire the local community to clean up, fix up and conserve the environment, said Ernie Rojo, the group's chairman.Speaking on behalf of the local organizing group, Rojo expressed his appreciation for the extraordinary efforts of local volunteers. "The community understands the urgent need to protect our local and global environment. The achievements of volunteers have shown that the people of Dipolog City do care about the state of the environment.""Together we are addressing the problem of solid waste disposal. Volunteers contributed to our aim of inspiring our local communities to give their own share of maintaining the cleanliness of our place," he said in a statement sent to the Mindanao Examiner on Sunday.Opening the 3rd annual clean up event in the city was Dipolog Mayor Evelyn T. Uy who has committed her support to the noble initiative taken by young people by accepting the title of Honorary Clean Up Chairperson conferred to her by the local organization.The event was part of one of the world's most successful community-led global environment campaigns, Clean Up the World. The campaign involves an estimated 35 million volunteers in over 120 countries each year.From Australia, Ian Kiernan, founder and chairman of Clean Up the World said, "Clean Up the World Weekend allows volunteers to witness first hand the impact of rubbish in the environment. From Australia to Dipolog City, together we are creating a healthier world for our children. I congratulate and thank the volunteers of Dipolog City for their outstanding efforts."For three years now, Clean Up the World activities in Dipolog City are organized through a network of organizations which include the Dipolog Chamber of Commerce & Industry and the local chapters of REACT, Boy Scouts of the Philippines, Junior Chamber International and Junior Jaycees, Rotaract and Red Cross Youth.Volunteers who participated in this year's campaign came from the St. Vincent's College, Jose Rizal Memorial State College, DMC College Foundation, and Andres Bonifacio College. Local organizations APO Fraternity and Sorority, SVC-SSG, JPIA and LASS were likewise present to volunteer.Future events planned by Clean Up Dipolog include a film showing to raise public awareness about Climate Change, the focus of this year's global environmental campaign.Clean Up the World originated in Sydney, Australia in 1993 and is held in partnership with the United Nations Environment Programme (UNEP). The campaign brings together community groups, schools, governments, businesses and individuals to undertake activities to improve water quality, clean up local streets, parks, waterways and forests and educate children about the environment.
Clean Up the World originated in Sydney, Australia in 1993 and is held in partnership with the United Nations Environment Programme (UNEP). The campaign brings together community groups, schools, governments, businesses and individuals to undertake activities to improve water quality, clean up local streets, parks, waterways and forests and educate children about the environment.
Sep 29 2007
good season
congrats to la salle. and damn you for your luck, winning when it is most necessary. hehe.
to the my beloved blue eagles. thank you for giving us a wonderful season. for the week-to-week adrenaline. of giving us near-heart-attack wins, and heart-breaking losses. that is what we are all about naman, di ba? heart.
it will always be… WIN OR LOSE, IT'S THE SCHOOL WE CHOOSE!!!
ANG SARAP MAGING ATENISTA! (and i'm sorry, «walang katulad maging lasalista» is a poor rip-off. una kami. hmph. hehe!)
the upside: i don't have to weasel my way from work just to get to watch a game.
Sep 29 2007
I want a Free Pass for SEMCON Philippines 2007
I want a free 2-day pass for SEMCON.
Since the day SEMCON Philippines 2007 idea nor proposed at SEO PH Forum i was then so excited to join even the schedule is not yet finalized. I have so many reasons why i need to be there and deserve a free pass:
Sep 29 2007
Search Engine Marketing Conference Philippines 2007
SEMCON 2007, the first international search engine marketing conference this side of the Pacific. SEMCON 2007 or Search Engine Marketing Conference Philippines 2007 will run from October 9 to 10, 2007 and will gather the best Internet marketers and Web professionals in the Philippines and beyond.
Check out the official SEMCON 2007 website. (more…)
Sep 29 2007
Am I A Bad Person?
Roger Federer pulls out of the Japan Open
Why? Why? Why would you do that? W-H-Y?
I never had a day that started worse than today. My only chance to see a tennis great LIVE! gets drained in the sink like a giant whirlpool taking not only himself but the hunk of the tennis courts, Rafael Nadal, because Rafa is NOT even on the list. Why? Why? Why wouldn't Rafa join the Japan Open. Goodbye Ariake! I just woke up from my dream.
Am I bad? Did I ever do anything to deserve this? Jeez, Japan Open starts Monday, I just recieved allowance yesterday. How the hell am I supposed to miss that? Oh yeah… when Roger and Rafa are not coming. This is just great.
I hate this.
Sep 29 2007
OPINION
RATED PG by Ike Señeres
GOVERNMENT COMMUNICATIONS.
How could government agencies communicate securely, economically and efficiently with each other? This appears to be the three main government considerations in communicating with each other, to make it secure, economical and efficient.As it is now, very few agencies seem to be concerned about their data security, as evidenced by the fact that only a few agencies have their own proprietary encryption. Truth to tell, encryption is the way to secure both data and communications, regardless of how and where messages are sent. Logically speaking therefore, government agencies should invest more in encryption rather than in the bandwidth where messages are transmitted.Long before Voice over Internet Protocol (VoIP) became popular in the public mind, the Virtual Private Network (VPN) technology was already available, with no government agency taking advantage of it. To this day, VPN is still available, and still no government agency is using it.Simply put, VPN enables users to have their own secure network within any other network, commercial or otherwise. To be more specific, users could have their own VPNs within the networks of Smart, Globe, Sun Cellular, BayanTel and PLDT, and it would work securely, as if they have their own.On the side of economy, users could run VoIP within a VPN, thus eliminating the need to spend for commercial calls within the Plain Old Telephone System (POTS). This is another issue, as the carriers may not like the idea of reducing their POTS revenues. Practically speaking however, the costs of National Direct Dialing (NDD) long distance costs within the POTS has already gone down to ten pesos for unlimited calls, thus making it very economical already.
Considering all the telecom options that are already available, the government should instead come up with a policy that would guide employees which options should be used to save money the best way.
Sep 29 2007
Prayer for a Safe Delivery to St Gerard Majella
O great Saint Gerard, beloved servant of Jesus Christ,perfect imitator of your meek and humble Savior,and devoted child of Mother of God, enkindle withinmy heart one spark of that heavenly fire of charitywhich glowed in your heart and made you an angelof love.O glorious Saint Gerard, because when falselyaccused of crime, you did bear, like your Divine Master,without murmur or complaint, the calumnies of wickedmen, you have been raised up by God as the patron andprotector of expectant mothers.Preserve me from dangerand from the excessive pains accompanying childbirth, and shield the child which I now carry, that it may see the light of day and receive the purifying and life-giving waters
of baptism through Jesus Christ our Lord.Amen.
Sep 29 2007
hopefully
by wednesday… i have her na. *fingers crossed*
Sep 29 2007
Philippines can now receive PayPal payments!
I was reading the Philippine top blog, Mukamo.com, and an entry struck my attention. We can now receive Paypal payments! Finally!
Philippine netrepreneurs and average online money makers have been waiting for this opportunity. Paypal is one of the major payment methods of online money-making opportunities like eBay, ReviewMe and others, it's one of the limiting factors.
The Paypal for Philippines campaign made way for this new improvement. Thanks to the initiators of this campaign.
Now, my next problem is how to get a credit card.

Continue Reading »
Sep 29 2007
33
Turned 33 years old today and celebrated it in 4 countries… 1) Manila, Philippines, 2) Guangxi, China, 3) Frankfurt, Germany, and 4) Geneva, Switzerland courtesy of course of Lufthansa. Quite a unique experience.Jesus Christ died at the age of 33 and he has already saved the world! Well, he is God!This little Pidjanga, still has a long way to go… marami pang bigas na kakainin! But despite my shortcomings, I am still very thankful… God has been very, very kind to me… with a loving wife, with 2 kids and another one coming, with a good educational foundation and a promising career… and with very loyal and supportive friends and family members… life is great! But I still wish for more… so that I can give more and more!Padajon!
Post: Zimm (www.pidjanga.blogspot.com)
Crossposting: http://www.bisayabloggers.com/; http://zimmbodilion.multiply.com/journal
Sep 29 2007
Can we bring back life from the dead?
Philadelphia doctors say "yes!"
A new interesting treatment is being tested by Philadelphia doctors to restore life and bring people back from the dead.
A cardiac arrest patient was saved by the new experimental treatment of chilled saline injection. Cooling pads are then wrapped around a patient. The body temperature is normally 98 degrees, but cooling brings it down to 92 degrees. Doctors keep it there for about 24 hours. This process is called intentional hypothermia. Accordingly, it decreases cellular injury when the cells are deprived of oxygen, so with less injury we are able to do a better job of getting people back.
Continue Reading »
Sep 29 2007
Small-Mindedness, Pettiness, And Unkindness
Qualities that easily come to mind when thinking about human interaction.Though one is confident that we try to avoid exhibiting them in the countless situations where we have to interact with our fellow humans, whether on a personal face-to-face basis or remotely like when writing.But be that as it may, we still find ourselves falling into that undesirable rut, manifesting signs of being small-minded, petty, and unkind. It can't be helped all the time. We are naturally slanted toward paying attention to interminable details and minutiae in our everyday workaday lives. We tend to be blinded by our self-righteous views of our own selves, giving way to unmindful neglect of the delicate feelings of others.Still, we have to take that extra effort, lest it also infects the broader aspects of our lives that require us to be more open and tolerant to the larger realities around us.I fear that this situation is quite widespread in the newest medium which have opened for us limitless access to the most numbers of people around the world, through their creative works or writings in the virtual library which is the Internet.We are not only gregarious but socially competitive. Scoring points with others gives the animus and impetus to feel good about ourselves. Feeling justified and satisfied. That we are smart and can compete and fare well with similarly-blest individuals. We must confess we get some "kicks" going this way. But in the process, do we have to bring others down, so we can promote ourselves and our ideas? Thus, is it necessary to, say, bring the United States down because we want to promote the idea the we are just as good as them, in the areas of social mores, intelligence, politics, or what have you? Or, to namecall other persons who we find espousing ideas or publicly acting when perceived to be inferior to ours?I specifically point as example to a well-read Philippine blog, who will only introduce any subject about the US, if in the process the country can be disparaged and portrayed in a bad light. Thus, while entries like this are far and in between, one can almost be sure that when the occasional entry involves the US, it will be because it can be parlayed as a shill piece invariably having the US come out as the unlovable villian, with the possible exception of entries involving Hollywood movies, which of course are US originated. Is it simply a manifestation of visceral hatred or dislike? Does a person harbor such unrelenting disdain for such a huge and diverse entity? Does such a one wake up in the morning, feeling cheery, generous, loving, etc. but at the same time concurrently harboring, however latently, this long-running disdain for a country so that when the opportunity and occasion align, another fusillade will be forthcoming?I am not saying that this happens uniquely to this one individual, because I also witness this in others, who typically come out as very passionate and oozing with love for country, family, honor, and all the good stuff.Is it possible then for such two irreconcilable extremes to co-exist in one mind or personality? Love wildly, but hate wildly, too?This continues to baffle me. Not because I see myself as this pristine and could do no wrong storehouse of virtues and grace. But because, if as a transgressor myself I can see the falsehood of certain of my actions and am impelled when discovered to resolve to rectify and make amends, aren't these same epiphanies shared by all of humanity?
Or is it simply, the case of the "square peg in the round hole"?
Sep 29 2007
LF: Receptionist
Duties and ResponsibilitiesSuccessful candidate will be responsible for handling incoming and outgoing calls, entertaining visitors and prospective buyers; will also handle some administrative and secretarial functionsQualification:With pleasing personalityAt least 5'4″Fluent in the English LanguageDate: 26 September 2007City/Town: DavaoLocation: DavaoWage/Salary: NegotiableStart: ImmediateDuration: PermanentType: Full TimeHow to apply: Send resume by email or personal deliveryCompany: Uraya Land Development Inc.Contact: Annie/MercyEmail: uldi_marketing@yahoo.comSource: Best Jobs Philippines
Sep 29 2007
LF: Internal Auditor
Primary responsibility is to undertake internal audit reviews, develop and determine the Company's internal risk assessment control system, control objectives and audit program of the Company; evaluate the reliability and integrity of the financial and operational systems and information of the Company; identify recommendations for improvements that are based on audit findings; provide periodic status reports of the internal audit acitivities and findings.QualificationCPA, with at least three to five years of progressively responsible experience in internal auditing activities.Single, 25 to 30 years oldDate: 26 September 2007City/ Town: Davao CityLocation: DavaoWage/ Salary: NegotiableStart: ImmediateDuration: Permanent EmploymentType: Full TimeHow to Apply: Uraya Land Development, Inc.Contact: Annie/CecilleFax: 082-221-2111Email: uldi_marketing@yahoo.comSource: Best Jobs Philippines
Next »